Every product is carefully selected by our editors. If you buy from a link, we may earn a commission.
The 13 Best Sheets to Buy in 2022
We tested 38 different bed sheet sets to find the best bedding for every type of sleeper, at every budget.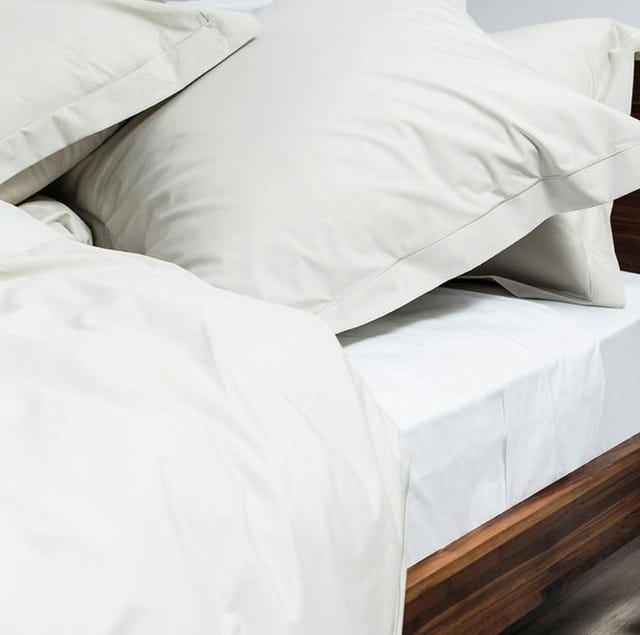 Buying decent sheets is confusing, and almost laughably so. What is sateen? Someone told me thread count doesn't matter anymore — is that true? What in the world do plys mean, and why are there staples in cotton?
All fair questions, and all the result of a decades-long practice by brands bamboozling customers in hopes they'd just buy bedding without thought. Luckily, the reign of the thread-count scammers and quality skimpers is ending. In their place: a wave of direct-to-consumer brands that skip out on distribution and stocking costs in favor of materials and craftsmanship. And with them, mega brands, too, have become at least a bit more honest about their affordable offerings. We tested out 38 different sheet sets to find out which ones do their job the best to complement the investment you put into your mattress and maybe even your bed frame.
What's the best thread count?
"Pumped-up numbers with inferior, multi-ply yarn, the [thread count] numbers are often lies to begin with. A higher thread count doesn't equate to better quality. Stay within the 200- to 300-range and you'll be good," said Jimmy McDonald, cofounder of Authenticity50.
Every sheet maker we spoke with echoed a similar sentiment. Thread count just isn't a good measure of quality as a standalone figure, apart from exposing sellers who are (probably) trying to rip you off. If you see any sheets above with a thread count of 500 or above, regardless of material or weave, feel free to take that as a big red sign that says "BS." There's only so many threads you can squeeze into a square inch of fabric, so these higher thread counts are either adding plies to their sheet and counting those as double or artificially weaving in more threads, which is only going to make for a hotter, heavier sheet anyway.
What's the difference between percale and sateen? What's the best thread count?
The vast majority of people sleep on percale — it's crisp, cool and versatile. Its balanced weave allows air to flow through the sheet and allows the sheet to stack in areas and "float" above the skin, creating more avenues for air to keep you cool.
Sateen isn't without its own strengths, though. Its predominantly vertical, unbalanced weave gives it less rigidity than percale, allowing it to fall and drape on a bed more attractively than other weaves. It's a better choice for people with significantly more sensitive skin, as it's much smoother to the touch than other popular bedding weaves and materials.
Sateen's downsides pertain to durability and its knack for insulating too much heat. The imbalanced weave of sateen makes it more likely for pilling, sheen loss and tears to occur, so it will typically show wear more quickly. The weave is also responsible for a detracted airflow, meaning you'll be warmer than you would be under percale.
What is "Egyptian cotton," and why does the type of cotton matter?
Egyptian cotton is probably the most famous type of cotton, and rightfully so — real Egyptian cotton is extremely long-staple cotton that can be wound into a long, tight and soft yarn that makes for durable, cozy textiles. Unfortunately, odds are the sheets you bought, even if they say they're made with Egyptian cotton, aren't. Truth is, there aren't many good ways to determine if a set of sheets is using all real Egyptian cotton, as brands often use a trace amount to claim it as a marketing tool.
Supima cotton is an American-grown variety of true Egyptian cotton, and the fabric must be certified by the American Supima Association to call itself Supima (find an updated list of brands that use Supima here). Most premium brands will use one version or another of long or extra-long staple cotton, which is a good indicator the company is using quality materials. As noted above, the longer the staple, the greater the fabric's durability. It's also useful to check for a GOTS certification to make sure you're getting sheets made without any toxic materials and in an ecologically-friendly way.
Why does linen feel scratchy at first?
While all percale and sateen sheets are made from cotton, linen is made from flax, which is a different beast altogether. Where cotton is extracted in a fluffy ball called a boll, the fiber used to make linen is a bast fiber that more resembles what you'd expect from a plant product. Bast fibers are taken from the core of the flax plant, and, as such, are not fluffy or pleasant initially — but their tensile strength is naturally higher than cotton.
The roughness of linen sheets when they ship to your home isn't indicative of their quality — you have to give linen time to break into its charm. Softer qualities are brought out over time through wash and wear. A good rule of thumb with linen (and all sheets, really) is to give it a good wash right when you get it to start that process.
The Best Bed Sheets of 2022
This content is created and maintained by a third party, and imported onto this page to help users provide their email addresses. You may be able to find more information about this and similar content at piano.io