Every product is carefully selected by our editors. If you buy from a link, we may earn a commission.
The Best Cooling Mattresses to Help You Stay Chill
Peruse our list of the best recs for hot sleepers that will keep you cool and cozy in a bed that's just right.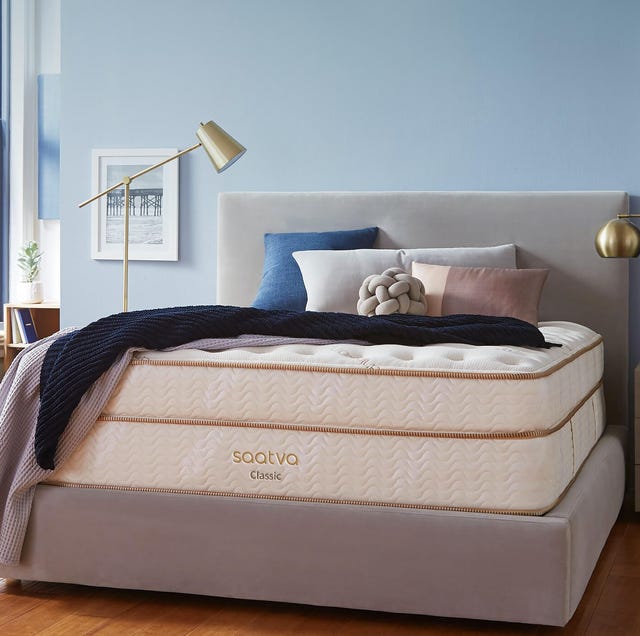 Whether you're suffering through summer or are a hot sleeper all year round, it can often be hard to stay cool at night. Investing in your bedding can help — we recommend starting with a cooling pillow or comforter — but, sometimes it's best to go straight to the source: your mattress. There are a lot of great mattress options out there, some that are designed to be cooling and others that just happen to be temperature-regulating. Either way, we're here to help you navigate the options to find the best cooling mattress for you.
What to Look For
When picking a new mattress, there are a lot of factors to consider to ensure you'll be getting a good night's sleep. First, you'll want to think about the type of mattress you find comfortable. Do you want to sink into a soft memory foam or be supported by a thick hybrid mattress with innersprings? Do you want to go for the extra firm option or the one with a plush pillowtop? If you have no idea, then it might be wise to head to a mattress store in person and try out a few options before buying a mattress online. Alternatively, a lot of mattress brands offer trial periods, if you want to test out a specific one for yourself by actually sleeping on it.
Once you've identified the type of mattress you want, if you live in a warm climate or are a hot sleeper (or share a bed with one), you'll want to consider whether the mattress has any temperature-regulating properties, namely, what is it made of.
Cooling Materials
Likely, a purported cooling effect will depend on the materials used in the mattress. Every cooling mattress is different, but there are some common threads that you might see while looking through the thousands of options out there. For example, some cooling mattresses are copper- or graphite-infused which in theory allows the material to absorb and transfer heat. Others might include a cooling gel layer or topper to keep the temperature down. And some mattresses will use very light materials or have a different construction that allows for added breathability. Just as you'll need to test a mattress to know what type is best for you, you'll likely need to test a mattress with cooling properties to know if it will actually do the job. But don't worry — we've researched and rounded up a list of the best to get you started.
Certifications
There are just a few of the certifications that you might come across while looking for a new mattress. Here's what they mean.
Standard 100 by OEKO-TEX: This is one of the most common certifications you might come across when looking for new bedding. It basically means that every component of the product has been tested to ensure that it is not harmful to humans.
CertiPUR-US: This certification relates specifically to products that contain foam and means that the product has been tested for emissions, durability and more. If you're unsure whether a foam mattress you're looking at has this certification, then you can check this list of companies that sell certified products.
Global Organic Textile Standard (GOTS): This certification refers to textiles in a product, in short, ensuring the use of organic fibers that are ethically made.
The Best Cooling Mattresses