Every product is carefully selected by our editors. If you buy from a link, we may earn a commission.
The 8 Best Inflatable and Collapsible Kayaks
These collapsible and inflatable kayaks are built to last a lifetime in the water (and fit in the back of your tiny apartment's closet).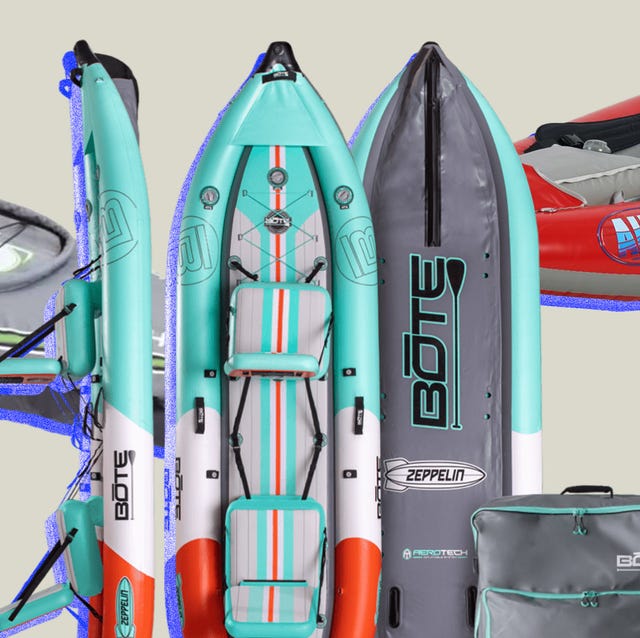 Kayaks give you unrivaled access to quiet lakes, rushing rivers and hidden inlets. And, on calm water, they require little-to-no technical skill. The only problem with 'yaks is when you're out of the water — most are heavy, bulky and take up a ton of space in your home (if you live in an apartment, you'll need to get creative).
Enter: Inflatable kayaks. (While most collapsible kayaks are inflatable, there are a few others that use frames and folds instead of air; some are good, some are more cumbersome than convenient.) Inflatables simplify that process. They pack down small, which means they're easy to store and transport. "While an inflatable kayak will never outperform a hard boat, they do handle well on most water thanks to advancements in materials and boat designs," says Wes Eads, Gearhead and Sales Associate at outdoor e-retailer Backcountry.
Take note: inflatable kayaks offer less control since they sit on the water instead of in it, and they require perfect air pressure for optimal performance. But, generally, inflatable, collapsible and foldable kayaks make everything else easier — from transportation to storage. Plus, they open up a world of new paddling possibilities; put one on your back and you can hike in five miles to a hidden lake, or check it underneath a plane for international travel. They're usually lighter on your bank account, too.
Don't fall for the $100 boats you can get at Walmart, though. "To ensure you're getting a quality boat, you need high-quality materials and construction methods," says Eads. Look for vessels made from Hypalon (like commercial rafts) and PVC with high-pressure valves (especially C7s produced by Leafield), and ideally welded seams instead of glued, which are tougher on rough water. And, bonus if the boat has an internal cell of air (called an air chamber) as well as an external shell. "This acts as a second layer of defense against puncturing," Eads adds.
Here are eight high-quality collapsible kayaks worth your money.