Every product is carefully selected by our editors. If you buy from a link, we may earn a commission.
Soft and Sturdy Flannel Shirts for Fall
Ready yourself for the crisp weather around the corner.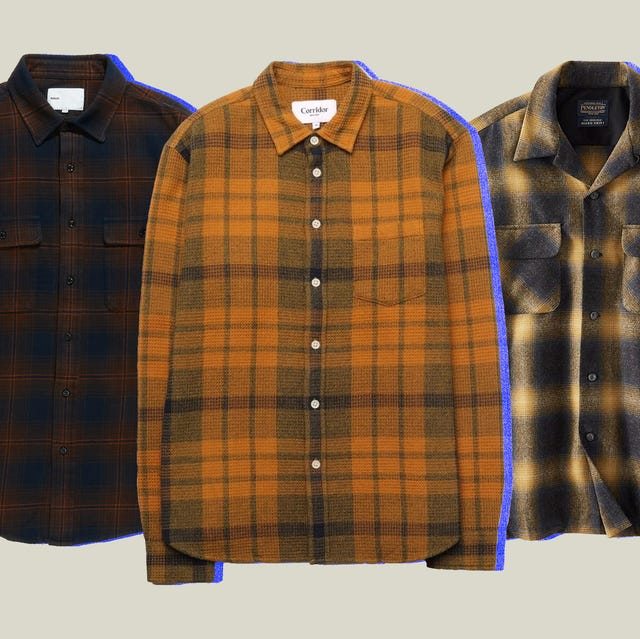 You can't spell flannel without fall and now is prime time for the classic shirt to come out of the woodwork and into the crisp air. Like beanies and duck boots, it's a style staple of the season. You'd do well to have a few tasty tartans in your closet.But not all plaid shirts are flannel shirts. The term has been used interchangeably to refer to plaid at large, though flannel is a specific type of fabric independent of the pattern overlayed on top of it. It's believed that flannel stems from Welsh origins and was originally a type of woven fabric made from carded wool or worsted wool.
Today, flannel is most familiar as a brushed fabric rendered in cotton, but can be made with wool as well as man-made materials like polyester and acrylic. The brushed quality is what gives flannel fabric its softness and warmth, making it a common fabric for chillier months. It's seen in blankets, pajamas and especially shirts, often in some type of plaid, though it can be made in solid colors.
Good flannel shirts are thicker than the usual oxford or broadcloth button-up and get better with age. They're meaty enough to pair with a thermal shirt but soft enough to wear on their own. They're also more versatile than a typical button-up and can do double duty as an overshirt or a shirt-shirt. Whatever your flannel reasoning is, if you're looking for a reliable one to keep you through fall, winter and beyond, these are the best you can get.
This content is created and maintained by a third party, and imported onto this page to help users provide their email addresses. You may be able to find more information about this and similar content at piano.io