Every product is carefully selected by our editors. If you buy from a link, we may earn a commission.
Empty Your Pockets. Carry Your Essentials in a Crossbody Bag Instead
This handy accessory gives you space for your EDC and then some.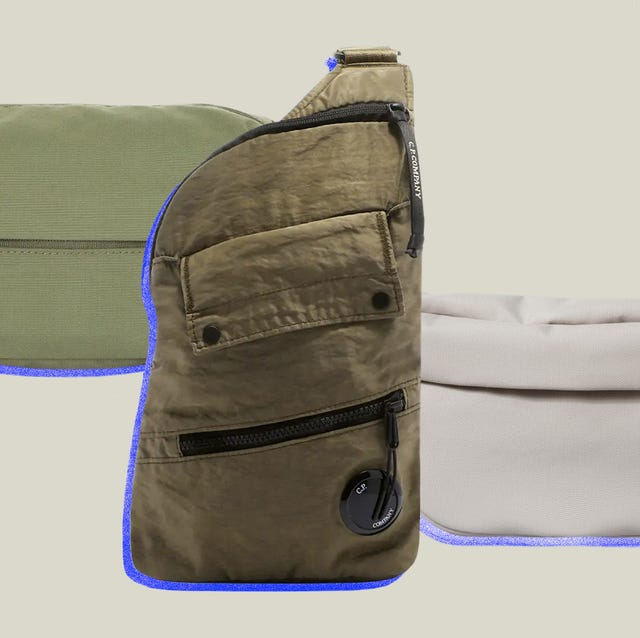 Crossbody bags, however trendy they may be, are incredibly practical. Our coats and pants (sometimes even hats and sneakers if you're into streetwear) usually offer plenty of pocket space, but who wants a tangled mess of keys scratching your leg or jangling around as you walk? If you carry anything more than a tiny card holder, you probably wish you had a place to put it other than your back pocket, right? What happens with the oddities you inevitably pick up throughout your day? You need a (safe) place to keep all of it. Cue the crossbody bag.
Not only does the style give you extra room for your EDC (and then some), but it frees up your hands to open doors, text (but not when crossing the street) or checkout at a coffee shop or cafe. In my opinion, the best part about a crossbody bag versus a backpack or even a messenger bag is the proximity of its contents. Removing your wallet from a crossbody is way easier because the bag is right there in front of you, on your front side. When you're done, you just drop it back in and zip the bag back up — no fussing with throwing it back over your shoulder, slinging it back over your head or questioning whether you really did close it or not (you can just look down and check).
They make a ton of sense for folks that commute (or fly), too. A big backpack doesn't really fly on a crowded subway; flight attendants will definitely notice you're ultra-large tote (making it more likely they'll ask you to stow it above), but they probably won't bat an eye at your compact crossbody.
What to Look for in a Crossbody Bag
Ideally, your crossbody bag comes with compartmentalized pockets within — even if it's just a simple nylon or mesh divider. This way you can toss your keys and an iPhone, for example, into the same bag without the latter getting scratched. It's smart to be sure the bag zips shut, too. Sure, a velcro-closing one might look cool and feel a bit easier to open, but you shouldn't worry about whether something's secretly fallen out.
A waterproof exterior is important, too, albeit not necessarily vital. The bag might be big enough to wear under your rainproof shell but that doesn't make accessing your keys when you arrive at your apartment or office — or your phone when you feel it vibrating — all that easy.
Be wise about the size of the bag as well. Bigger crossbody bags are typically classified as messenger bags and are far bulkier. Crossbody bags, by design, shouldn't be capable of carrying a small load of groceries home — just your wallet, keys, phone, headphones, camera and maybe a water bottle. That being said, there's no real set formula for these types of bags. Some are small and hang down near the hip. Others wrap more tightly around your torso. Pick what works best for you. These are all by definition crossbody bags, but there are subtle differences between them nonetheless.
The Best Crossbody Bags for Men
This content is created and maintained by a third party, and imported onto this page to help users provide their email addresses. You may be able to find more information about this and similar content at piano.io