Every product is carefully selected by our editors. If you buy from a link, we may earn a commission.
A Valet Tray Will Help You Keep Track of Your Valuables
A valet tray is more than just a place to put your things.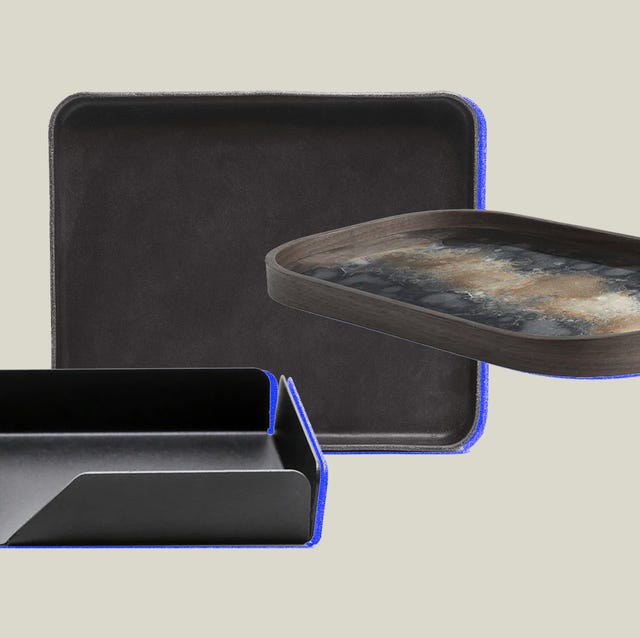 Although the valet tray — also known as a catchall or catchall tray — seems like an excessive addition to any desk space, it's actually quite useful — despite its simplicity. It holds things. That's it's only job. It's easy, and it's also elegant, in an outdated sort of way.
What Is a Valet Tray?
Valet trays are not just a place to put your things. They're a reminder about how important those things are. At least for me, without a place to put them every single time I return home, I'm more likely to lose them (i.e. leave them in a pocket or drop them into the bottom of a bag).
Having a home base for your phone, keys, wallet and whatever else (cologne? car key?) means never worrying about where you left either of these items again. And it's also a stylish way to display that well-patinaed wallet or clever brass carabiner your keys are attached to. If you opt for a bigger tray, you can store bigger things — even anchors like a bottle of whiskey, a paperweight or an oft-used tool like a tape dispenser or a mug full of pens and pencils.
Truthfully, the valet tray is a blank space, but it's important to consider the material it's made from, because leather ones will age well and look more at-home within your swanky desk setup, but metal ones might be better saved for your garage. However, no matter what place on your tray, there are several clear reasons you should make room for one of your own. Isn't clearing your cluttered desk or dresser incentive enough?
The Best Valet Trays