Every product is carefully selected by our editors. If you buy from a link, we may earn a commission.
The Best Linen Pants to Buy Right Now
Take your pick from this list of breathable summer bottoms.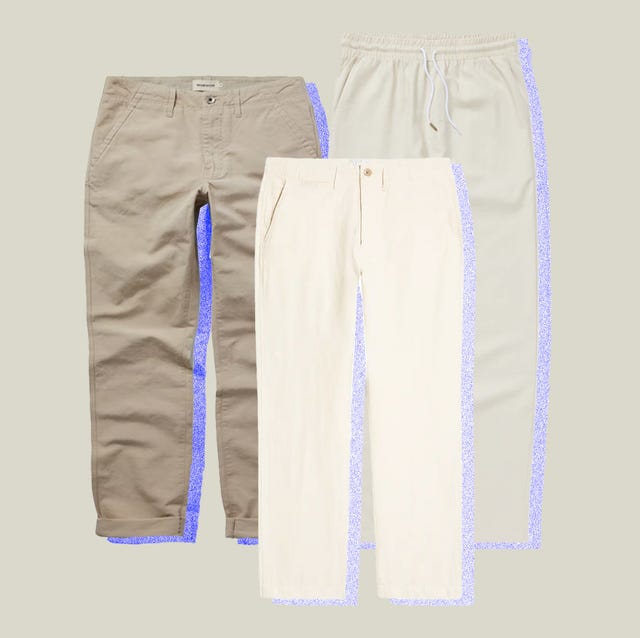 Woolen pants and rugged, raw denim don't mesh well with warmer weather. Frankly, shorts aren't always appropriate either. As such, you should work linen pants into your wardrobe. Yes, the term "linens" is oft used to describe sheets or towels, but we're talking about trousers here. They're breathable, often elegant and yet under utilized.
What Is Linen?
Linen, which comes from the flax plant, is what's known as a bast fiber. Bast fibers are materials collected from the inner bark, aka the bast, which surrounds the plant's stem. Other bast fibers include hemp, ramie and mulberry.
Linen's got a lot going for it, especially compared to other fibers (like cotton). It's more durable than cotton, making it perfect for heavy-duty applications. Because it's quick-drying and breathable, linen is a go-to for warm weather garments. It's hypoallergenic, naturally anti-bacterial, and because the fibers are so long (it can grow up to 6 to 8 inches, compared to cotton which maxes out around 2.5 inches), linen fabrics are smooth, anti-static and won't pill. Unlike wool, linen won't attract moths.
Why Linen?
Whether worn to the beach or the bar, a pair of linen pants are surely an upgrade in at least one category — style or comfortability. Choose wisely, though, as all aren't made equal. Some prove see-through (too thin or not double layered) while others wrinkle relentlessly (too unstructured).
What an Expert Says
"Natural fibers tend to be more breathable than man-made," Todd Snyder Chief Product Officer Alejandro Rhett says. That's why recommends linen for when it's warm out. "It's a porous fiber, so it lets in air as a natural coolant. "We," he says, referring to the those at the Snyder brand, "think that's the best fiber and fabric for summer."