Every product is carefully selected by our editors. If you buy from a link, we may earn a commission.
The Best Tank Tops for Men
Tank tops are moving past their poor reputation.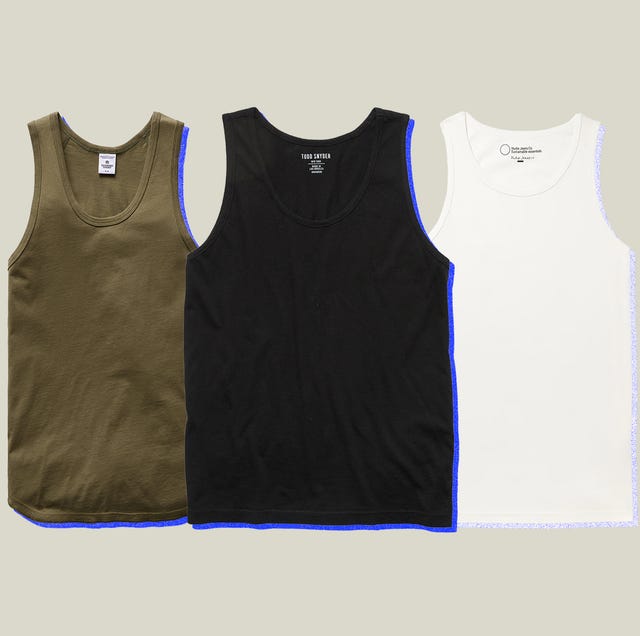 Summer can be been brutal for so many reasons: It can be hot and sticky, making day-to-day life generally awful. Not to yuck your yum, but I can only keep up with it for so long. Given a choice between winter and summer, I'm going winter every time. If I get too cold, at least I can put on more clothes. In summer, there's nothing you can do if you're too hot – except shed. The fewer clothes, the better.
That's when I turn to sleeveless shirts. First of all, they're practical. Tanks (aka A-shirts) and sleeveless T-shirts (aka cut offs) help cool you down because they allow for more airflow, which is the key to keeping cool in summer. They're also a great layer in warm weather — something you can wear underneath without overheating. As an undershirt, they can keep your main shirt clean, too.
It's also important to note you don't have to spend money on a sleeveless tee, either. You can take a pair of scissors to an old T-shirt. It livens up your old tee and is a great way to add a new piece to your wardrobe without actually spending money on a new piece for your wardrobe. If you're not feeling crafty, it's okay to order a new shirt. Here's where to start.
Types of Tank Tops
A-Shirts
The sleeveless types I gravitate towards are anything but the intensely saturated, obnoxiously decorated bro tank. (Respectfully, hell no). Generally speaking, they're more subdued — plain, even. Your average undershirt, worn surreptitiously under your favorite tee or shown off with a camp collar shirt. These can range from the simple multi-pack to an elevated basic. Or, they can even be a vintage military-issued tank in a breathable jersey or mesh.
Cut Offs
But the other kind of sleeveless shirt has a bit more edge. They can be grungy, moth-eaten, bleached and faded. Sometimes they're vintage band tees that have been approached with scissors and a DIY mindset. They're sheer pieces that look like they came out of a '90s MTV spot. Or, these sleeveless shirts can also be luxury knits, crafted with impossibly soft materials, birthed through an avant-garde lens. Try these with double-knee work pants, knee-length shorts or some thrashed jeans and lean heavy into the grunge vibe.

Some of the most interesting ones are vintage. Peruse through Etsy and eBay and you'll find pages of perfectly faded muscle tanks. Whether you're a fan of Joe Strummer or Stone Cold Steve Austin, Harley-Davidson or Subhumans, you can find the right one for you. Look for one that has a good patina, hell, even a few holes; as long as it looks like you might have worn it in the pit. But you can also buy new, and there are plenty of options to choose from. Find a few below.
The 10 Best Tank Tops for Men
A few A-shirts, a few cut offs.