Every product is carefully selected by our editors. If you buy from a link, we may earn a commission.
The 12 Best Mules to Slip and Slide into This Spring
Breaking down a footwear category that spans from Crocs to shearling Gucci slippers.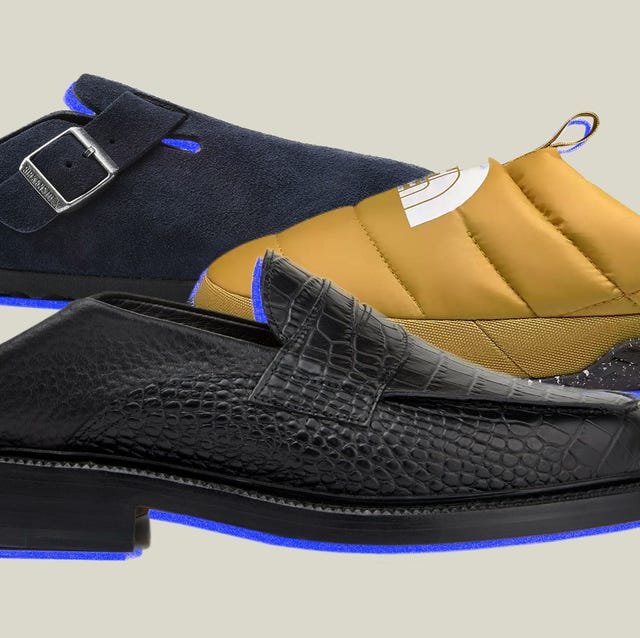 I am a sneaker guy, through and through. Nothing can change that. But these past two years have really shed a light on the fact that I am indeed not as much of a sneaker guy as I originally thought I was. That is because I've evolved into some sort of slip-on-and-out-the-door-to-get-back-in-as-quickly-as-possible type of person I wasn't aware I was capable of becoming. I've learned to appreciate mules.
What Are Mules?
Mules? What are those? While mules — a type of footwear literally meaning "mullet shoe" because of its closed front and open back — have been around for centuries, dating back to the Ancient Romans who wore them strictly inside their bedrooms (like slippers), their popularity have slipped in and out (pun intended, I'm here all week) for decades. Especially for men who, like myself, may sometimes get a bit sheepish when it comes to showing off our bare heel.
And They're... Trendy?
But the past couple of years have been a nonstop coming out party for the mullet shoe with brands from sportswear to outdoors to luxury — even streetwear, too, since we heard Checks Downtown is doing a mule soon too — putting their best foot forward to get your foot slipped into a pair like Cinderella. Even Crocs are having a huge moment, with some really great collabs over the past few years showcasing they are more than just a silly rubber moc. And now that people are traveling more, whether by car or by plane, there is no way you aren't considering finding a decent pair or two to shift gears on i-80 or shuffle about gate C's food court before boarding that flight to Anywhere-but-here-ville.
The Best Mules for Men
So, all things considered, we wanted to make your decision easier when considering which convertible footwear to choose to taking obvious factors like comfort and versatility into account, but also making sure that style, construction and price are on point, too. Ready to slip out of winter and slide into spring? Vroom vroom.
---
This content is created and maintained by a third party, and imported onto this page to help users provide their email addresses. You may be able to find more information about this and similar content at piano.io