Every product is carefully selected by our editors. If you buy from a link, we may earn a commission.
These Are the Best Vegan Shoes You Can Buy
Boots, sneakers, sandals and beyond, all made without animal products.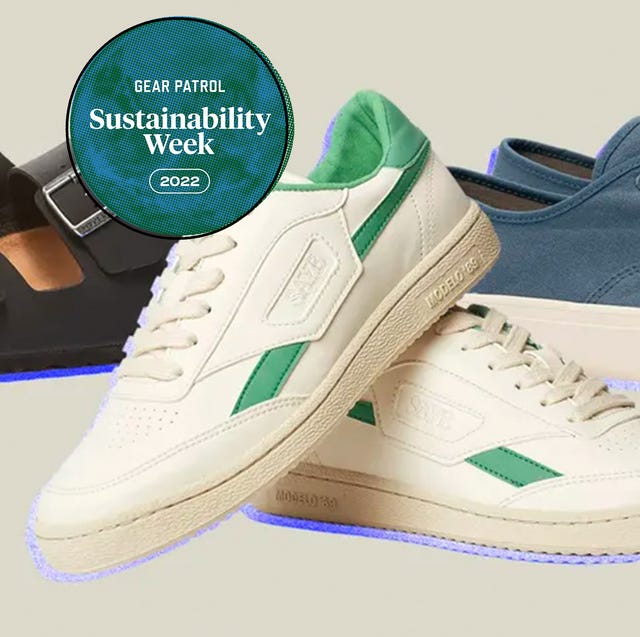 This story is part of Gear Patrol's continuing look at different approaches to sustainability, leading up to Earth Day on April 22nd.
---
No product is truly vegan unless certified so. It's true: Although a canvas sneaker may be made from 100 percent cotton atop a rubber outsole, animal byproducts lurk in the bindings, glue and other elements that hold a shoe together. It's why Blundstone, for example, didn't release a vegan boot until 2021.
"It has taken us some time. I'll be really honest," Blundstone CEO, Adam Blake told us. "Partly why is because of our own principles, and our own considered nature by which we go about developing new products… We were not going to come to market at all unless we could stand by that it was 100-percent tested and verified as vegan. That sounds very obvious, but, trust me, that's not the approach all brands take."
Are Vegan Shoes More Sustainable?
Excluding materials like fur, leather and wool is the first step for most brands considering going animal-free and offering a vegan iteration. But ensuring the materials outsourced factories use to assemble the boots or sneakers are aligned is another process entirely. Plus, stricter definitions of veganism exclude products tested on animals, too. For the sake of animals everywhere, vegan shoes are a smart alternative, but if you're simply looking to be more sustainable, former Gear Patrol staffer Tanner Bowden says, you need to be more considerate of which vegan shoes it is you buy.
"If lessening animal cruelty is the primary motivation behind your veganism, these shoes achieve that goal. But if general sustainability is the aim — and nearly every vegan shoe comes with a message that it's greener and better for the environment — the situation is messier," he writes. "The problem is that faux leather and fur are often made of synthetic, petroleum-based materials like polyvinyl chloride (PVC) and polyurethane (PU). Essentially, they're plastic. Technically, the cheap plastic-and-foam flip flops that wash up on beaches around the world are 'vegan.' Plus, in pursuing a degree of similarity that'll make people want to wear these shoes, companies often apply harmful chemicals that make them look and bend and wear just like the real deal."
It's best to look for an FSC (Forest Stewardship Council) certification, or another accreditation by an outside source.
The Best Vegan Boots, Sandals and Sneakers
This content is created and maintained by a third party, and imported onto this page to help users provide their email addresses. You may be able to find more information about this and similar content at piano.io