Every product is carefully selected by our editors. If you buy from a link, we may earn a commission.
11 Pairs of Lug Sole Loafers That Will Elevate Your Outfits
Formal flair, with an added edge.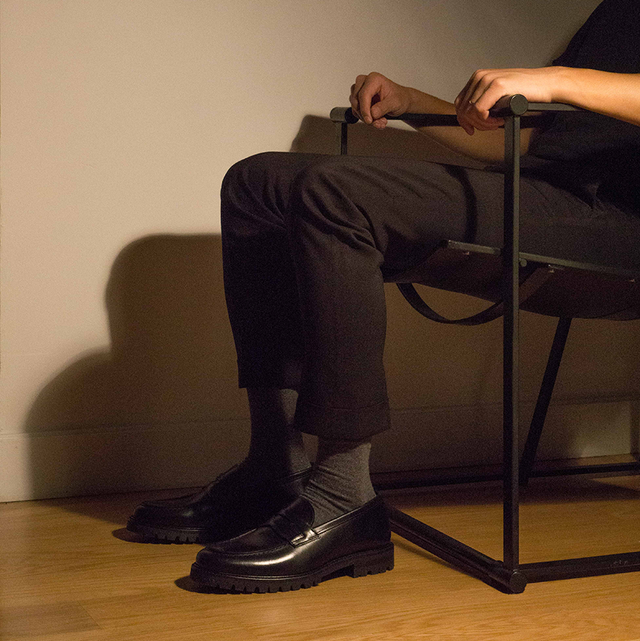 Unlike the beloved Belgian loafer, there's no history behind the lug loafer. Putting a lug sole on a loafer probably happened out of necessity; a "we have these shoes, but there's snow!" kind of situation. Perhaps it was a fashion statement. Either way, finding loafers equipped with Goodyear-welted soles or Vibram tread proves increasingly common. Plus, they're more flattering for feet of all sizes — especially as pants silhouettes trend bigger.
What Are Lug Sole Loafers?
A lug sole loafer is any loafer married to a sole you'd typically find attached to a bulkier shoe — like a boot. The addition makes loafers better prepared for the elements, but also bigger, too, which makes them easier to pair with wider pants or to be worn by folks with shorter legs. The height adds height.
Typically, the height is afforded by a Vibram outsole, a quality marker usually reserved for hard-wearing boots. Vibram outsoles offer better traction control, resoleability and a rise off the ground to protect the feet from rain puddles and debris (like dog poop).
Why Wear Lug Sole Loafers?
As cool as a flat-bottomed loafer may be, the lug sole adds interest — and literal height. You'll get the confidence a pair of boots gives you but the formality of a finer shoe. Plus, chunky shoes — although usually sneakers, but why not loafers? — are in. It's time you give a pair a spin.
They're easy to pair with casual outfits or for more formal affairs. It's really up to you. A pair of lug sole loafers might be a bit out of the box for a traditional tuxedo, but with your run-of-the-mill suit? Right on.
The Best Lug Sole Loafers for Any Feet