Every product is carefully selected by our editors. If you buy from a link, we may earn a commission.
The Tools You Need For Your Watch
There are just a few tools that watch wearers truly require...and a few more that maybe you want.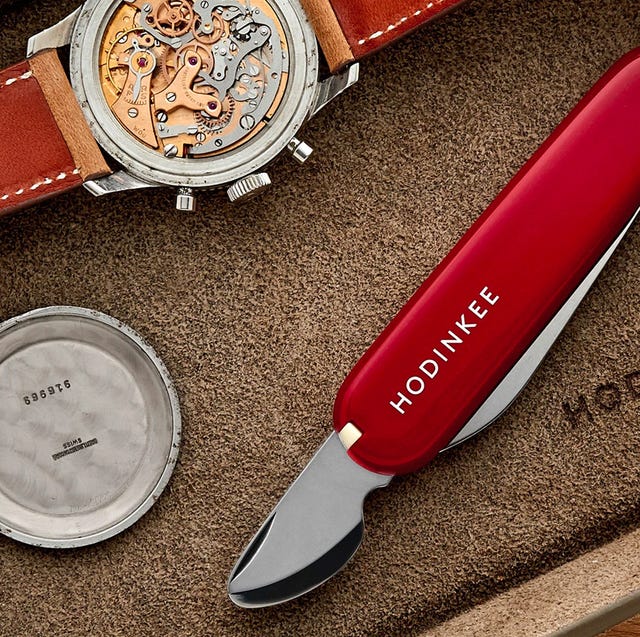 Most tinkering associated with watch ownership is relatively basic. You'll certainly want to change straps and the like, but any internal watch repair or maintenance is best left to professionals. Unless you're deep into watch nerdery, modding your Seiko and the like, you don't need much — but a few tools will come in handy, and a few more will elevate your experience with watches. Whether you're a collector, enthusiast or occasional watch wearer, the following tools are worth considering.
Three thousand-plus Amazon users can't be wrong! Starter watch tool kits of this kind are legion on Amazon, eBay or Alibaba. Most are pretty similar and typically include more than you'll ever need — including some of the other items on this list. These are basic, unfancy tools that will get the job done, and they come in a handy organizing case.
There's not much more to keeping your watch clean and finger-print free on a daily basis than a microfiber cloth. These are basic items that sometimes come free with other tools, but a nice one like this from Worn & Wound's WindUp Shop will be the type you want to always keep on hand.
OToolWorld Friction Ball Watch Case Opener
You shouldn't be opening a watch's case back often, but if you have occasion to do so (such as checking a vintage watch movement for authenticity) this extremely simple tool will come in handy.
Adorox Heavy Duty Revolving Leather Belt Hand Hole Puncher
Sometimes you might find that your watch strap needs another hole, especially for we slim-wristed folks. This DIY tool is affordable, easy to use and just about all you need to get your strap in shape.
iStrap Spring Bar Set 300pcs
All the springbars you'll ever need — and you'll need them from time to time. This set includes common sizes but also odd sizes like 19mm, which you'll find on vintage watches (and even on some modern ones.)
You'll be surprised how useful a simple caliper can be. You might want to confirm lug width before ordering your next strap or other parts, or when comparing specs and measurements to those of other watches online. A digital readout makes this one precise and simple to use.
How to Change a Watch Strap Without a Trip to the Jeweler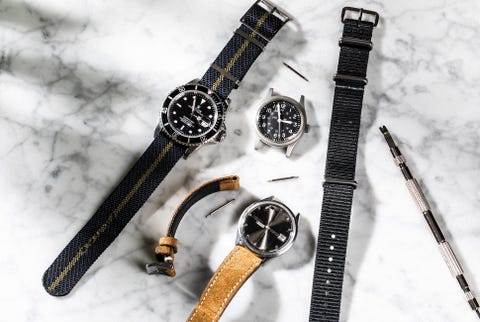 Yes, you can do this yourself!

Watch Bracelet Link Pin Remover
For less than the price a watchmaker will charge you to size a bracelet, you can have a DIY tool on hand. Many watch bracelet links are attached with pins that can simply be pushed out with a contraption like this, so you can get the perfect fit without an expensive trip to the jeweler.
Bergeon 6767-F Spring Bar Tool
The springbar tool is what you need to change most watch straps, and it's the single most basic tool every watch owner should have. Since you'll use it often, it's worth investing in something a little nicer than what comes in your basic starter tool set. This one's from Bergeon, a Swiss company that makes professional watchmaking tools and has been doing so since 1791.
A loupe can help you inspect the condition of a vintage watch, for example, but it can also help you simply appreciate a watch's details. There are different kinds of loupes, but a handheld one like this that folds up to keep the crystal dust-free is all any amateur needs. This one also has built-in lights that'll make a big difference.
Hodinkee Victorinox Watchmaker Swiss Army Knife
This multitool with blade, tweezers, toothpick and a case back opening tool was made especially for watches. Produced by Victorinox for the watch enthusiast website Hodinkee, it's also an EDC item that shows off your watch passion in a way that's easy to store or carry.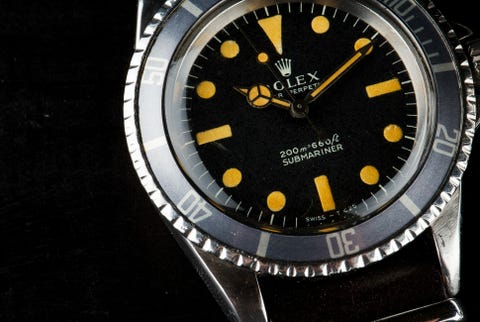 Just trust us on this one.
This content is created and maintained by a third party, and imported onto this page to help users provide their email addresses. You may be able to find more information about this and similar content at piano.io