Ford's New Explorer King Ranch Brings Western-Themed Luxury to the Midsize SUV Party
The King Ranch trim level trickles down to the Explorer for 2021.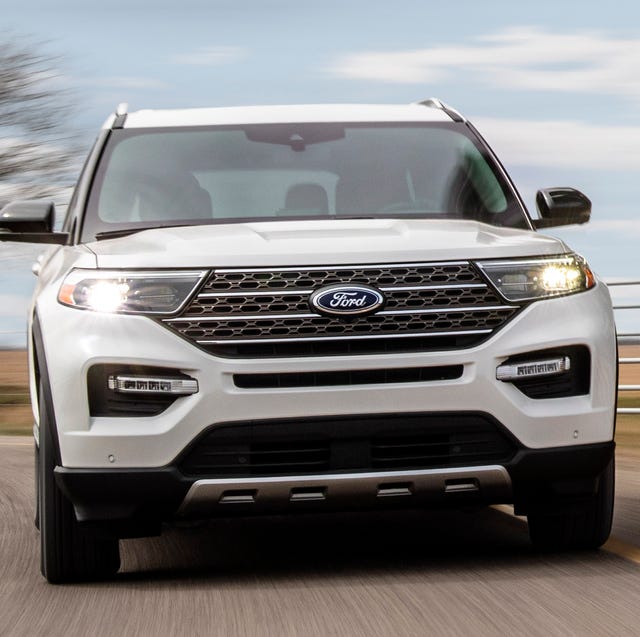 Trim lineups are tricky things for automakers. While many a company uses simple alphanumerics with no inherent meaning, others — in particular, Detroit's Big Three — shine at coming up with names and angles for their trim levels to bring an added level of pizzazz to their vehicles. Tying together a few desirable features into a bundle is always a good way to woo buyers, but giving that combo an evocative name — Trail Boss! Platinum! Longhorn Laramie! — hooks customers in a whole 'nuther way.
The latest case in point? The new 2021 Ford Explorer King Ranch, the latest Ford named after the Texas ranch that happens to be the largest in the United States.
The new Explorer King Ranch keeps the Texas-themed trim going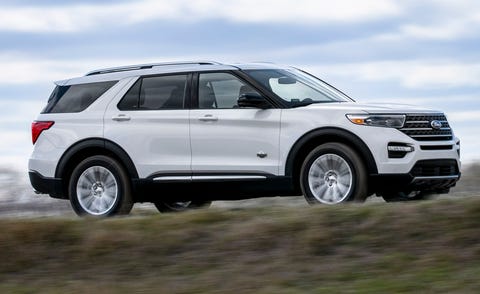 King Ranch Fords have been around for two decades now, ever since FoMoCo debuted the package on F-150 models with some of the coolest leather seats ever to appear in a car. Since then, the trim level has trickled down the lineup, spreading over to the Super Duty and Expedition models. 2021 marks the first time the name it appears on an Explorer.
Mechanically, the King Ranch is pretty much like any other high-end Explorer: it comes in rear- or all-wheel-drive, and is powered by a 3.0-liter twin-turbo V6 that makes 365 horsepower and 380 lb-ft. Look closely, though, and you might spy the "Running W" logos that show up on KR Fords adorning the wheels, as well other minor King Ranch-exclusive visual tweaks.
The interior is what defines a King Ranch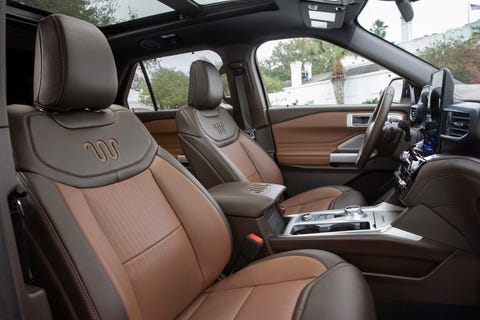 Open the door, though, and there's no mistaking a King Ranch for any other Explorer. The seats are covered in rich Corinthian Mesa Del Rio leather, dyed a distinctive mahogany — and outfitted with the King Ranch's Running W brand, of course.
The King Ranch boasts good wood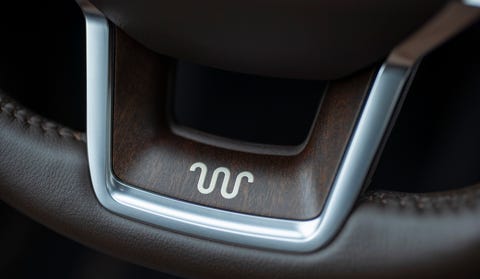 An upscale Explorer requires fancy features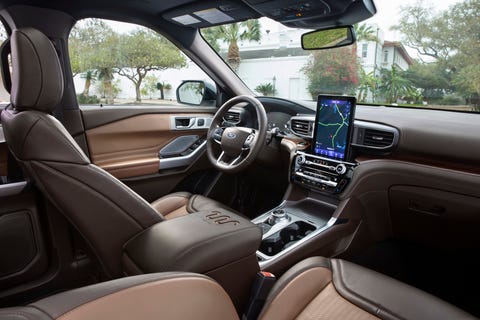 The giant iPad Pro—like touchscreen display that dominates the dashboard here isn't standard; it's part of the Premium Technology Package that also bundles massaging front seats and a 14-speaker B&O stereo system.
The King Ranch boasts plenty of standard tech, as well, especially in terms of active safety and driver assistance features. Adaptive cruise control capable of stop-and-go driving, lane centering, evasive steering assist, traffic sign recognition, blind spot warning, automatic emergency braking — they're all included.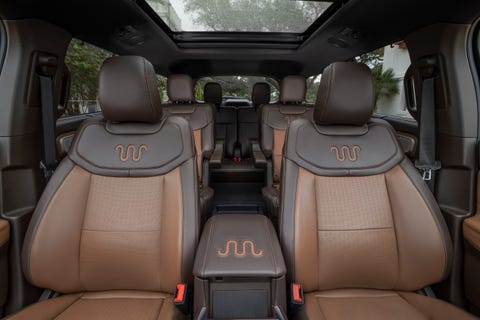 Both the first and second rows — really, the ones that will be used the most, because presumably anyone who needs to use a third row on a regular basis would spring for an Expedition — boast perforated leather. And, of course, more Running W brands.
The King Ranch Isn't the priciest Explorer, but it's close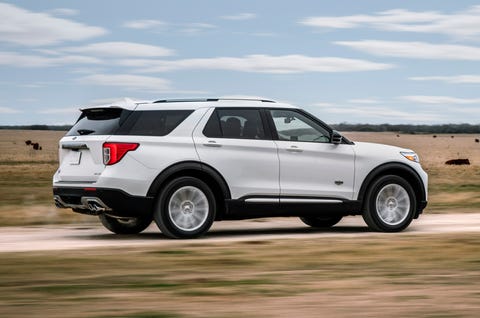 The Explorer King Ranch will hit showrooms this spring, Ford says, with RWD models starting at $52,350 and AWD ones at $54,350. That's about two grand below the Explorer Platinum that caps the lineup, and slightly more than the sporty Explorer ST. Still, both of those are such city slicker cars, y'know?
The Gear You Absolutely Need for Car Camping
Car camping makes getting away easy as pie. These items will make it even tastier.