Jeep's Electric Wrangler Is Here, And It Has a Stick Shift
The Magneto leads off an array of Easter Jeep Safari concept Jeeps.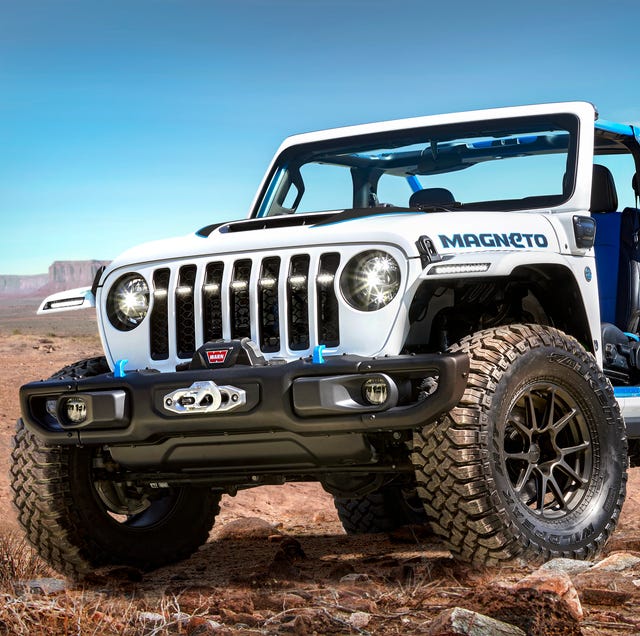 The Easter Jeep Safari in Moab, Utah is by far the biggest Jeep event of the year. Each year, the manufacturer brings a range of concept Jeeps that preview upcoming vehicles, pay tribute to Jeep heritage and show off Jeep's impressive array of OEM accessories and add-ons. Jeep has already teased two of the concepts they are bringing for 2021; now we have the full scoop on all four of them.
Jeep will bring four new concept vehicles — Jeep Magneto, Jeepster Beach, Jeep Red Bare, and Jeep Orange Peelz — to Moab, as well as previously revealed Jeeps, including the Jeep Wrangler Rubicon 392, the Jeep Gladiator Far Out and the Jeep Gladiator Top Dog. Which, yes, includes a hot dog cooker.
Here's what you need to know about the four new Jeep concepts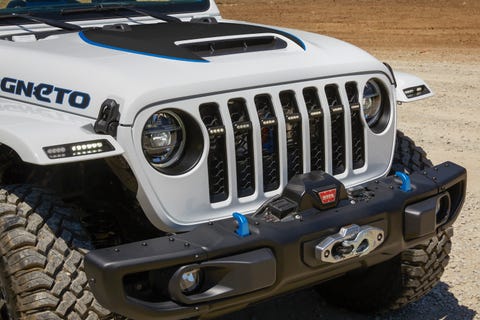 As promised, the Magneto is an all-electric Jeep Wrangler, and it's electric in a way that Wrangler traditionalists will love. It's a two-door model — and it has a functional six-speed manual transmission. Jeep tuned the e-motor to almost precisely match the 3.6-liter V6's 285 hp and 273 lb-ft of torque.
Unfortunately, the Magneto is more of a skunkworks project than a soon-to-be-produced vehicle. It's based on a 2020 Wrangler Rubicon, but has battery packs stuffed under the hood, in the trunk and along both sides where the fuel tank would have been. Jeep says it weighs about 5,750 pounds — around 1,500 lbs more than the current two-door Rubicon. One number that hasn't been mentioned is the expected range, which probably isn't great.
Jeep says they plan to refine the Magneto concept in the coming years and to gauge customer feedback. So, if you're heading to Moab, don't be shy about letting Jeep officials know you would absolutely like an EV Wrangler with a stick shift.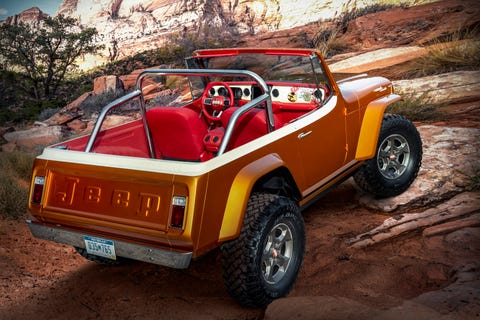 The Jeepster Beach is a resto-mod treatment of a 1968 Jeepster Commando. It has a two-tone Hazy IPA / Zinc Oxide paint job, which Jeep says may be too bright for production use. The underpinnings are from a 2020 Wrangler Rubicon. It has a tuned-up version of that vehicle's turbocharged 2.0-liter four-cylinder, making about 25 percent more power.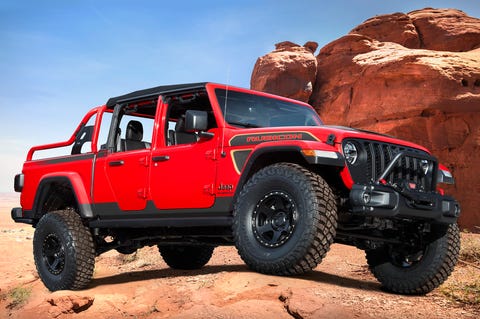 The Jeep Red Bare is a diesel Gladiator tricked out for maximum off-road performance. Its eight-speed automatic is calibrated for low RPM shifts; plus, Dana 44 heavy-duty axles front and rear have been upgraded with 4.88 axle ratios, giving the Red Bare a 91:1 crawl ratio.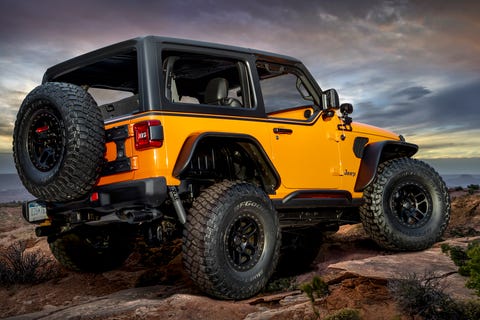 The Orange Peelz is an open-air Wrangler with half doors, removable windows and a one-piece removable "Freedom Top" glass sunroof. It's also loaded to the gills with Jeep Performance Parts and Mopar Accessories.
The All-New Toyota Land Cruiser Is Coming Very Soon. Here's What You Need to Know
The Land Cruiser is getting a long-awaited overhaul, and it could arrive very soon — possibly as a Lexus.