Every product is carefully selected by our editors. If you buy from a link, we may earn a commission.
The Subaru Outback Wilderness Doubles Down on the Outback Formula
Subaru's newest car packs the extra off-road prowess Outback buyers have been craving.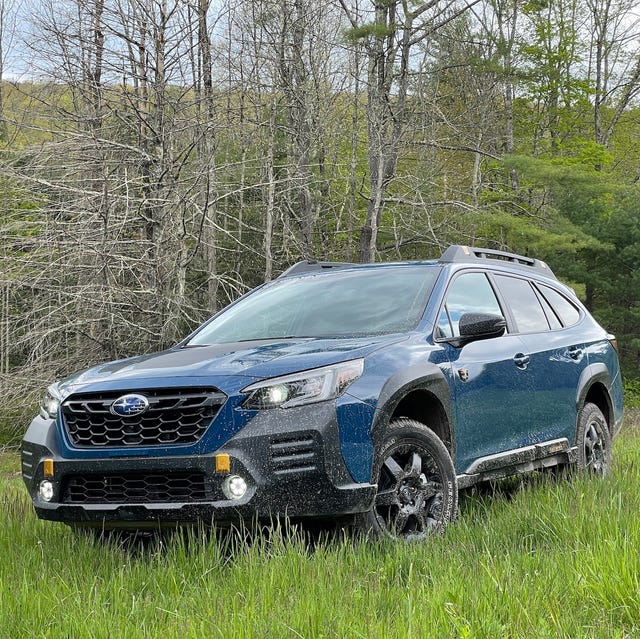 In retrospect, the Subaru Outback Wilderness seems like the sort of idea that we should have all thought up a long time ago.
After all, the basic idea behind the Outback that proved so revolutionary a couple decades ago — take an all-wheel-drive station wagon and add ground clearance so it can go off-road — clearly proved a mighty success; that basic idea transformed Subaru from a second-tier Japanese carmaker in America to a near-omnipresent feature of the country's roadways. That basic idea — applied more broadly to not just the Outback, but also the Forester and Crosstrek — helped fuel years upon years of sustained growth for the brand in the U.S. Given that, the idea of doubling down on the traits that have brought the brand fame and fortune seems like an obvious play.
That is, after all, what the Outback Wilderness is: the Outback Extra-Strength, the Outback Double IPA, the Outback White Claw Surge. Take an Outback, add more ground clearance, make a couple little additional tweaks here and there, and you have yourself an even more capable family car that's ready to tackle moderate off-roading and carry adventurous types pretty much wherever they want to go.
And guess what: it works just as well as ever.
The Outback Wilderness packs subtle but substantive changes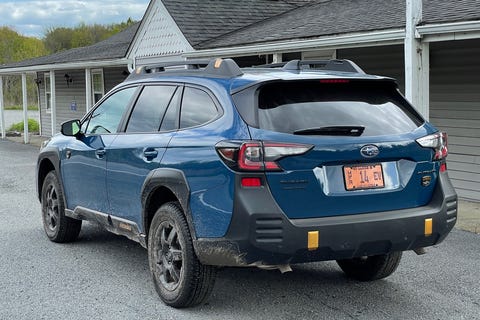 As mentioned (and as is probably obvious from one good look at the pictures), the Wilderness stands a little bit taller than the regular Outback, packing 9.5 inches of ground clearance — the same amount as a G-wagen, and only a tenth less than a 4Runner. Thanks to the added height and the revised front and rear fascia, which feature beveled corners, the approach angle has increased from 18.4º to 20º even, while the departure angles climbs from 21.7º to 23.6º — the former of which nearly equals the Ford Bronco Sport.
The changes don't change the Outback's on-road performance much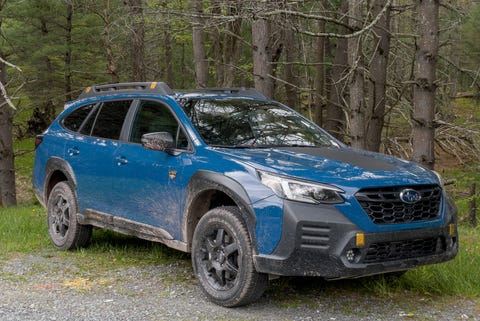 Anyone looking to trade-in their WRX for an Outback in hopes of finding the same sort of turbocharged driving involvement in a bigger, bad-road-friendlier package is liable to be a bit disappointed, regardless of whether they go Wilderness or any other version. This Subie's steering is loose and uncommunicative, with a giant dead spot on-center; you can wiggle the wheel a good inch in either direction off 12 o'clock without affecting the car's line. (Be prepared to grow accustomed to the triple-beep of the lane departure warning system.)
Still, those sorts of traits clearly haven't kept hundreds of thousands of buyers from opting for Subaru crossover-wagon-oid machines every year, and once you're accustomed to the tiller, it's possible to hustle it through tight corners with aplomb, even if the Yokohama tires aren't happy about it. The CVT gearbox isn't the most willing partner for such activities either, but luckily, slapping the long lever left from Drive lets the paddle shifters behind the wheel take over and toggle between eight pre-set gear ratios to approximate a traditional manumatic.
As in other Subies, the 2.4-liter turbo four is unlikely to light your hair on fire, but it packs enough torque to shove you back in the seat when you floor the gas and the CVT sends the engine to the heart of the power band. It never feels underwhelming, which is harder to say about the entry-level flat-four found in lesser Outbacks. Given that it weighs just under two tons before you load humans, pets and gear aboard, an Outback Wilderness with the 182-hp motor would be gutless — hence, presumably, the decision to only offer it with the more powerful motor.
One place the revised suspension and thicker-sidewall tires make an unexpectedly positive contribution? The ride quality on dry pavement. The Wilderness was tuned in part to excel on gravel roads, but it also cruises along asphalt nicely, soaking up the frost heaves and potholes and other imperfections that particularly mar the roads in traditional Subaru strongholds.
Off-road, however, there's no disputing the Outback Wilderness's chops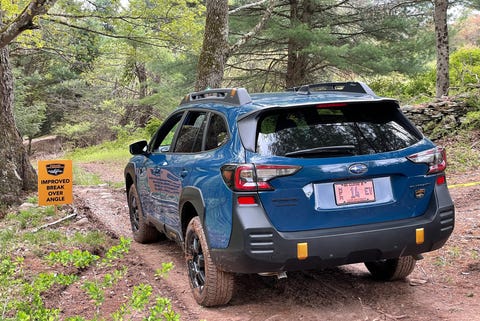 There are all sorts of electronic and mechanical ways to amplify a vehicle's off-road prowess, but at the end of the day, the basics required for going beyond the pavement are ample ground clearance and good grip — both of which the Outback Wilderness packs. The former we've already discussed; the latter comes in the form of Yokohama Geolandar all-terrain tires strapped to all four wheels, fed — of course — by Subaru's active all-wheel-drive system that constantly adjusts the flow of power to the spinning corners based on which wheel can do the most at any given time.
Still, it does pack a couple of tech-based features designed to boost its off-road cred. While the X-Mode system designed to improve traction in low-grip scenarios has become a staple of Subaru models, the Wilderness offers a two-mode X-Mode system: one configuration for snow and dirt, and another for more resistant mud and deep dirt. (Yes, you can call it XX-Mode if you want.) Plus, unlike other Outbacks, the system doesn't turn itself off once the car passes 25 mph; instead, it simply goes into hiding until your speed drops below 25 again, with the idea being that Wilderness drivers will be more likely to be using the system over longer stretches where they'll be volleying over that speed and back again.
(Also, a pro tip: if you're seriously considering taking your Wilderness into the wilderness, I suggest dropping the extra $600 on the multi-piece metal underbody guards, which provide a bit of skid plate-style protection for the tender bits. They're sold independently, too, so if one gets banged up you don't have to spend another $600 to replace the whole package.)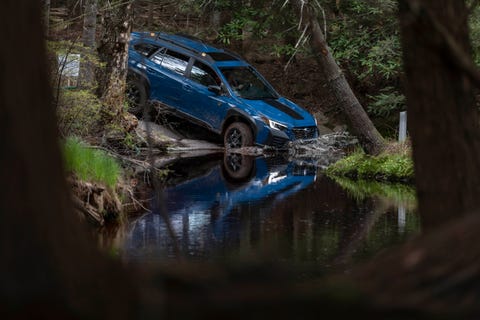 Most of the time, the off-roading events at new vehicle launches are carefully managed events, with spotters guiding the shrimp-scarfing members of the automotive media establishment through every single inch of the trails (if not parked beside those journalists in the passenger seat, as well). Subaru, however, clearly wasn't worried about their new off-road wagon, because they just released us into the off-roading wilds without so much as asking if we'd ever done anything like this before.
And this wasn't just any off-road course, mind you: Subaru had us drive the Wilderness through Monticello Motor Club's technical, mud-laced terrain that I've used to put restored Land Rover Defenders and Jeep Gladiators through their paces. There were a couple of minders at the trickiest spots, but they were mostly there to reassure the journalists that the car could, for example indeed handle the 20-degree downgrades. (Popping the vehicle into X-Mode also activates hill descent control, which will automatically hold the car's speed at a crawl when you let off the throttle, is the way to go. Riding the brakes is for suckers.)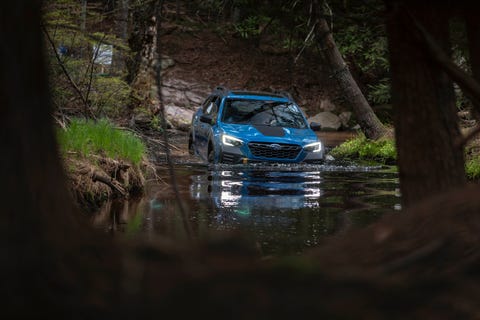 Subaru even had us drive the Outback Wilderness upriver — not just ford a river, mind you, but actively drive for about 50 yards against the current through flowing water about two feet deep. Dirty, algae-rich water that was so opaque, there was no way to see where exactly to put your tires — in the event that you even had a choice...which, at certain narrow spots between a literal rock and a hard place (i.e. a large tree), you did not.
That's actually me you see in the pictures here, driving the same Geyser Blue Outback Wilderness I drove to Monticello — and the same one I drove back to the hotel afterwards, splattered with red Catskills mud but otherwise unmarred. The Outback handled far worse than I would have ever expected a lifted station wagon to tackle, and it did it with aplomb.
Oh, and should your tire placement prove less lucky than mine? The Outback Wilderness hides a fifth Yokohama Geolandar already mounted on an identical wheel beneath the cargo bay floor, so even a flat doesn't mean the party has to end.
The Most Important Pieces of Gear You Need for Car Camping
Car camping makes getting away easy as pie. These items make it even tastier.
Inside is familiar Outback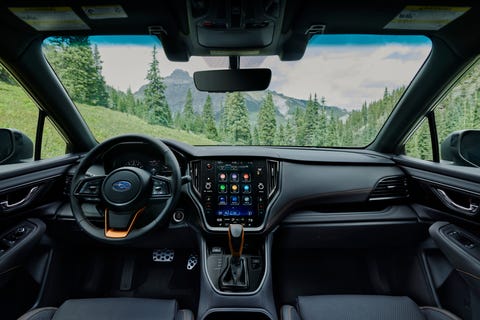 If you're familiar with the most recent Outback (or the same-gen Legacy...or really any other newly-updated Subaru), the Wilderness interior shouldn't pack any big surprises. The infotainment screen, the control, and everything is easy to work with, with only a few UI exceptions. (Why is it so damn hard to change between satellite radio presets when using the auto-recall feature that starts at the beginning of the last song? Why are many of the secondary vehicle controls that ought to have hard buttons relegated to hidden screens?)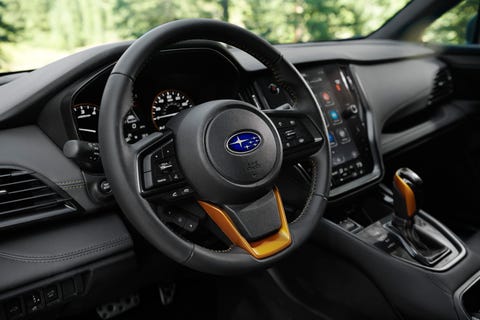 The seats are upholstered in the same water-repellent, easy-to-clean StarTex material as found on the Onyx Edition Outback; while I can't say how the synthetic leather-like material would hold up on hot, sticky days, it certainly felt comfortable during my temperate May drive with the climate control on. Waterproof material also coats the second-row seatbacks, to better the lives of anyone throwing wet equipment (or, y'know, dogs) back there.
The Outback Wilderness is ready for car camping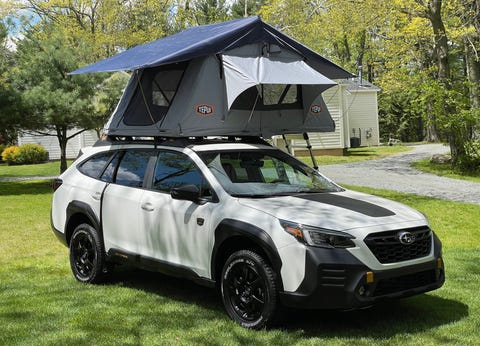 It's rare that you'll hear a car company talk about static or dynamic roof loads during a new vehicle launch, but Subaru made an explicit point to hit on it during the Outback Wilderness reveal. To be more specific, the new model was engineered to deliver 220 pounds of dynamic load capacity (i.e. how much weight it can carry on top with the car in motion) and 700 pounds of static load (i.e. how much it can hold when the car is parked).
In case it weren't obvious from the picture, the obvious use case for this is a rooftop tent. 220 pounds is a bit more than most new crossovers and cars are rated for, but with most rooftop tents weighing in between 100 and 150 pounds, the overkill is really only needed if you want to snag a tent like a Roofnest Condor that lets you carry a kayak or bicycle on top of it. The 700 pounds of static load, meanwhile, means you can easily pack a family of two adults and two young kids up there simultaneously...assuming, of course, they all actually fit.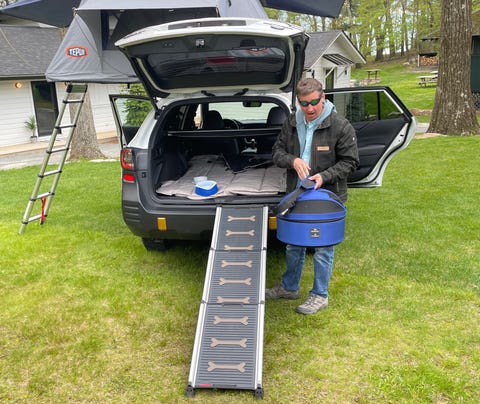 Subaru being Subaru, of course, the brand also made sure to remind the media (and through us, you) that they place a particular emphasis on the safety of owners' fur babies, as well as their human offspring. As of last month, a new line of pet accessories — padded seat and cargo protectors, accessibility ramps, even dog harnesses and cat carriers — has rolled out, and the company took the chance to show some of them off to us.
What does that have to do with the Outback Wilderness in particular? Not much, really – the accessories are hardly exclusive to this trim, after all. But they're added proof that Subaru, well, pays attention to what their buyers want. Subaru owners are more likely to have pets than the average new car buyer, so they make it easier to bring those pets along safely and comfortably. Subaru owners wanted an Outback that was even more Outback-y, so they whipped up the Wilderness. It's that sort of attention to what customers want and need that's helped the brand not just survive, but thrive — and as more and more people become enthralled with camping and overlanding and outdoor activities in the post-COVID era, it's likely to serve them well.
Considering the breadth of its capability — not just its off-road prowess that compares favorably with just about anything lacking a low range, but its cargo capacity and roominess, smooth on-road ride and a reasonable price that rolls in under $40,000 — it's hard not to see the Outback Wilderness as a sign that Subaru's future should keep on being bright.
The 2022 Subaru Outback Wilderness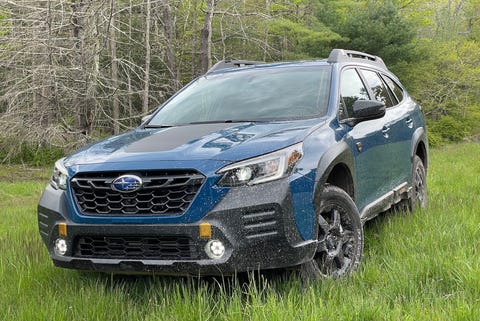 Base Price: $38,120
Powertrain: 2.4-liter turbocharged flat-four; continuously-variable transmission; all-wheel-drive
Horsepower: 260
Torque: 277 lb-ft
EPA Fuel Economy: 22 mpg city, 26 mpg highway
Seats: 5
The Best SUVs for Camping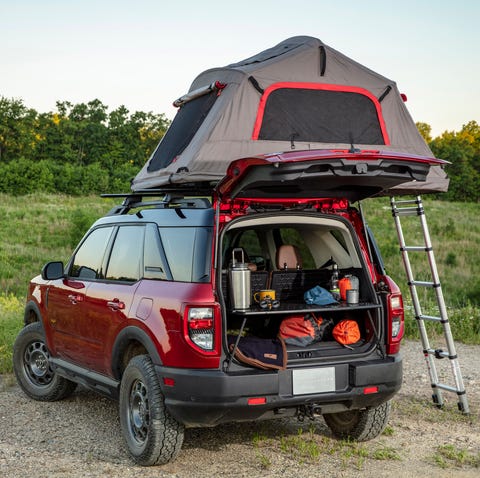 Wanna get away? These SUVs will make it easier than ever.