The Ford F-150 Lightning, Revealed: Here's What You Need to Know
Ford's future is here, and it's going to remind you a lot about what you loved about the past.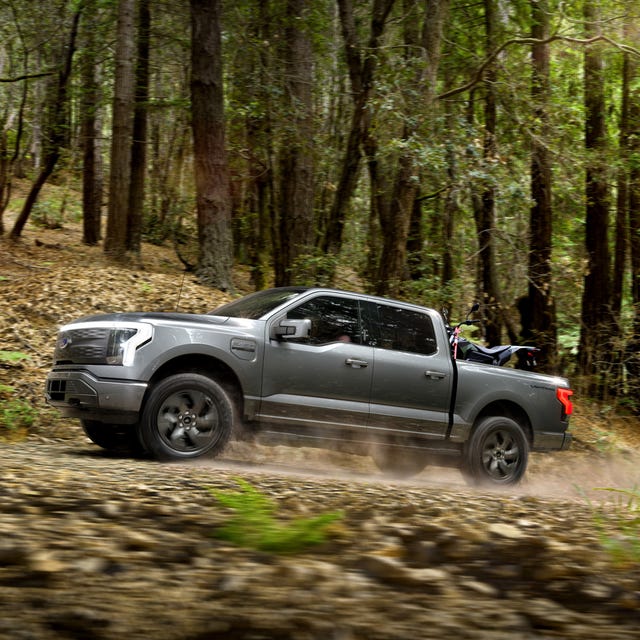 How much power will the F-150 Lightning have?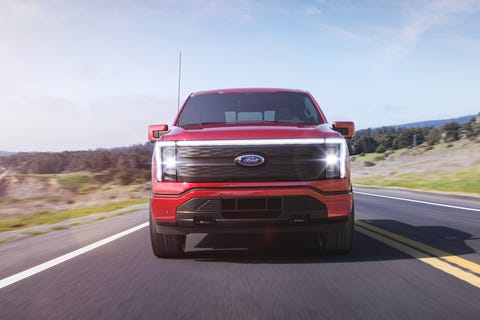 The F-150 Lightning will have a dual-motor setup and full-time four-wheel-drive. In top extended range spec, the F-150 Lightning will be the most powerful stock F-150 ever: the truck will deliver 563 hp and 775 lb-ft of torque. Ford says the 0-60 mph time will be in the mid-4-second range.
How much range will the F-150 Lightning offer?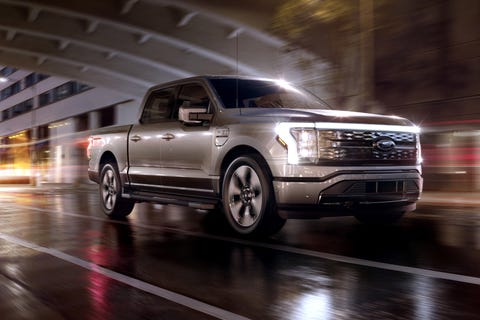 Ford does not have official EPA figures yet, but they're targeting 300 miles for the extended range version and 230 miles for the standard version. In real driving, Ford's Intelligent Range system will incorporate a myriad of factors from the cloud and the vehicle, including the payload, the number of passengers, weather conditions and the driver profile for a customized range estimate.
So, the F-150 Lightning can power a house?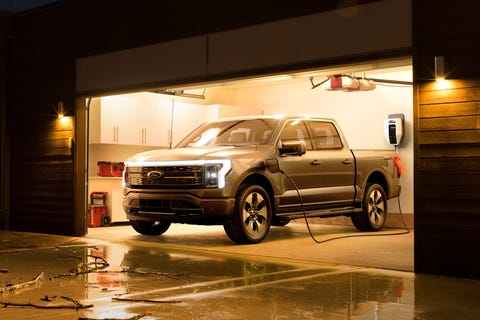 Yes indeed. Say goodbye to noisy generators: the F-150 Lightning can come with a Ford Intelligent Backup Power system capable of sending up to 9.6 kW of power back out of the truck and into your home if the power goes out. Ford says a full charge can power a home with normal power usage for up to three days in the event of an outage (and up to 10 days if you ration usage). Plus, it will activate automatically when needed
The F-150 Lightning can deliver the same 9.6 kW of power through Ford's Pro Power Onboard system, which features 11 power outlets combined in the bed, cabin and frunk. Ford says a full charge can both deliver a commute and power a job site for multiple days without charging.
Wait...what was that about a frunk?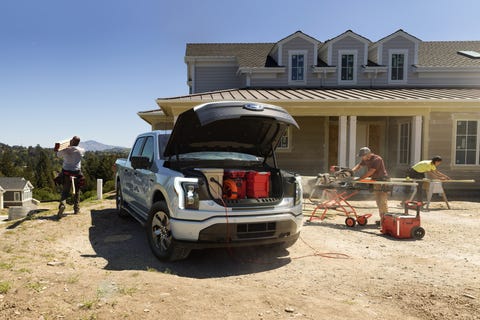 The biggest frunk so far. Ford replaced the former gas engine compartment on the F-150 with the "Mega Power Frunk." It has 14.1 cubic feet of space, enough to hold two bags of golf clubs or one checked bag and two carry-ons. It offers a dry, lockable space outside the cabin. If you want to use it as a giant shrimp cooler, it has a drain hole. It also has a low load floor for more practical use, and it has multiple charging options for setting up a portable workspace (or tailgate).
These Are the 16 Best Cars to Buy in 2021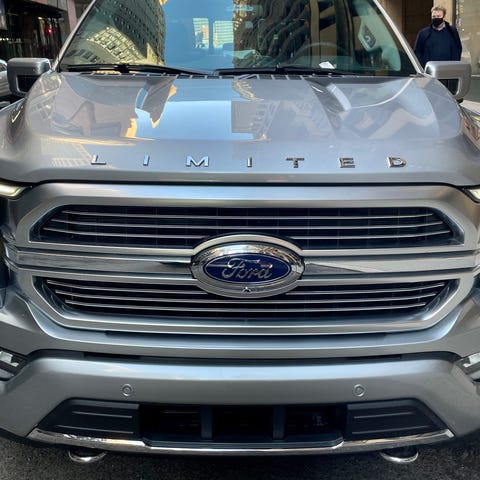 Kelley Blue Book has revealed the best cars to buy awards for 2021. The results may surprise you.
How will you be able to charge the F-150?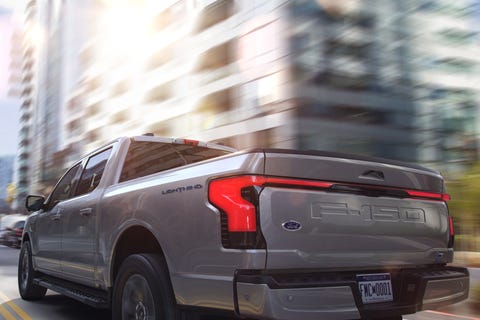 At home, Ford is partnering with solar company Sunrun for the installation of the 80-amp Ford Charge Station Pro (which is compatible with solar power, if desired). The Extended Range model will add about 30 miles of range per hour and fully charge from 15 percent to 100 percent in eight hours with that setup.
On the road, more than 16,000 charging stations are integrated into the FordPass network. On a 150-kW fast charger, the F-150 Lightning will add up to 54 miles of range in 10 minutes and charge from 15–80 percent in 41 minutes.
How much will the F-150 Lightning be able to tow and carry?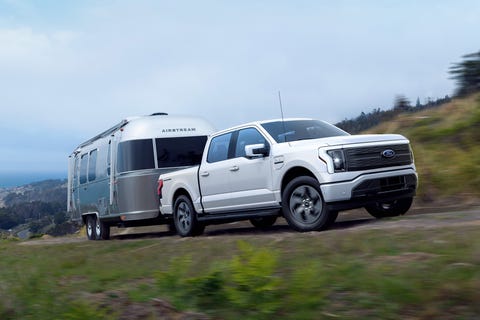 Ford says the F-150 Lightning can carry 2,000 pounds of payload and will have up to 10,000 pounds of towing capacity. It will also have a dedicated Tow/Haul mode. Ford did not mention how much nearing those limits will affect range estimates.
What other cool tech does the Ford F-150 Lightning have?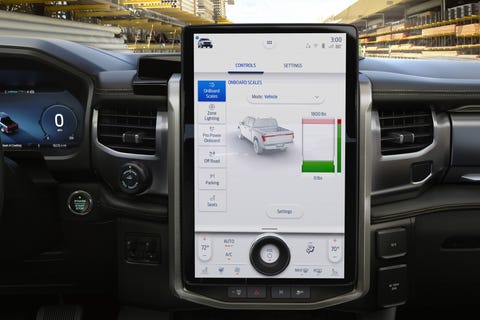 The F-150 Lightning will have Ford's BlueCruise hands-free driving technology. Lariat and Platinum trims will get Ford's advanced Sync 4A voice control system. You get a massive 15.5-inch touchscreen. You also get many cool features from the standard F-150, like Pro Trailer Backup Assist and Onboard Scales.
How much will the F-150 Lightning cost?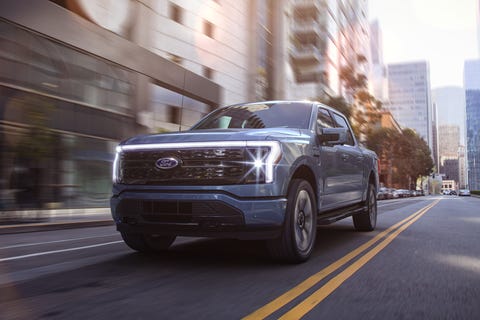 The F-150 Lightning will be cheaper than many anticipated. Ford says the starting price for the entry-level F-150 Lightning model will be $39,974 before tax incentives, with the mass-market X:T version starting at $52,974. The top-trim price will be around $90,000. You can reserve one now on Ford's website with a $100 deposit.
The 33 Electric Cars We're Most Excited to Drive in the Future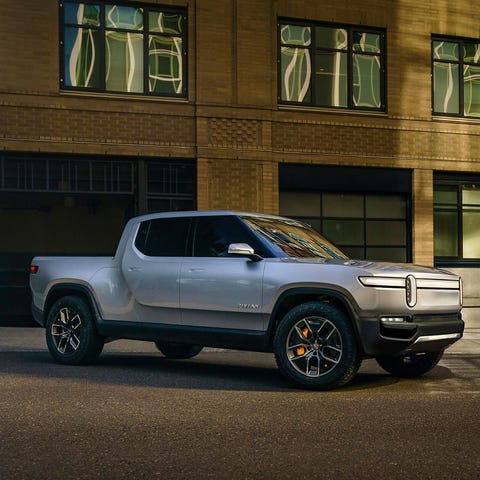 The next few years will be packed with new EVs. These are the ones that have us jazzed the most.