The Toyota Tacoma Is Turning Into an Even Cooler Off-Roader for 2022
Toyota added some new goodies to the Tacoma, whether you want a full TRD Pro or a budget overlander.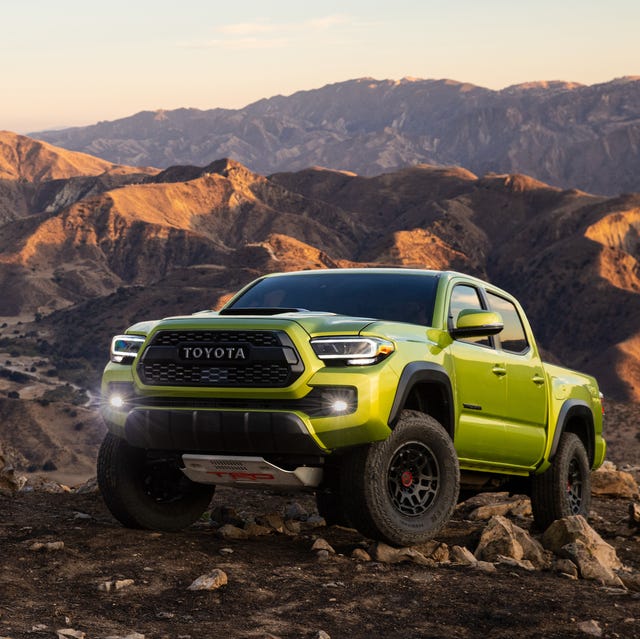 The Toyota Tacoma is one of our favorite off-road vehicles. Earlier this year, the brand teased two new adventure-ready trims for the 2022 model year; now, however, we can actually tell you about them.
To be fair, the "new" trims are actually significant updates to previous ones: the top-of-the-line TRD Pro that's made for crazy off-roading; and the Trail edition, a more affordable off-road-ready option with some neat features for overlanding.
Both new Tacoma trucks go on sale in the fall of 2021. Toyota has not yet revealed pricing on either yet, but here's everything else you need to know about the upcoming changes.
What's new for the 2022 Tacoma TRD Pro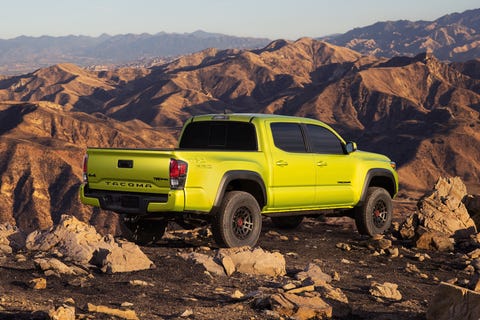 The TRD Pro is the most off-road-capable Tacoma (at least, before you hit the aftermarket). For the new model year, Toyota gives the TRD Pro a bigger 1.5 in front suspension lift and an 0.5 in rear suspension lift. The changes increase the Tacoma TRD Pro's approach, breakover and departure angles to 36.4°, 26.6° and 24.7°, respectively. They're also adding new TRD forged upper control arms that allow for additional suspension travel.
Toyota will give the TRD Pro new 16-inch black wheels. The coveted TRD Pro badging on the rear quarter panel will be eliminated, sadly, in favor of TRD Pro stamping. And for those looking for a bit more pizzazz, Toyota will offer a new TRD Pro-exclusive Electric Lime paint color.
What's new for the 2022 Tacoma Trail Edition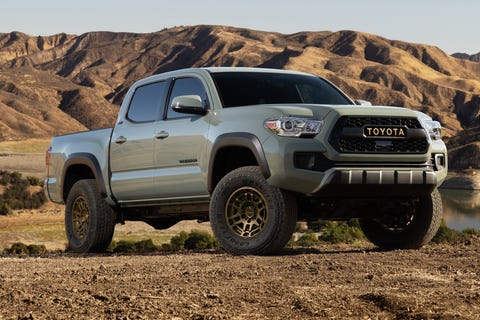 The Tacoma Trail Edition is built off the more affordable SR5 trim, but it adds some cool features seemingly made for overlanding, like lockable bed storage and a 120-volt power outlet in the rear. The Trail Edition now brings a 1.1-inch front and 0.5-inch rear suspension lift, a standard rear locking differential and the skid plate from the TRD Off-Road trim.
There are also some aesthetic tweaks for added distinction (and distinction from the TRD Pro). The Trail Edition Tacoma will feature bronze "Toyota" wheels and corresponding bronze lettering on the grille. The Trail Edition also now has a color-keyed rear bumper and "Lunar Rock" as a paint color option.
The Most Important Pieces of Gear You Need for Car Camping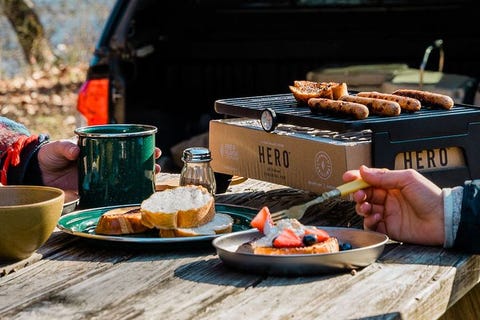 Car camping makes getting away easy as pie. These items make it even tastier.