Airstream's Newest Camper Van Is Made for Outdoor Adventures
The Interstate 24X packs ample space for mountain bikes and the like.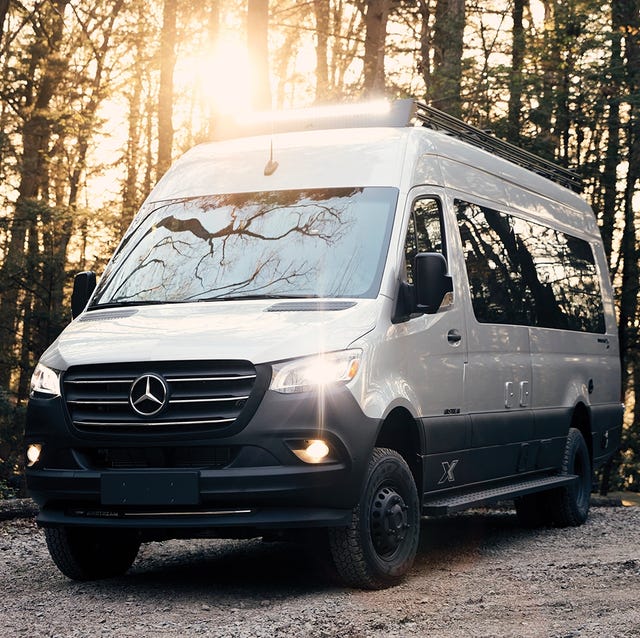 By now, we shouldn't have to tell you that camper vans are all the rage here in 2021. Between the lingering COVID-19-sourced tensions of wanting to be away from other potentially virus-laden humans, the flexibility of work locations and the impressive amount of features that vanmakers can jam into a build today, there are more reasons than ever to set out into the wild (or at least the mild) in a van you can sleep in.
While smaller independent builders like Ready.Set.Van and Boho Campers may dominate the Instagram feeds full of #vanlife, for many folks, the idea of buying a vehicle from a more-established well-known brand holds more appeal. That's why Winnebago competes here; that's why Mercedes-Benz recently launched its own camper van; and that's why Airstream is now adding to its camper van lineup with a new variant aimed at more outdoorsy, adventurous buyers. Meet the Airstream Interstate 24X.
The Airstream Interstate 24X is one big camper van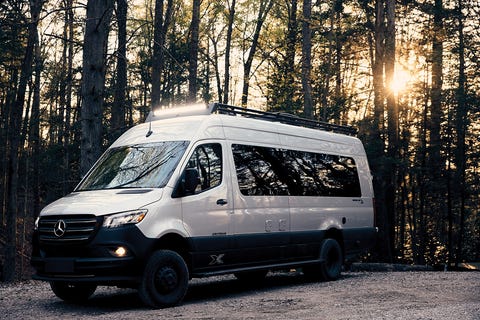 Airstream's camper vans (which they prefer to call "touring coaches," even though that sounds more like something Thomas the Tank Engine would pull around England) aren't just all based on Mercedes-Benz vans; they're based on big Mercedes-Benz vans. At more than 24 feet long and 10 feet tall, driving the Interstate 24X is closer to piloting a U-Haul than a Toyota Sienna.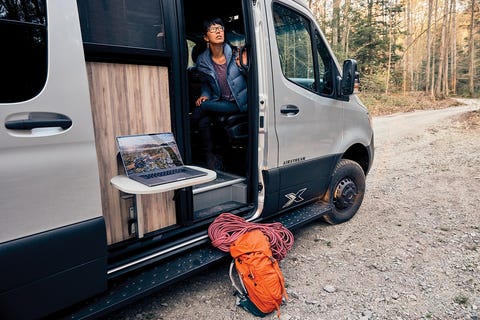 Still, that's true of Airstream's other Interstate 24 models, as well. What sets the 24X apart, primarily, are its features that optimize it for outdoor adventure: standard four-wheel-drive; all-terrain wheels and tires; a heavy-duty power system that packs twin 100-amp-hour deep cycle lithium batteries, a 2-kW power inverter and 400 watts of solar panels; front, side and rear off-road LED lights; and, of course, body cladding.
This Airstream packs a spacious interior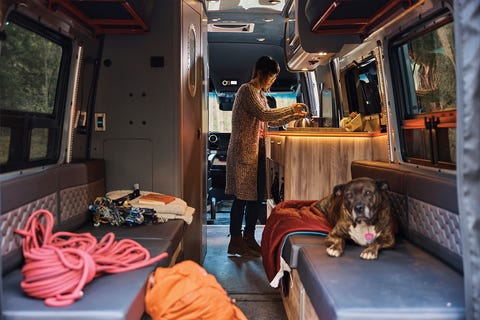 That size means there's ample space to fit all sorts of amenities in there that many a camper van wouldn't be able to. The aft half of the van is dominated by a pair of long couches, somewhat like the side-mounted seats in an old Land Rover — except each of these can comfortably fit three people, and they're much sturdier to boot.
Flexible sleeping arrangements on offer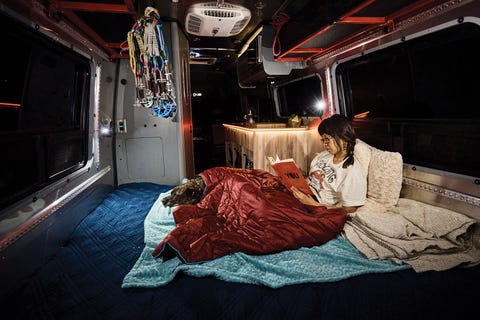 So where, exactly, do you sleep in this Airstream? Simple: the benches fold out to create a large bed encompassing most of the rear and offering ample space to spread out. (In fact, Airstream is all too happy to point out that it offers the largest sleeping space of any Class B motorhome.)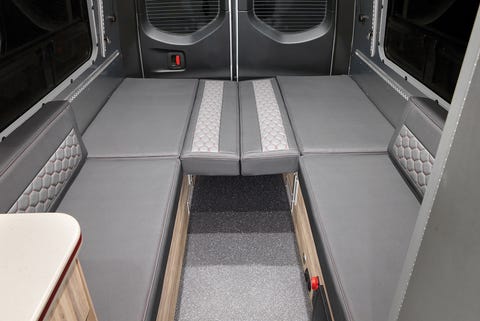 Or, if you don't need quite so much sleeping space, you can also choose to only deploy part of the bed, creating a small bed spanning the width of the rig. Or, of course, you can turn each of the benches into a twin bed.
Flexibility for adventures is the name of the game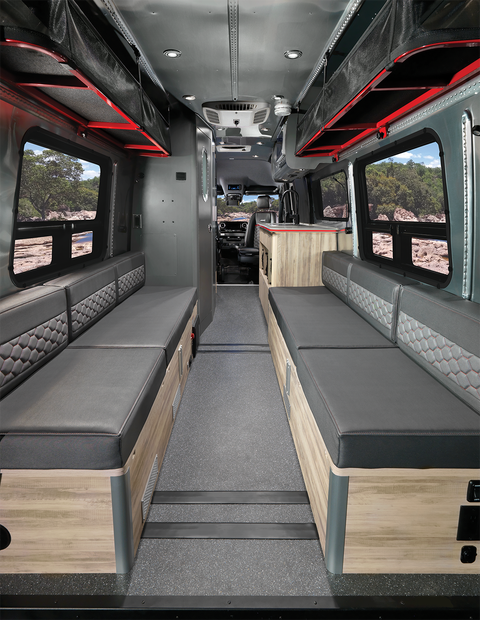 One advantage the high-roof Sprinter has over most vans used for camping builds: plenty of headroom. And room for other things, too: much like an airliner, the Interstate 24x offers ample overhead storage space to make the most of the cabin's cubic footage.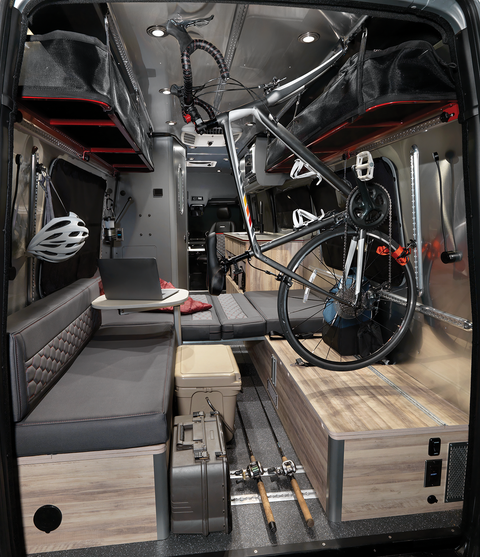 To make sure owners have plenty of places to securely store their gear when on the road, the Interstate 24X boasts an airline-style L-track storage system with attachment points found on the floor, walls and ceiling alike. And since even getting away from the world now often means still needing to stay digitally connected to it, the Interstate 24x comes with a 5G-ready cellular antenna pre-installed, as well as four separate places to mount the on-board table, in case you get sick of the view from your "home" office.
Most camper vans can only dream of a bathroom like this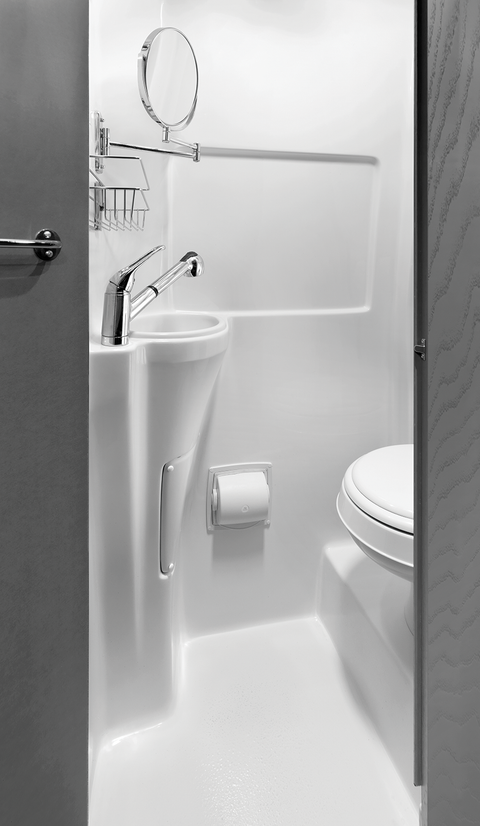 For many buyers, though, the biggest reason to choose the Interstate 24X will likely be this right here: a complete wet bath, with shower, sink and flushing toilet. An 11-gallon black water tank even means you can go days without needing to worry about draining your waste...although we highly suggest abiding by the old axiom "if it's yellow, let it mellow."
Whip up some (college-spec) meals anywhere on Earth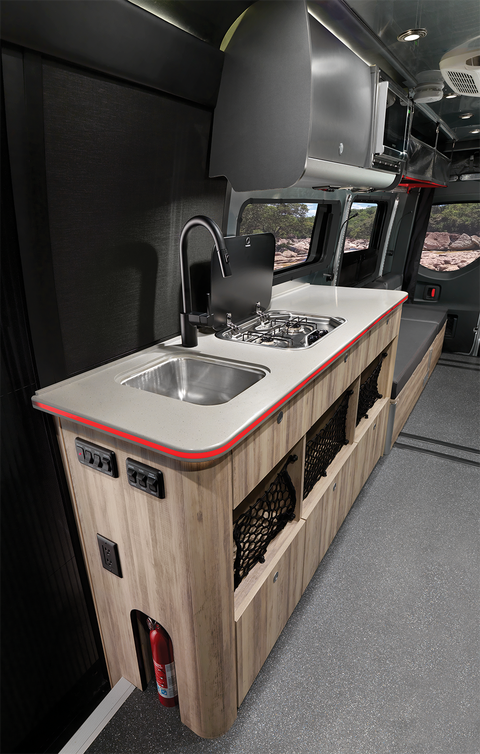 If you still remember how to assemble a great meal using a small stovetop and a microwave from your dorm room days, the Interstate's kitchen offers everything you need to play Vanlife Bobby Flay.
The freshwater tank boasts 23 gallons of H20 for whatever purposes you might need. If it gets too hot inside from all your cooking, there's a 13,500-BTU air conditioner to cool things off again, as well.
You'll see the Interstate 24X on the roads very soon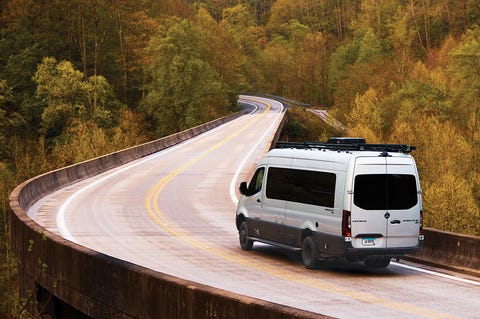 Airstream says examples of the Interstate 24X will be reaching dealers in the next few weeks, but if you're already sold, you can start placing your order now. The starting price: $213,850.
Want a Camper Van? Here Are the Brands to Know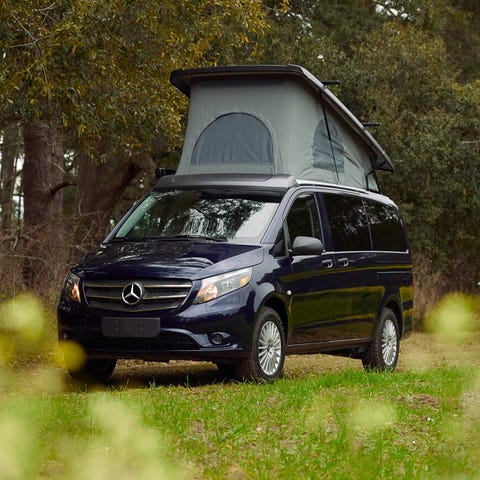 Europeans and Aussies get many of the best camper vans. But there are still some great options you can buy in the United States.
This content is created and maintained by a third party, and imported onto this page to help users provide their email addresses. You may be able to find more information about this and similar content at piano.io