The 2021 Porsche Cayman GTS 4.0 May Be the Best Porsche to Buy Today
If you can buy just one Porsche, you may want this over a 911.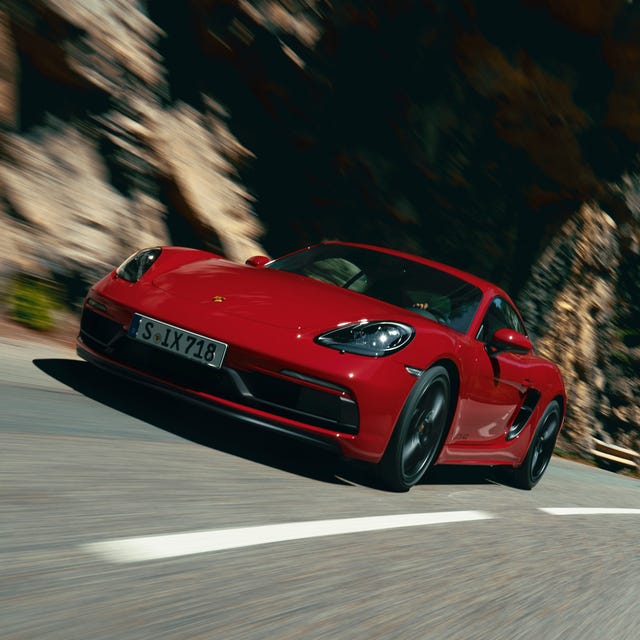 What is the 718 Cayman GTS 4.0?
The 718 is Porsche's entry-level sports car; the Cayman is the coupe version. (It used to just be "the Cayman," but Porsche added the 718 to lend the car a 911-like imprimatur. You can still just call it a Cayman.)
GTS stands for Gran Turismo Sport, which for Porsche means sporty, but still reasonable to drive on the road. And 4.0 stands for the naturally-aspirated 4.0-liter flat-six engine located just behind the driver. If you want some open air, there's also a 718 Boxster GTS 4.0, but I drove the coupe version, so that's what this review is about.
Is the 718 Cayman GTS 4.0 new?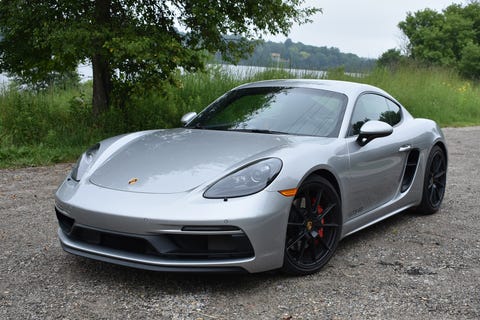 Why is the 718 Cayman GTS 4.0 special?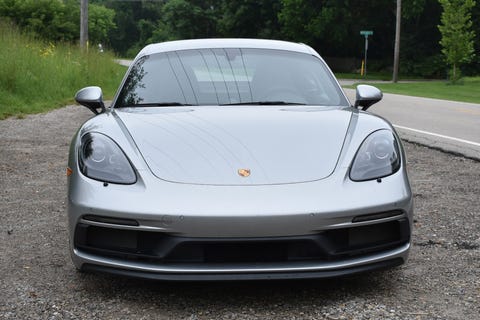 Porsche listened to what the people wanted. Technically, they did a masterful job with the 982-generation Cayman; the models outperform the previous versions, and they do so despite moving to smaller, more efficient, four-cylinder engines. But enthusiasts don't think those motors sound as good or offer the same visceral appeal as the old naturally-aspirated flat-sixes.
So Porsche gave enthusiasts what they wanted: a big, smooth naturally-aspirated 4.0-liter flat-six to the lineup. They offered that powerplant in the hard-edged Cayman GT4 in 2019, then brought it — in modestly detuned form — to the more road-focused GTS 4.0 last year.
Some would argue the 718 Cayman is Porsche's best pure driver's car, what with its rear-mid-engined, rear-wheel-drive layout. This edition comes loaded with some of the best Porsche tech like a lowered PASM Sport Suspension, Porsche Torque Vectoring, the Sport Chrono package, the Sport Exhaust System from the Cayman GT4 and a six-speed manual transmission that shares a dual-mass flywheel with the 911 GT3. Throw in that 4.0-liter flat-six and you have what — to many – may be the perfect Porsche.
How does the 718 Cayman GTS 4.0 drive?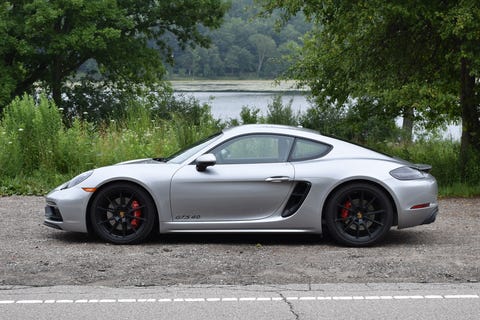 You have to drive the 718 Cayman GTS 4.0 differently than many modern cars. Turbocharged cars deliver more low-end boost, but with a naturally aspirated motor, you need to push things higher up the rev range. Peak torque comes in at 5,000 RPM rpm with a 7,800 rpm redline. It's a fun way to drive, and you get rewarded with a gratifying engine whine happening right behind your head. Other sports cars have more power, but the 394 hp here is about as much as you can use on a real road.
Handling? Well, it simply doesn't get much better than this. Even the base 718 Cayman is renowned for its handling, but this is about the best version of the car on offer. The car delivers nearly unparalleled synergy between driver and car. Whether you're carving corners or scything through highway traffic, you think and the car moves with only the slightest of wheel adjustments. Feedback loops back from the car to the driver, giving you a tactile feel of how the tires are interacting with the undulating pavement beneath you.
Yes, other manufacturers can build you a precision instrument. But Porsches — even the racier ones — are also solid, reasonable everyday cars (why have a car if not to drive it?). The Cayman GTS 4.0 is intuitive and unintimidating. It rides firmly but also comfortably on crappy roads. The car even comported itself well — despite the lowered suspension — when a human navigation error north of Ann Arbor left me on a rutted dirt track.
What's the 718 Cayman GTS 4.0 like inside?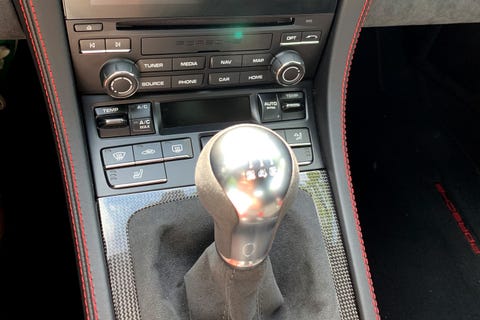 No one buys a Cayman for the interior. It's fine. The passenger compartment is cozy but serviceable. Storage is surprisingly spacious with the rear mid-engine layout providing both a trunk and a frunk. The materials are nice. You get typical Porsche idiosyncracies like the hidden cupholders and left of the wheel key insert (in case you need to stop, drop and do a Le Mans start somewhere). The button-heavy center console feels dated, though, and Porsche's tiny 7.0-inch infotainment screen would get dragged in much cheaper cars.
Is the 718 Cayman GTS 4.0 a good value?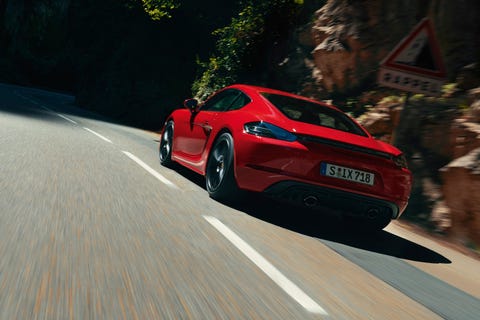 I think so. The price is steep: the Cayman GTS 4.0 starts at $87,400, and my tester priced out to $100,990. However, it's $13,800 cheaper than the Cayman GT4, which gives you 20 extra horsepower you'll never use. And if you want a naturally-aspirated 4.0-liter 911 these days, you have to level all the way up to the GT3, which starts north of $160,000.
Sure, you could save money and get similar power from a Toyota Supra. But it'll have an automatic, it'll be turbocharged...and you'll have to look at a Supra every day.
One last note: silver may be the worst (or best) color 718 Cayman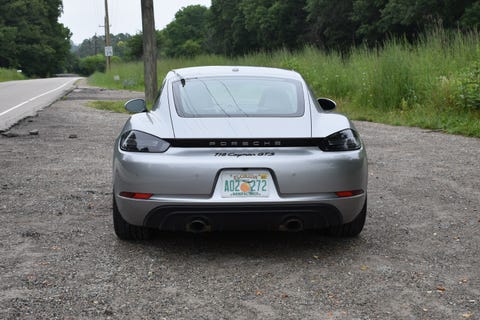 I was more excited to drive the 718 Cayman GTS 4.0 than any car this year — and I've driven some cool ones. My tester came in GT Silver Metallic. It would not have been my choice — I'm a strict Guards Red man when I picture my dream Porsche — but I was okay with. For everyone else, however, it seemed to kill the vibe.
I texted a picture to my dad — a Porsche lover and former Cayman owner — and he waited a long while before texting back that he hated the color. My Instagram post got only a handful of likes, all from people related to me who like everything I post. My neighbors largely ignored it. The silver seemed to make a seriously cool car feel anonymous.
So avoid the GT Silver Metallic? Well, maybe not. If you actually own and drive the 718 Cayman GTS 4.0, you probably want the car to blend into the background (hard to get out of a speeding ticket in a glaring red Porsche). So one could argue GT Silver Metallic may be the color to get.
The 2023 Nissan Z Has Arrived. Here's Everything You Need to Know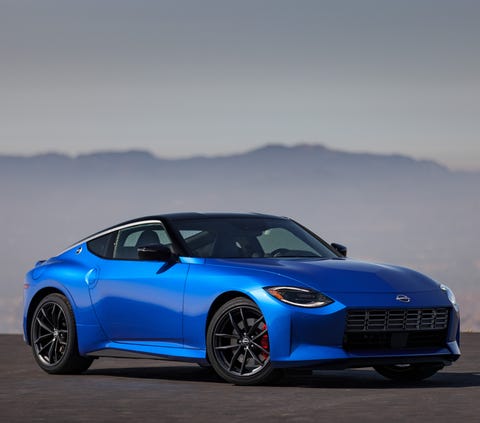 The Z is all-new at last — and packing 400 horsepower.