The 2021 Lamborghini Huracan STO Is Insane to Its Core
"Race car for the street" hasn't been this literal in a long time.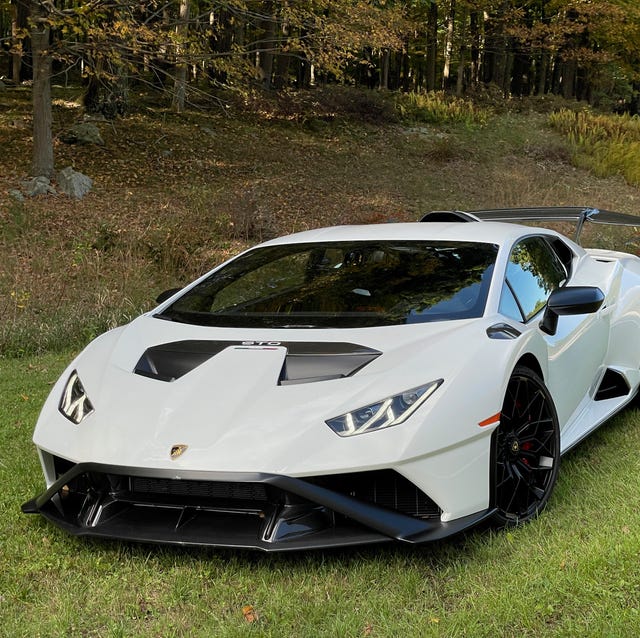 Lamborghinis have always trafficked in excess. They have not, however, always trafficked in racing. When Ferruccio Lamborghini flicked his hand under his chin at Enzo Ferrari back in 1963 by creating his own car company, it was with the aim of making a stellar grand touring car, not a street-going justification for a racing machine. Whereas Ferrari's legend has always been tied to racing — in particular Formula 1 — Lambo's cars have been more about speed and style for the street.
Still, the pull of victory in competition is tough to resist for any company that traffics in fast cars...and Lamborghini's are certainly that. The company has dallied in selling GT3 race cars based off its V10-powered models since 2007, but it's also created its own one-make series for die-hard Lambo fans called "Super Trofeo" — and it's these race cars that have led to the new Huracan STO.
Is the Lamborghini Huracan STO new?
The last three letters are. They stand for "Super Trofeo Omologato" — which, translated from car-nerd Italian to everyday English, effectively means "street-legal version of our race car for really rich guys who want to race other really rich guys on an even playing field."
The underlying Huracan, of course, has been around since 2014, although it's stayed fresh through a combination of life cycle updates (the most recent being the upgraded Huracan Evo that debuted in 2019), periodic special editions...and the inherent charm that comes with looking like a roadgoing stealth fighter.
What makes the Huracan STO special?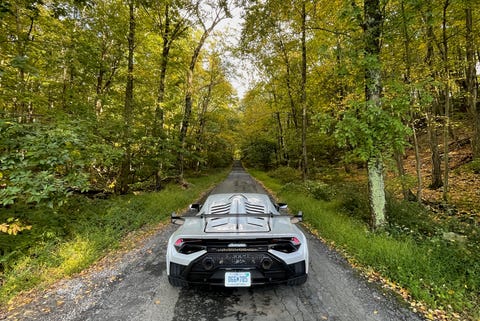 It's Lambo's most hardcore version of the Huracan yet. But not, notable, the quickest, at least in a straight line. Unlike the prior contender for Category 5 Huracan, the all-wheel-drive Performante, the STO sends all its power to the rear wheels. (Lambo quotes a 0-62 mph time of 3.0 seconds flat, whereas independent tests have found the Performante can do 0-60 in 2.2.) It also, interestingly, does without the ALA active aerodynamics found on the Huracan Performante and Aventador SVJ that route airflow left and right to help slice through turns more quickly and viciously.
Instead, it makes do with an arsenal of more conventional aero weapons, such as a manually adjustable rear wing, a "shark fin" running down the spine that helps stabilize the car while turning, air ducts running through the hood and more — all of which combine to help the car generate up to 53 percent more downforce than the Huracan Performante did. There's also added air intakes for the engine and air vents to help cool the brakes, to help deal with the constant demands on both that come with track usage.
What's the Huracan STO like to drive?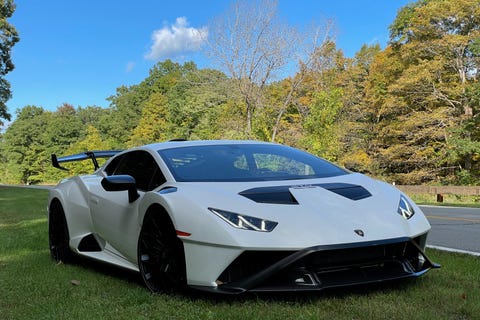 Every bit as beastly as you might expect, given its looks. Sending 631 horses to the rear wheels alone is, in general terms, a recipe for wheelspin — unless, of course, you make those wheels incredibly wide, wrap them in aggressive Bridgestone Potenza Sport tires, and give the car a good traction and stability control system to make the most of it. Click the steering wheel-mounted drive mode selector to "Trofeo" — the most aggressive of the three choices, and the one you'll want to spend most of your time in — and the car's systems will give you just enough reins to keep you in control while still giving you the sensation that you
The engine's high-revving nature means you can't lean on a fat low-end torque curve to putter around, but you wouldn't want to even if you could; the screams it makes as it spins up towards redline are almost as intoxicating as the rocket-like rise in thrust that comes with it. It's a feeling that'll leave you giggling incoherently every time you hammer it up through a gear or two. (Sure, that's no good for gas mileage...but let's face it, if you can afford one of these, you can afford to reforest an acre for every tank of premium you use.)
With the front wheels unburdened by propulsive duties and the steering honed to a katana's edge of sharpness, slicing up turns becomes a joy even at moderate speeds, with an immediacy to the rack that makes the car feel like an extension of your body and enough feedback to double down on that impression.
Indeed, "immediate" is a solid adjective to describe the entire driving experience. Whatever you ask the STO to do, so long as it doesn't violate the laws of physics, it'll do it now. Which is what you'd want in a race car, where every tenth (or hundredth) of a second counts.
What's this Lamborghini like inside?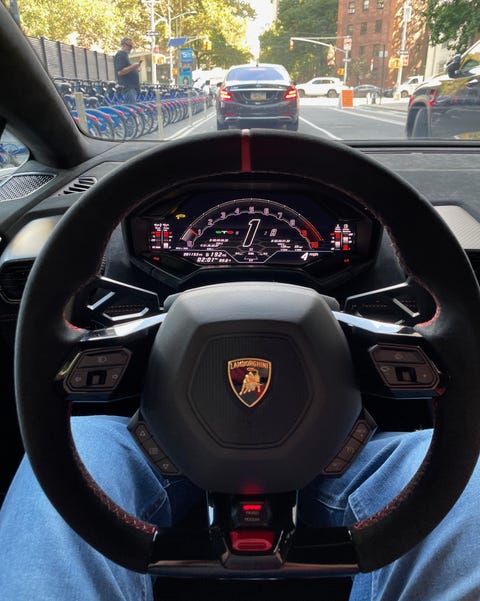 Tight. Especially if, like your humble author, you're appreciably over six feet tall. Headroom isn't all that bad, honestly — though if your height is found more in your torso than legs, you may think otherwise — but legroom is exceedingly compromised, both by the tight proportions and the aggressive bolstering, which extends to the bottom of the seat as much (or more) as the back. If your inseam is over, say, 30 inches, you'll probably find your thighs getting cramped up after an hour or so.
Then again, this isn't meant to be a car for logging long hours behind the wheel. While other Huracans can be pressed into long-distance service when needed — I once spent a week driving a Huracan Performante around California while car camping, so believe me, I know — the STO is all-in on its track-focused nature. Not only is there no trunk, but there's really not even a frunk; pop the lid on the front storage area, and you'll find a spot that's designed to fit exactly one racing helmet. (Your passenger can just hold theirs in their lap, I guess.)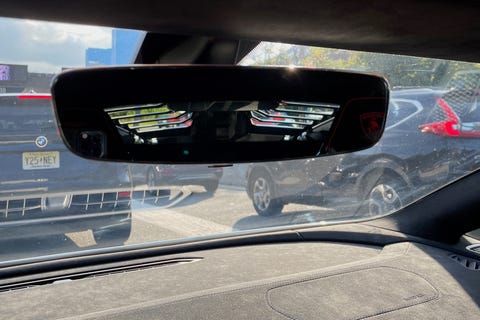 Still, while the engine louvers that render rearward visibility basically nil may be reminiscent of older supercars, the Huracan's interior is miles better than the cramped, ergonomically-pathetic cabins of predecessors like the Diablo and Countach. There's a large, clear infotainment screen (that, frustratingly, lacks easy controls for volume; you'll have to fiddle with a touchy touchscreen slider that's almost impossible to use without taking your eyes off the wheel), all the A/C and heat you'll ever need, a halfway decent stereo — even Apple CarPlay, in case you want to Waze your way to the track.
What does the Lamborghini Huracan STO compete against?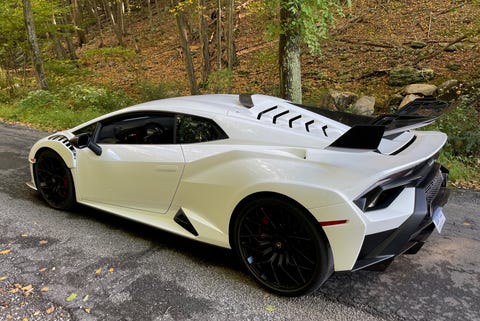 In the rarefied air that this sort of car breathes, direct competitors are more a matter of equal performance than similar price. Still, the McLaren 765LT is likely the closest in terms of size, layout, capability and cost, even if it starts out $TK cheaper. Should Ferrari choose to build an F8 Tributo-based successor to the 488 Pista, that will smack up against the Huracan STO, but the announcement of the 296 GTB makes that less likely than it might have once seemed. Porsche's next all-but-inevitable 911 GT2 RS will also stack up against it, whenever it arrives.
But all those cars feature forced-induction engines that trade cylinders and displacement for turbochargers to get maximum power — a trade that the STO (and the rest of the Huracan line) hasn't been willing to make. While the V12's future at Lamborghini seems safe (at least for another decade or so), the V10 likely won't last past the Huracan's life. Whatever entry-level supercar follows it will likely pack a twin-turbo plug-in hybrid V8, and while it'll all but certainly exceed the STO's output, it'll lose a bit of that
If you want a Lamborghini that stands out, well, you can buy just about any of them. But if you want one that both stands out and can thrill and challenge you on track and street alike...well, start here.
2021 Lamborghini Huracan STO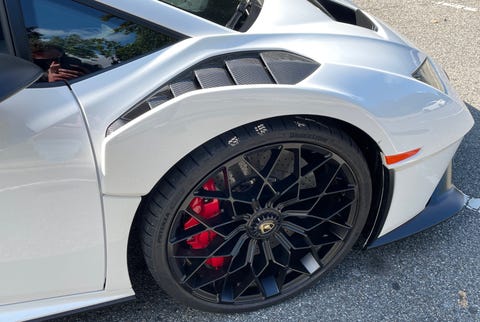 Base Price / Price as Tested: $333,633 / $404,533
Powertrain: 5.2-liter V10, seven-speed dual-clutch gearbox, rear-wheel-drive
Horsepower: 631
Torque: 417 lb-ft
EPA Fuel Economy: 13 mpg city, 18 mpg highway
Seats: Two
The McLaren 765LT Is a Fighter Jet on Wheels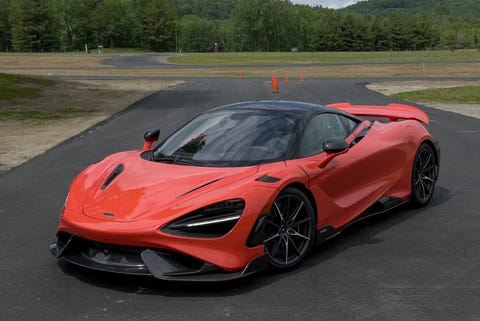 Feel the need for speed? Be ready to be blown away by this Macca.