The Porsche Panamera 4S E-Hybrid Sport Turismo: Half the Perfect 2-Car Garage
This powerful plug-in hybrid station wagon checks almost all the boxes.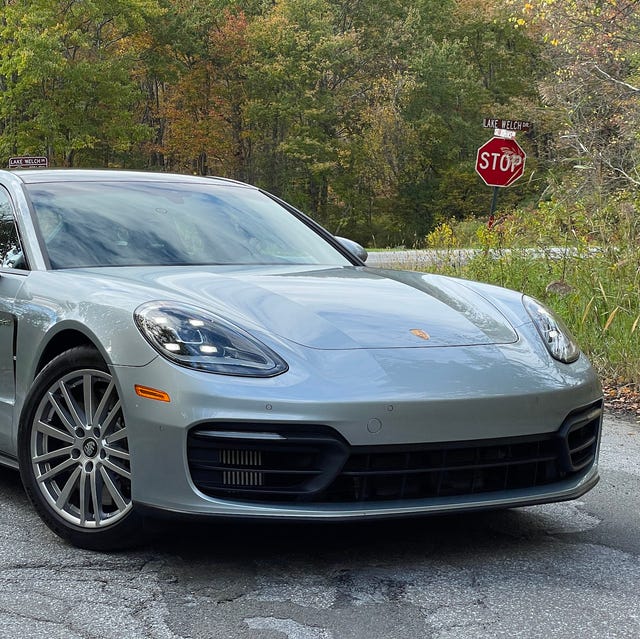 In theory, the Porsche Panamera 4S E-Hybrid Sport Turismo seems like it should be the perfect car for the modern family. After all, it seems to be the best of all possible realities: not just a station wagon with a roomy rear and four-wheel grip, but a particularly slink example of the breed; not just a Porsche making more than 500 horsepower, but one that does so using a hybrid powertrain that also enables it to rack up efficiency figures that humble economy cars.
All that complexity is hinted at in the car's name, which seems long enough to qualify as an entire Bible verse. 4S indicates both the presence of all-wheel-drive and the car's status in the middle of the range, between the furious Turbos and the nondescript base cars lacking letters after their model name. E-Hybrid — a name which might seem redundant to non-Porschephiles — means this is a plug-in hybrid model, capable of short-range electric-only operation. And Sport Turismo is simply Zuffenhausenwort for "station wagon.
But every Porsche — be it a 911 or a Macan or a race car — ultimately aims to mean more than the sum of its parts. To truly be a Porsche, a car needs to communicate with its driver in a special, intuitive way — a way that might seem counter to the concept of smashing together quite so many themes (and powertrain components). So we spent a few days with the Panamera 4S E-Hybrid Sport Turismo to see just how well it lives up to all those expectations.
The Panamera 4S E-Hybrid's powertrain is a complex wonder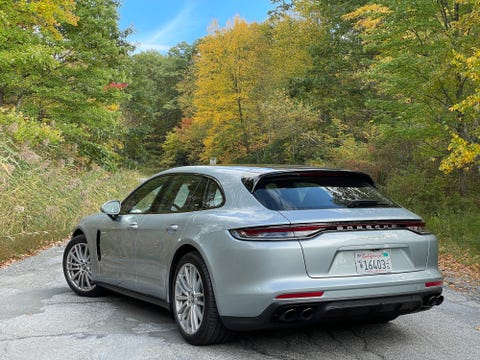 The 4S E-Hybrid is a new model for 2021; before this, you either had to settle for the less-potent 4 E-Hybrid or dig deep into your wallet for the Turbo S E-Hybrid. To strike that balance between them, Porsche melded its twin-turbo 2.9-liter V6 (which you can also find in the Audi S6 and S7, among other places across the VW Group) with an electric motor juiced by an aft-mounted lithium-ion battery pack. The total max output: 552 horsepower and 553 lb-ft of torque, putting it roughly on-par with the now-discontinued Panamera Turbo.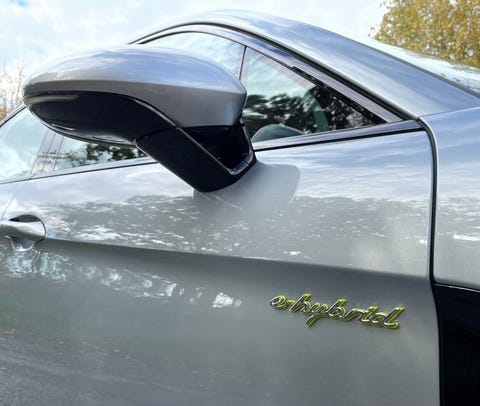 With 134 horses and 295 lb-ft to call its own, the electric motor is potent enough to scoot the Panamera along all by itself, even at speeds of more than 80 miles per hour —though due to the car's curb weight of 5,042 pounds, it doesn't exactly do so briskly. Smash the gas pedal in electric mode, though, and petroleum comes rushing to the rescue, in case you need to suddenly escape the path of a jacked-up bro-dozer pickup doing 90 in a 50.
Assuming there's enough charge in the battery, the E-Hybrid starts off in EV mode; if it doesn't have enough to move around on electricity alone for more than a few hundred yards, it instead defaults to Hybrid Auto, which upshifts early and leans on the electric motor as much as possible, silencing the V6 early and often under low load to let the electric motor take over for even a few seconds at a time. It can be a bit disconcerting — it feels rather like putting the car in neutral and turning the key off while still rolling at first —
Twist the drive mode dial up to Sport or Sport Plus, though, and the gas engine wakes up and stays that way — or in the case of Sport Plus, pounds a triple-shot of espresso. Plus, as in the Cayenne E-Hybrid, dialing up the sportier drive modes also recharges the battery with surprising vigor.
This Porsche could be a dash more involving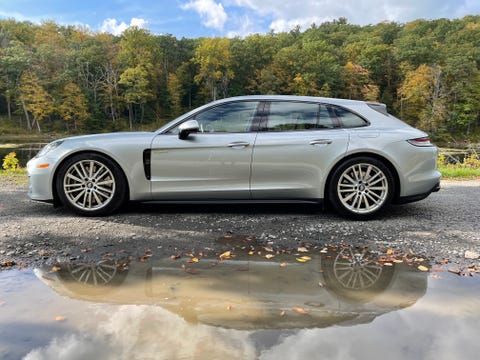 All that complexity does come at a price, though — and it's in the fun-to-drive quotient. In a straight line, the 4S E-Hybrid is every bit the bolt it would suggest; dialing up launch control resulted in a launch that my butt-o-meter readings suggest would easily match Porsche's claimed 3.5-second 0-60-mph run, and with the engine and motor working in conjunction, it feels both fast and furious when accelerating out of a turn or past slower traffic.
(It doesn't sound particularly furious, however; my tester had the sport tailpipes, not the sport exhaust, and based on my experience, it's worth spending the extra $TK for the latter.)
But the added complexity and weight of the car means it doesn't feel quite as natural from behind the wheel when flicking it through corners or really winding it out. There's always a sense that the powertrain is calculating the best way to develop its power that puts a hair of disconnect between driver and ride. In addition, the added weight of the battery is subtle, but it certainly makes the car feel the slightest bit less agile when whipping it about. In most cars lacking the direct steering and sharp responses of a Porsche, you might not notice — but here, you do.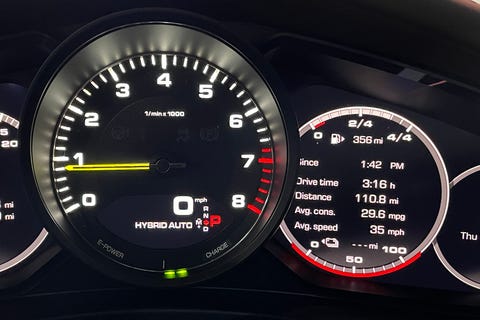 But the numbers don't lie — the 4S E-Hybrid certainly does return decent mileage for its weight and power. Over the course of 110 miles of driving, I average a rounding error short of 30 miles per gallon. On the one hand, that did involve a recharging stop that gave me about 13 miles of EV range; on the other hand, the overall route involved a wide range of driving, including some high-speed highway time and almost an hour of attacking back roads with verve.
The Panamera Sport Turismo interior remains a nice place for the driver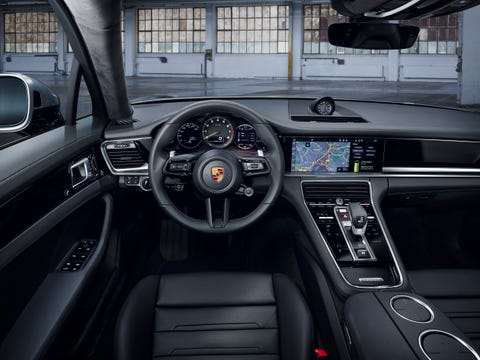 If you've seen any other new Panamera since the 2021 refresh, you've seen the interior of the 4S E-Hybrid Sport Turismo. As is Porsche's way, you can load it up á la carte with luxury options, or choose to go stripped-down if you're not concerned with such things. My test car's
The Sport Turismo's roofline brings two main advantages in terms of space: a dash more headroom in the rear and a tiny bit more space in the trunk. We're talking minor amounts, here: cargo space, for example, goes from 14.3 cubic feet to 15 even. (If those seem low, know that the E-Hybrid's battery cuts into the cargo bay; a non-hybrid Sport Turismo packs 18.3 cubic feet.)
More importantly, however, is that the Sport Turismo's boxy cargo bay is a bit more versatile than the long, wide and low trunk of the fastback Panamera sedan. If you don't mind blocking your rear view mirror upon occasion, you can pile it high with enough bags to support a long weekend or short vacation for the four adults that can fit inside. (The middle seat in the second row is a) optional and b) not recommended for humans even if it's there.)
It's not the perfect car...but it might be half of the perfect garage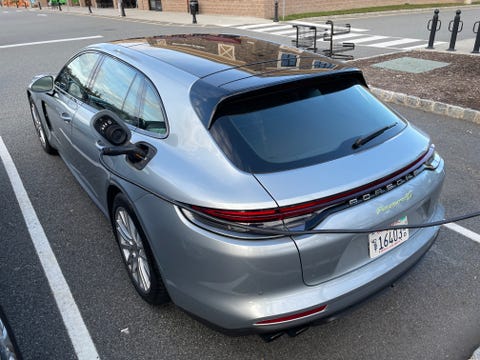 If you only have room for one car in your life and you want something that can be both a phenomenally entertaining drive and can serve as a comfortable daily driver, the 4S E-Hybrid isn't quite there. The Panamera GTS arguably fills that role a bit better; while it's down a bit on power, the missing quarter-ton of mass largely evens the odds in the straight line and makes it more entertaining in turns, and it even gets surprisingly good fuel economy on the highway. (Also, the roar of that V8 makes the V6's engine note sound like a John Deere with a cold by comparison.)
That said, if you have room for two cars — say, as many of us likely would think of it, one for the work week and one for weekend fun — the 4S E-Hybrid might be the ideal choice. It's efficient enough that you might rarely use gas in the course of a commute and comfortable enough to leave you , but still capable of turning cloverleafs into carnival rides and leave you glad you chose to take the windy road home. Then, come weekends, you can hop into the 911 GT3 Touring / Ferrari F8 Spider / Mazda MX-5 Miata / Ford Bronco and go play. Sounds like a plan, right?
2021 Porsche Panamera 4S E-Hybrid Sport Turismo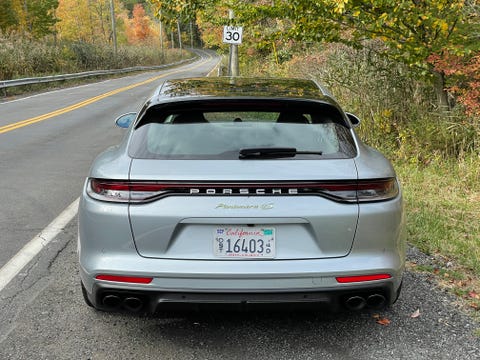 Base Price / Price as Tested: $118,650 / $141,710
Powertrain: 2.9-liter twin-turbo V6 + 17.9-kWh lithium-ion battery + electric motor; eight-speed automatic; all-wheel-drive
Horsepower: 552
Torque: 553 lb-ft
EPA Efficiency: 50 mpg-e combined in electric mode / 22 mpg combined in gas mode
Seats: Four, realistically
The Audi RS 6 Avant Is Fully Worthy of My Obsession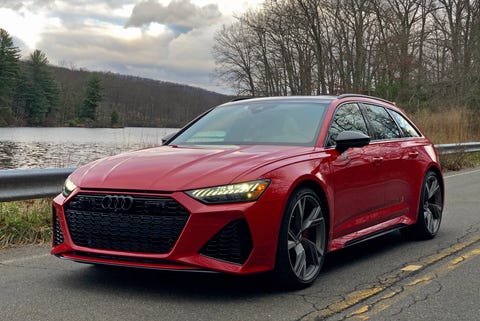 A German luxury wagon with supercar moves and a body to match? Shut up and take my money.
This content is created and maintained by a third party, and imported onto this page to help users provide their email addresses. You may be able to find more information about this and similar content at piano.io