Lamborghini's Newest Huracan Is Ready for Street and Track Alike
The Huracan Tecnica takes the goes-to-11 Huracan STO and dials it back to...10.5.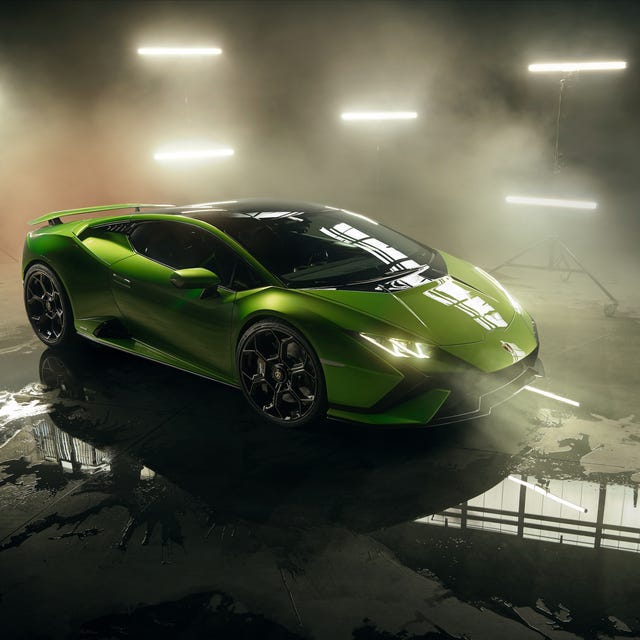 If the life story of the Lamborghini Huracan were reduced to the length of Bob Dylan's 1976 protest song "Hurricane," we'd be right around the point where Dylan croons, "And that's the story of the Hurricane" — about halfway through the last of 11 verses, starting to tie things up. With the Aventador out of production and a high-tech replacement expected to arrive soon, the V10-powered Huracan is expected to be phased out over the next year or two.
What form its replacement will take, well, that remains to be seen. (Don't bet against a twin-turbo V8 instead of a V10, however.) But for now, Lamborghini has no intention of giving up on the 10-cylinder sports car. And their newest model — the Huracan Tecnica — just might be the most appealing example of the breed to surface yet, at least for those of us who spend most of our time driving on the street, not the track.
"Tecnica" in Lamborghini ≈ "Touring" in Porsche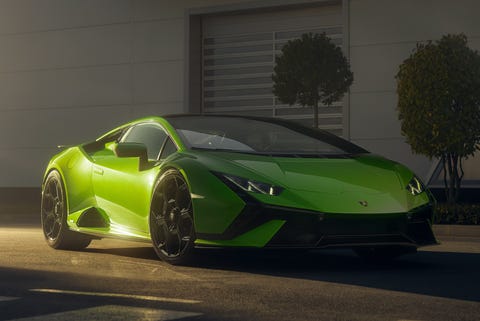 Lamborghini almost certainly wouldn't want us to refer to the new Huracan as their equivalent of the Porsche 911 GT3 Touring...but in all honesty, that's a decent comparison, at least in terms of purpose. The Huracan Tecnica takes much of what we loved about the wild Huracan STO and brings it together in a package that looks just a bit less intense. At least, for a Lamborghini.
"It's the visualization of 'fun to drive' in a car," Mitja Borkert, head of design for Lamborghini, said to us at a walkaround with the car ahead of its formal debut. The changes to the car actually mark the largest stylistic update to the Huracan since it debuted in 2014.
The Huracan Tecnica sends 631 horses to just two wheels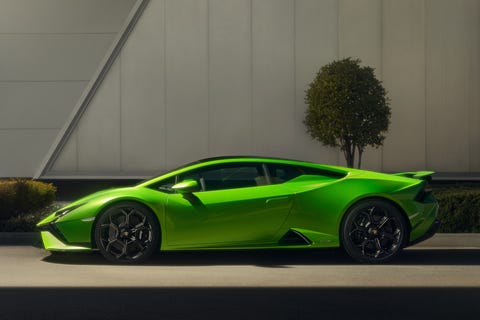 Like the Huracan STO, the Tecnica channels all its naturally aspirated fury to the rear wheels alone, freeing the fronts up just to deal with keeping the car's pointy end pointed in the right direction. The 5.2-liter V10 spits out 631 horsepower and 417 lb-ft of torque — the latter of which doesn't show up until 6,500 rpm, giving you ample excuse to wind out the screaming engine every chance you can.
The Huracan Tecnica's design is function and form together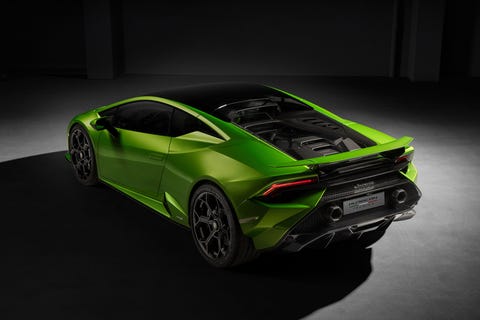 The wing mounted to the back of the Tecnica may not be as prominent as the one on the STO, but it's still very useful; it play a key role in the 35 percent improvement in downforce the car has over the Huracan Evo RWD. In spite of this, however, drag is actually reduced by 20 percent overall versus that model, due to other aerodynamic tweaks.
Perhaps more essential to drivers operating their Lambos on the street, the revised rear around the engine compartment features a new vertical rear window, which should make it easier to determine whether there's a cop behind you before you attempt to test the car's limits.
Its looks also likely presage the future of Lambo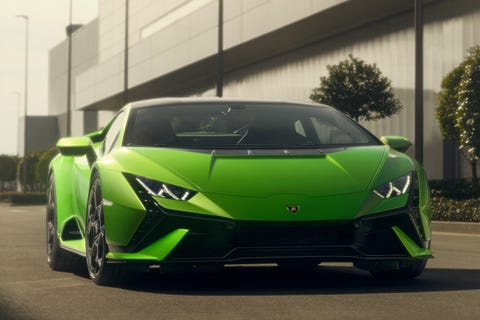 The Huracan Tecnica's front end — that aggressive melange of triangular forms and contrasting black-and-exterior-color body work — brings to mind the Lamboghini Sian limited series model. Same goes, in fact, for this Huracan's hexagonal tailpipes, and a few other elements scattered around the car. Lamborghini has a long history of hiding future models' design cues in plain sight, so don't be shocked if this visual treatment hints at the forthcoming Aventador successor.
The interior is fashion-focused — and fresh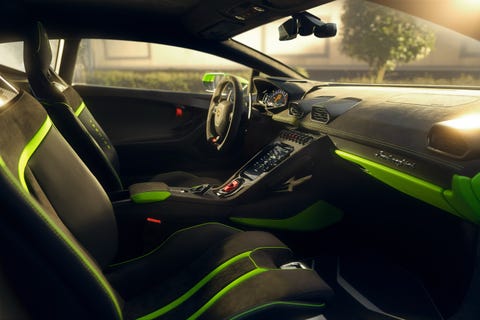 If you're looking primarily for comfort from your Lamborghini, buy an Urus. If you want two snug seats and a delightful driving position, however, this Huracan should have you hooked up nicely.
You won't be lacking for technology inside, either. In addition to the drive mode controls that tell the car's clever Lamborghini Dinamica Veicolo Integrata computer system how to manipulate its many digital levers to make the most of this Lambo's capabilities, there's also a new multimedia interface that also includes Apple CarPlay, Android Auto and Amazon Alexa. You can even use it to track your lap times and spit them out to your phone using an app.

No two Huracan Tecnicas have to be alike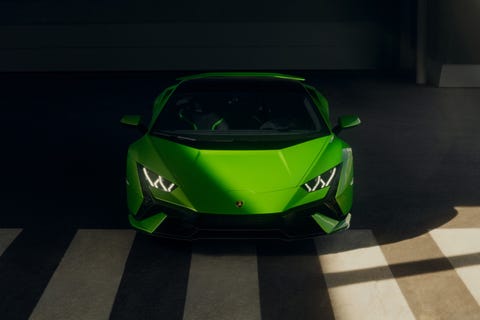 While all the performance options and tech come standard — it's a Lamborghini, of course they do — owners will still have plenty of opportunity to personalize their Huracan Tecnicas. Eight paint colors are standard, but more than 200 extra ones are available through Lambo's "Ad Personam" personalization program. (And, of course, you can ask for basically any other color you can think of...if you're willing to pay for it.)
Tecnica buyers can also choose from a distinct interior trim made just for this model, as well as unique types and colors of stitching for the inside. All told, you can make this Lambo look as loud and extreme as you want...and really, you know you want to. The new model is available for order now; if you place an order quickly, you should get it sometime before the end of the year.
No Car Sparks Joy Like the Lamborghini Aventador SVJ