Every product is carefully selected by our editors. If you buy from a link, we may earn a commission.
BMW's New 7 Series Goes Both Gas and Electric
But either way, there's no getting away from that face.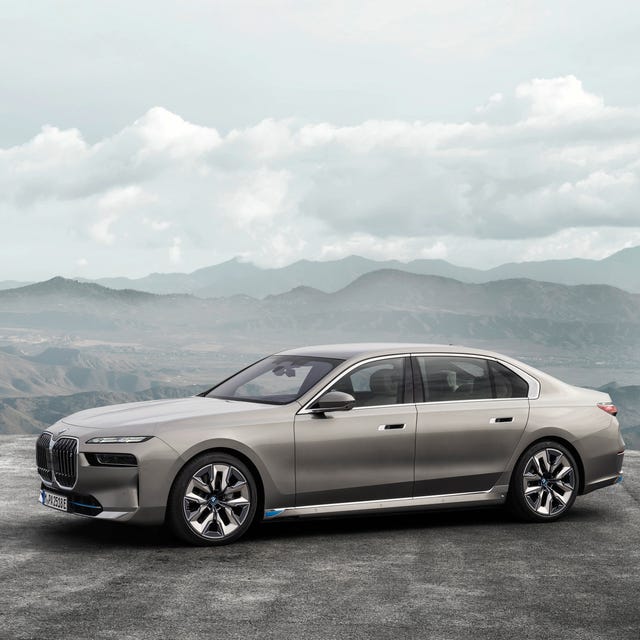 For German automakers, perhaps no market segment is more prestigious than large sedans. Sure, sports cars land magazine covers and movie deals, and SUVs sell like gangbusters, but long, elegant low-riding four-doors with mighty engines, smooth rides and spectacular interiors are the brand icons, the cars chosen by masters of the universe for blitzing autobahns and arriving at meetings in imposing skyscrapers.
So whenever one launches, it's sure to be a big deal. Especially in this day and age of oncoming electrification, when every new generation of gas-powered car to roll out of Germany (or really anywhere) might be the last. Mercedes-Benz — arguably the master of the segment — has gone so far as to split its large luxo-sedan war plan into a two-pronged attack, with the latest S-Class handling the internal combustion side and the new EQS taking the all-electric flank. BMW, however, is taking a slightly different tactic than its rival: instead, it's building one car with two powertrains — and two separate names.
Meet the 2023 BMW 7 Series and 2023 BMW i7.
The new i7 is an all-electric luxury sedan writ large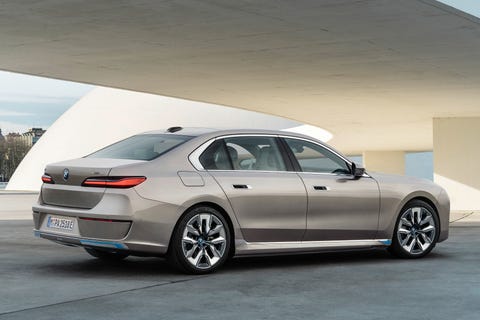 Given the way the world is now, it's perhaps unsurprising that the electric i7 is the marquee attraction of the new BMW 7 Series range. Thanks to a pair of electric motors connected to a 101.7-kWh (usable) battery pack, the i7 xDrive 60 makes 536 horsepower and 549 lb-ft of torque — enough for a claimed 4.5-second 0-60 mph sprint. While the EPA hasn't laid their mitts on it yet, BMW claims it should be able to go about 300 miles in the federal government's test. And should your trip run longer than that, it can take on power from a Level 3 DC charger at up to 195 kW. (Three years of fast-charging from Electrify America comes free, as well.)
The new 7 Series is fancy as hell inside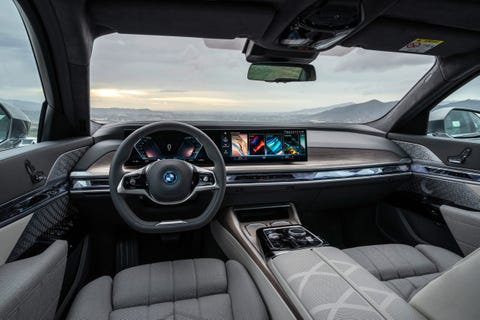 Of course, a sedan like the 7 Series is as much about the interior as it is about performance. Step inside through the automatically opening and closing doors, and you'll be greeted by roughly an entire herd's worth of leather — unless you opt for the new Veganza trim, which replicates the comfort of leather but requires no cows and generates only around 15 percent as much CO2...or the new Merino leather/cashmere wool trim, which, well, brings cashmere to the party as well.
As in the new iX SUV (and many other BMWs to come) a pair of widescreen displays stretches out on the dash — one for the driver's instrument panel, one for the infotainment system. Below the latter lies what the brand calls the BMW Interaction Bar, a long illuminated strip that's both cabin lighting, concealed air vents and control pad for the climate and other systems. And while most of the interior may have gone touchscreen, the iDrive knob still remains.
But the 7 Series's backseat is where the fun is at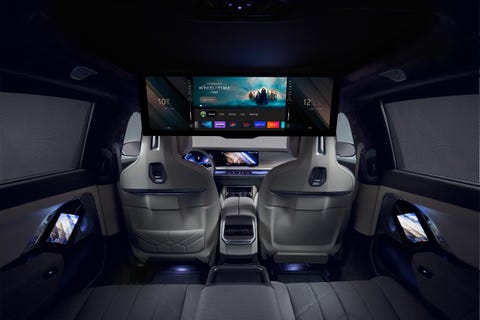 And we're not talking about, y'know, the fun high schoolers get up to in the back seat of a '76 Camaro. The so-called Executive Lounge for the right-rear occupant is something like a production version of the ZeroG Lounger BMW showed off at CES 2020, offering a gap-free leg rest and a more comfortable reclining position than past seats of the same type. Each rear door offers a smartphone-sized touchscreen control panel for the infotainment system, while a panoramic glass sunroof is filled with LED light threads for a TRON-like effect.
Plus, of course, the rear seat passengers are the only ones who can take advantage of the centerpiece of the new 7 Series's infotainment system: the 31-inch widescreen theater screen display between the front and rear cabins.
Yes, that's an 8K, 31-inch TV screen back there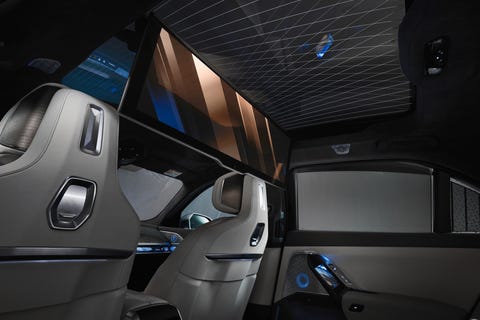 More specifically, an 8K resolution, ultra-HD, 7,680 x 2,160 pixel, 31-inch wide screen in 32:9 panoramic ratio, with integrated Amazon Fire TV streaming capability via 5G connectivity. It's also a touchscreen, believe it or not, although you can also control it via the door-mounted touchpads like Captain Picard.
If you'd prefer not to be locked into the content found on Jeff Bezos's preferred video service of Amazon Prime, you can also stream from a bevy of other platforms and networks via built-in Fire TV apps. Whatever you choose to watch, you'll hear it well through the 1,965-watt Bowers & Wilkins Diamond Surround Sound system (with optional in-seat drivers for bass, of course), and you'll see it well because sunscreens automatically deploys when the TV is in use. You can even move the screen closer or further from the back seat, or stow it away when you don't need it.
Gasoline fans, fear not: there's a new 7 Series for you too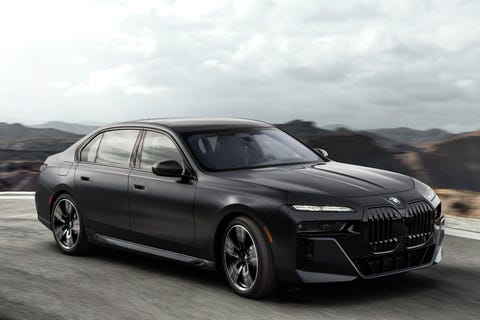 The new 7 Series also launches in America in two gasoline-powered forms. If you can live with rear-wheel-drive and just 375 horsepower and 398 lb-ft of torque, there's the turbocharged inline-six-powered "base" model 740i. However, if you want to make the most out of internal combustion while you still can, you'll want the twin-turbo V8-powered 760i xDrive, which pounds out 536 horses and 553 lb-ft of torque.
A new M Sport appearance package comes standard on both ICE 7ers, in order to up the visual aggression quotient (don't worry, it's optional on the i7, too). If you want sharper driving dynamics to go with that, however, you'll want the M Sport Professional package, which adds sport brakes and a rear spoiler, as well as deleting the illuminated grille surround found on other models.
Okay, it's time to talk about the front end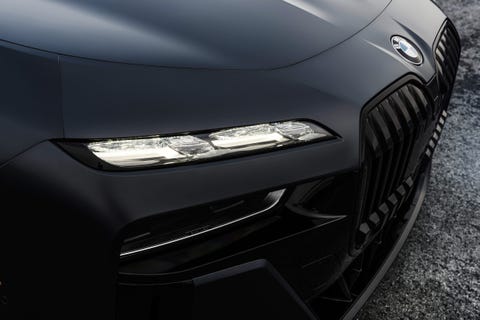 We've danced around it long enough, but it's time to talk about the new BMW's design — especially the face. Controversial looks are nothing new to the BMW 7 Series — remember the splash made by the E65-gen that launched the Chris Bangle era of design at the company? — but it's safe to say that the latest G70 / G71 model has a mug that's very, very much unlike Bimmers of yore...or really any other car on the road, bar the iX. (BMW says the new 7 has a "vertically prominent front end," and they ain't joking.)
As mentioned, an illuminated LED outline is standard for the grille, just in case anyone was at risk of missing its prominence on the front end. As with many cars with a four-eyed design, the top row of lights are mostly there for daytime running; the low- and high-beam headlights are mounted lower down.
The overall new 7 Series design is, uh, a lot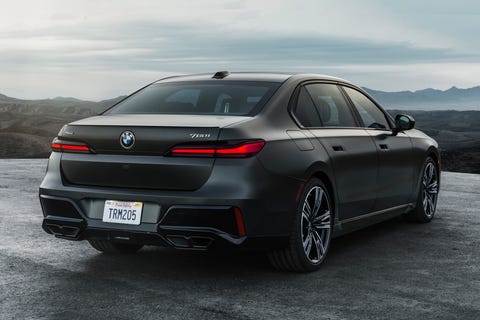 The sides and rear are more traditional, at least by 7 Series standards; BMW's much-used, much-loved Hoffmeister kink in the C-pillar remains, as do the long, seemingly-low proportions brought about by its mighty size. (At 212.2 inches in length, it's almost six inches longer than the previous 7er...and two inches longer than a Chevy Tahoe.)
Out back, the rear bumper now protrudes out past the trunk like Jay Leno's chin, helping add gravitas to the lower part of the car and visually lowering its bulk to make it seem sportier.
The new 7 Series is available to reserve now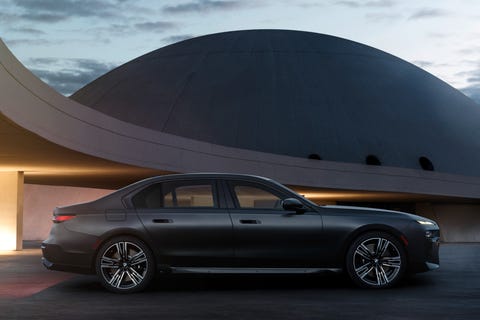 While the car won't reach the streets for a little while, interested parties can snag a reservation for BMW's latest sedan starting today. The six-cylinder 740i still starts below $100K, with a base price of $94,295; if you want a V8, however, you'll be spending at least $114,595. Should you want to go electric, the i7 starts at $120,295 — at least for now, although we'd bet a less-potent, more affordable rear-wheel-drive version will arrive before too long. As for us, we're looking forward to checking out the new 7er in person...and seeing what that design really looks like in the flesh.
The 34 Electric Cars We're Most Excited to Drive in the Future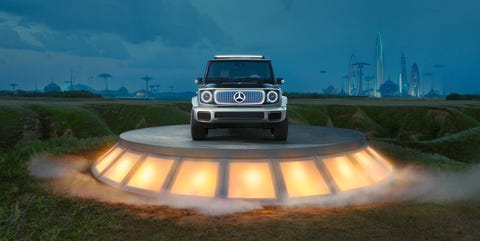 The next few years will be packed with new EVs. These are the ones that have us jazzed the most.
This content is created and maintained by a third party, and imported onto this page to help users provide their email addresses. You may be able to find more information about this and similar content at piano.io