The 2021 Mercedes-Benz S 580 Takes the Fight to Luxury Sedan Foes
If you want luxurious comfort and don't feel the pull of an SUV, it's hard to beat this new S-Class.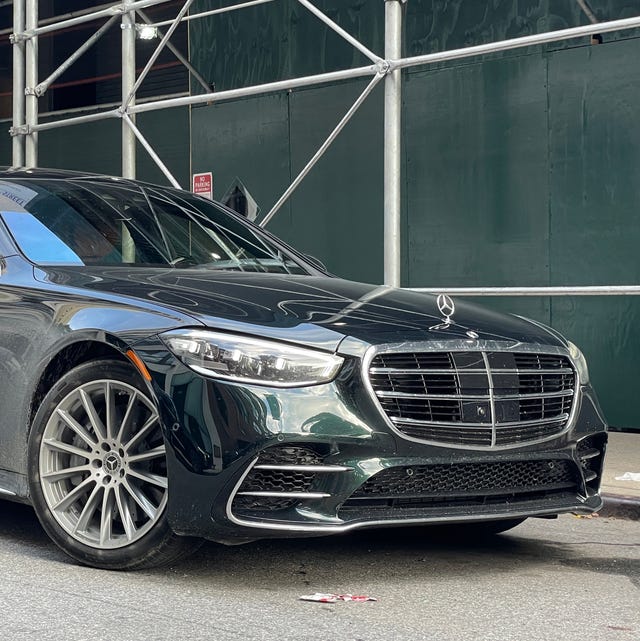 "The best or nothing." Mercedes-Benz's advertising tagline is a bold statement, to be sure — but if there's one car the automaker makes that really needs to live up to that, though, it's the S-Class. After all, this is the car once known as Sonderklasse, or "special class" in German; a car that's served as an emblem of status, wealth and power for nearly 70 years. When someone pulls up in an S-Class, be it in a TV show, a movie or real life, you know they're important. Why else would Jack Donaghy have driven one on 30 Rock?
Whenever a new S-Class arrives on stage, it's a big deal for the carmaker. Mercedes makes sure that they do their damndest to incorporate their latest and greatest, from fancy features to high-tech toys to as much active and passive crash protection — indeed, I once heard a Mercedes exec claim that whenever a new S-Class goes on sale, the carmaker aims to make it the safest new car you can buy. To put it in terms Ron Burgundy might use, it's kind of a big deal.
That said, by new S-Class standards, the arrival of the latest W223 generation felt...almost muted. Part of that was due to the seismic effects of the coronavirus pandemic, which forced everyone to re-evaluate what mattered in life, but it was also partly because the S-Class's place atop the Mercedes hierarchy isn't quite as undisputed as it once was. The GLS-Class is catering to the ever-growing chunk of the market that wants their six-figure luxury cars in SUV form, the new EQS is taking the role of the full-size sedan that prefaces the future, the GT 4-Door is serving as the pinnacle of four-door performance — all while the S-Class lineup is stripped of its coupe and cabriolet variants, reducing it just to the one body style, a long-wheelbase sedan.
And until the AMG S63 variant shows up, the V8-powered S 580 is the most powerful, most expensive new S-Class you can buy. To see how this all-new version of the icon stacks up against its past and its present-day rivals, I took it for a spin up to Vermont. Here's what I found.

The all-new S-Class goes for a subtle look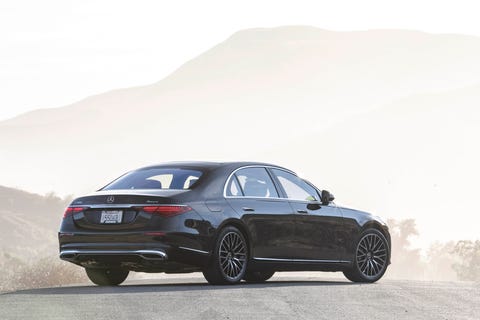 The S-Class may be best known for starchy tight lines and squared-off corners (best seen on the W140-generation car of 1991-1998), but Mercedes-Benz's current design language, known as "sensual purity," emphasizes sweeping curves and organic forms over the carved-from-granite blockiness of models past.
In person, it's elegant in an inoffensive kind of way. At a glance, without any context clues to provide scale, it's easy to confuse with the facelifted E-Class or the new C-Class; the headlights, taillights and proportions are all similar between them. Still, there are standout details that reveal themselves when you look closer. One of the more seamless touches are the retractable door handles, which slide away flush against the doors at speed for reduced drag and give the car's flanks an almost cetacean smoothness. The S-Class also keeps the classic Mercedes grille with the Three-Pointed Star sprouting from the hood above, rather than using the newer one with the star proudly dominating the center of the grille. Still, it's a Mercedes-Benz first and an S-Class second – which is presumably the point of having a shared look between all the cars.
The S 580 is all about smooth driving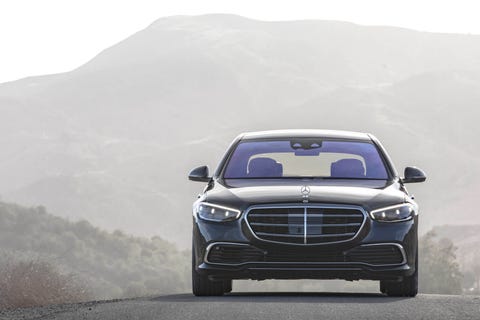 These days, SUVs and crossovers (hell, arguably even pickup trucks) have become the de facto choice for luxury buyers, but a few hundred miles behind the wheel of the new S-Class will remind you just how appealing it is to drive a fancy sedan instead. While it's not a sports car by any stretch, the combination of a relatively low center of gravity, light but accurate steering and a sharp-witted adaptive suspension that can flip from cushy to firm in seconds means the car feels equally adept on flowing, high-speed parkways, war-torn city streets and wide-open interstates.
That easy-driving manner is accentuated by the engine, which is a marvel of modern-day internal combustion. Mercedes has always made pleasing powertrains, but the S 580's combo of a twin-turbo V8, a mild hybrid motor-generator (to fill in the torque curves' few depressions), the intuitive nine-speed automatic and the all-wheel-drive system's ability to never feel overwhelmed by all the power combines to deliver a new level of refinement; indeed, this seems about as smooth as a gas-powered car will ever likely ever get.
As someone who regularly makes both Tim Taylor and Jeremy Clarkson noises while burying the throttle in cars, I'd personally be sure to opt for the S 580 if I were buying an S-Class (and couldn't swing an S63). Still, after those 700 miles, I couldn't help but wonder if the six-cylinder S 500 would be even more adept for long road trips. After all, it may only be 3.0 liters in displacement, but thanks to turbocharging and hybridization, it makes 429 horses and dashes from 0-60 mph in less than five seconds — and if the 26 mpg I saw in the S 580 on the open road is any indication, it'll probably get close to 30 mpg on the highway.
Like all S-Classes, the new S 580 is all about the interior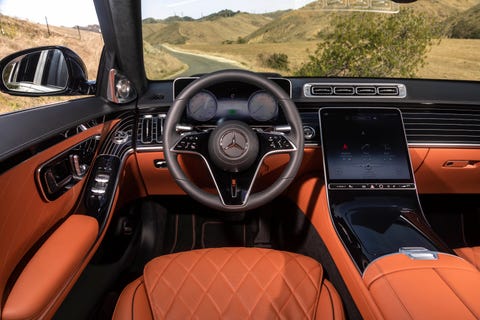 It's so damn quiet inside. That's the first thing you notice when you slam the vault door shut and settle inside: it feels like a library inside, a sanctum of luxury. You don't even need to turn the car on to enjoy it; you could just and sit there and read a book for a couple hours
The second thing you notice is just how goddamn comfortable those chairs are. The seat itself is as comfortable as car seats get — and that's even before you turn on the massage. You could drive across America nonstop in this car and climb out feeling fresh. It would probably take you about that long to appreciate all the fine details of the cabin, too, which is replete with wood, leather and metal engineered
One unexpected gamechanger that's of particular note lies right behind your head. The front seats have pillows, for heaven's sake, just like the back ones — and once you've taken a long drive with them, you'll wonder how you lived without them. Your head feels like it's falling into a cloud. I kept raising my head forwards just to lay it down over and over again, it felt so nice.
I mean, just look at those headrest pillows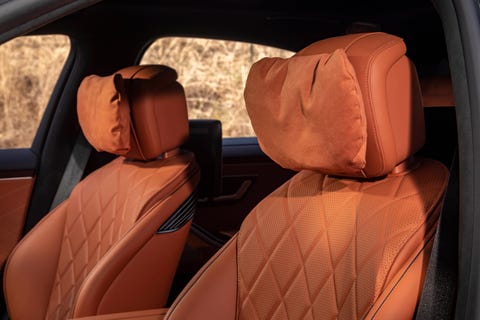 And they're even softer than they look.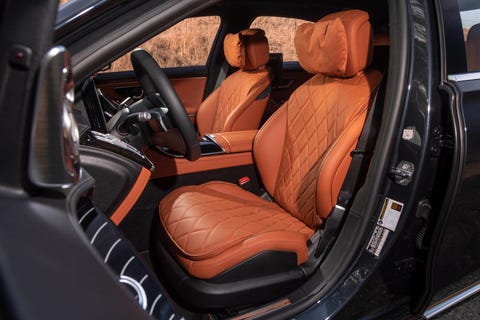 The new S-Class's interior isn't entirely without fault, though. Those rectangular metal vents atop the dashboard are very pretty, but their reflections on the windshield are also very prominent — to the point of being a distraction in sunny weather.
Likewise, the seat controllers feel like a step backwards. They're still door-mounted and resemble the shape of a car seat in profile, but instead of the old movable buttons, Mercedes went with fixed ones...but they still move a little, which makes them feel kind of cheap. I understand the desire to consolidate and move away from physical switches (which probably can break more readily), but if you're gonna do this, why do it half-assed?
It may not have a Hyperscreen, but the S 580 still has plenty of screen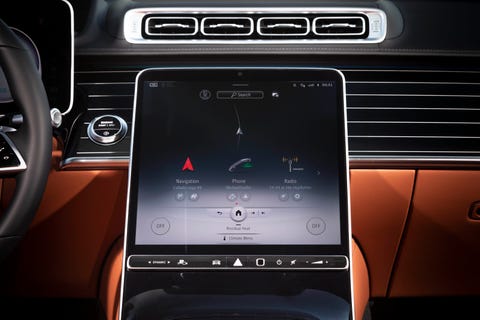 In Mercedes-Benz world, the big infotainment news for 2021 has been the Hyperscreen — the wall-to-wall expanse of touchscreens found in the new EQS that's sure to trickle down and out to other Mercs over the next few years. The S-Class, however, comes standard with the EQS's base-model setup: a single iPad Pro-sized touchscreen mounted between driver and passenger like the laptop in a cop car, with a mere handful of buttons below.
The big screen works very well, with solid haptic feedback and (mostly) intuitive menus. My biggest beef was that I'd have liked some sort of shortcut function — having to go through two levels of menu to get back to the radio from the Apple CarPlay is a pain — but it's possible that exists and i just didn't know. Maybe I'm just getting to that age where I need young people to explain technology to me, but the S-Class's mighty control tablet certainly would benefit from reading the manual before use.
Still, that's a small quibble. A larger issue: the smudges. Having this giant of a touchscreen means you're gonna be staring at fingerprints all the time unless you clean it religiously. That's true for any touchscreen, sure — but the angle of this one means it's facing the sun more than smaller, more upright (and often shaded) screens, so the fingerprints and oils show up more vividly.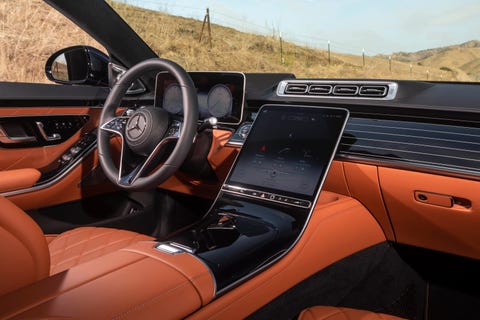 Of course, that's hardly the only screen in the 2021 S-Class. The instrument panel is a crystal-clear widescreen pane, which, much like other Benzes, offers a mind-boggling number of customization options, from multiple gauge styles to all sorts of secondary and tertiary info that can populate the blank spaces. Unlike other Benzes (at least for now), the new S's screen lets you choose between 2D and 3D display — the latter of which uses cameras to monitor your vision and shift the display to create the illusion of depth.
It's certainly convincing — it's better than Avatar was, and you don't have to wear goofy glasses either — but I found it a bit distracting, as it forces your eyes to take an extra moment to refocus when flicking from road to gauges. Plus, while it may be cool, it doesn't really, well, add much to the equation; sure, the map may seem three-dimensional now, but until Mercedes ties its UI deeper into it, the 3D projection seems more gimmick than value-add. Luckily, it's easy to turn off, leaving you with the otherwise-excellent display in easily-referenced two-dimensional form.
What does the S-Class compete against?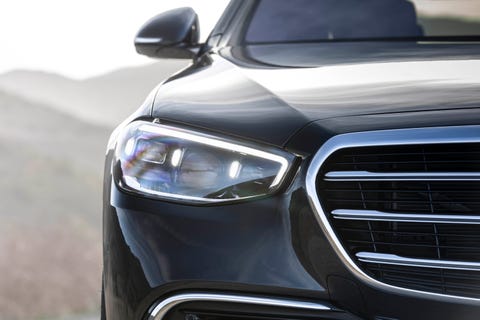 Mercedes, most likely, would tell you that an S-Class has no direct competitors other than another S-Class, but we all know that's not true. America may have given up on big sedans, but German luxury carmakers still love them; the Audi A8 and BMW 7 Series are both very much alive and well, and if you'd prefer something a little sportier, Porsche will happily sell you an extended-wheelbase Panamera Executive. (There's also the Lexus LS if you'd rather go Japanese.)
But the new S-Class does compete diagonally against two other Mercedes models — each of which threatens it from a different angle. The Mercedes-Maybach GLS 600 costs a bit more to start, but for those buying their big Benz to ride in the back, it offers even more palatial seating, easier entry and exit, a more commanding presence and — perhaps most importantly — the killer app of pogo stick mode. The new Mercedes-Benz EQS takes basically everything people love about the S-Class — its size, its elegance, its advanced technology — and brings it into the EV era, packing more screens, more features and more than 300 miles of range, rendering range anxiety all but irrelevant.
That said, the latter, at least, is only a challenger for a little while. In 10 years' time, the S-Class and EQS will all but certainly merge into a single model as Mercedes (and the world) goes all-in on electric mobility. It may look more like the EQS...but I'd bet my last dollar it'll still boast the name S-Class.
The 2021 Mercedes-Benz S 580 4Matic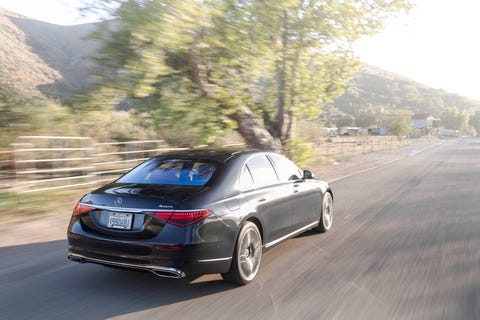 Base Price: $117,350
Powertrain: Twin-turbo 4.0-liter V8 w/mild hybrid assist; nine-speed automatic; all-wheel-drive
Horsepower: 496
Torque: 516 lb-ft
EPA Fuel Economy: 17 mpg city, 25 mpg highway
Seats: Four
The Bentley Flying Spur V8 Is Made for Escaping the Daily Grind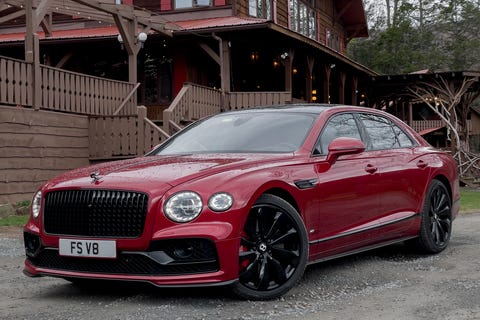 Any car can help you go somewhere — but some make the journey better than others.