Every product is carefully selected by our editors. If you buy from a link, we may earn a commission.
2022 Rivian R1S Review: Somehow, More Game-Changing Than Its Truck Brother
No gear tunnel, but this new eSUV's combo of approachability, versatility and straight-up fun is revolutionary in its own way.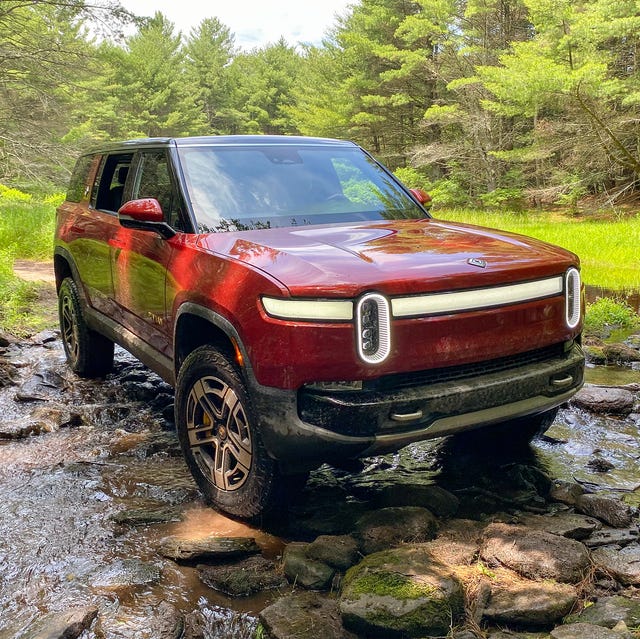 Let me begin with a confession: I do not often find myself in the cockpit of four-wheeled vehicles. I live in New York City, and while I truly love riding bikes and motorcycles, driving is not really a part of my everyday life. If there's one brand in the space that has captured my imagination, however, it's unquestionably Rivian. The electric truck brand's combination of ambition, innovation, sustainability and adventure is almost irresistible.
So when Rivian invited Gear Patrol to test-drive the new R1S SUV — the brand's second release, following the much-ballyhooed R1T — in the Catskills last week, I was stoked. Over a couple of variable weather days around Windham and Monticello, New York, I had the chance to experience all the highlights of this new vehicle — on-road, off-road and at rest.
Here's what jumped out to me.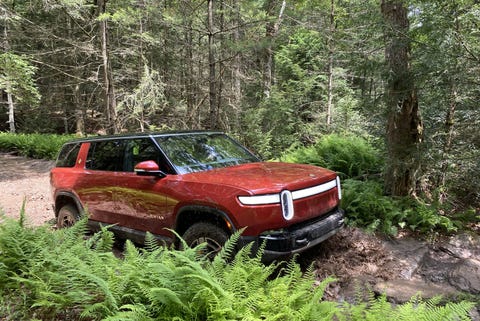 As new as can be. Following in the footsteps of last year's review of Rivian's first vehicle, the R1T, we are publishing this review as the embargo on hands-on testing impressions of the R1S lifts. Reps say Rivian has received 90,000 preorders combined for the R1T and R1S. The company plans to produce 25,000 total vehicles by the end of this year and deliver on all the preorders by the end of next year.
What makes the Rivian R1S special?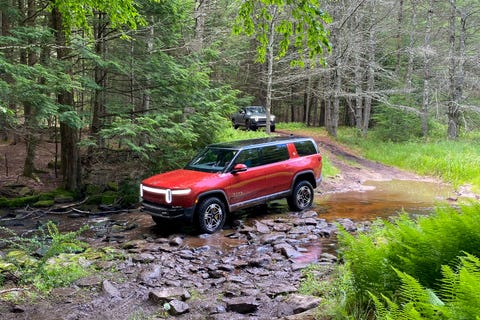 Considering a rep sent me an 80-page media kit packed with details about the R1T and R1S, the short answer is...a lot. In reality, the two vehicles share many incredible features — including a gorgeous 15.6-inch dashboard touchscreen, mind-blowing acceleration and a regenerative braking system that allows you to basically drive it without ever using the brake pedal other than for hard stops.
But as we've already extensively reviewed the R1T, I'd like to focus on some notable differences between the vehicles. The biggest one is that while the R1T is a fantastic gear hauler, the R1S stands out as a people mover. The R1S boasts generous seating for up to seven people — plus the ability to accommodate up to five child seats, although the prospect of driving a starting five's worth of toddlers around is vaguely terrifying.
One feature you do lose with this new vehicle is the pickup truck's magical Gear Tunnel — and the prospect of filling it with the clever, sophisticated Camp Kitchen the brand teamed up with Snow Peak on. But you gain surprising advantages too, and not all of them are of the human-transporting variety.
The most notable is the fact that, while it feels quite spacious inside, the R1S is actually a bit smaller than the R1T. It's more than 17 inches shorter (200.8 inches vs. 217.1 inches) and nearly 15 inches of the difference is between the wheels — the R1T's wheelbase is 135.8 inches, while the R1S's is 121.1 inches. That tightening translates to a vehicle that's not only easier to, say, parallel park, but much more nimble when it comes to off-roading, which both vehicles make easy even for the novice. (More on that front later.)
In that particular regard, it sort of reminds me of the Zero SR/S, a full-fairing "sport touring" electric motorcycle that somehow manages to be both sportier and comfier than its predecessor, the relatively streamlined Zero SR/F.
Bottom line answer to this question, then, is that the R1S is a somewhat more realistic vehicle than the R1T for most people (especially suburb-dwelling families) to own, without having to worry about your friends begging you to help them move. And yet, it offers almost as much promise of adventure as its rowdy big brother.
That adaptability factor is the root of this story's title — as it has the potential to make the R1S even more of a paradigm shifter than the its older brother.
What's the Rivian R1S like to drive?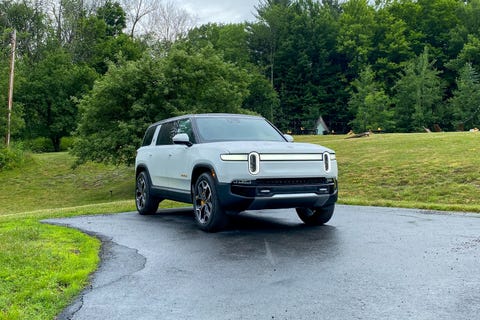 Ah, here we are at what tends to be the most fun part of any vehicle review — and the R1S is certainly no exception. Its performance — both on-road and off-road — is the sort of thing that medieval bards would have traveled the land to sing effusively about, accompanied by, you know, lutes. (Toss a coin to your witcher, O Silicon Valley of plenty...) Like a well-designed trebuchet in those times, it's a wonder to behold.
Let's begin with the on-road experience. One of the first things Rivian's reps encouraged me to do behind the wheel was find a relatively clear, straight stretch of road, bring the vehicle to a stop and, well, punch it. So I did exactly that...and this 7,000-pound beast took off like it had been launched from the aforementioned trebuchet.
The rush vaguely reminded me of test-driving a Tesla several years ago, but even more of cranking the throttle on a Zero SR/F because it was just so…damn…smooth. In the promised three seconds, I was humming along at 60 miles per hour, and it took just a skosh more pedal pressure to jump to 80 mph. Off to a good start, to say the least.
I then got to co-drive an R1S from Windham to Monticello, a 70-plus mile drive on mostly winding, two-lane roads. It also happened to be raining the morning of the drive, an additional variable that the R1S did not sweat. The vehicle features nine different drive modes, plus highway assist and adaptive cruise control, so it's ready for just about anything.
For most of the drive, the rain was mere drizzle, so I did what any self-respecting driver would in such circumstances: slip it in Sport mode and zip through the twisties. Largely driving with one-foot, I found the R1S to be surprisingly nimble, responsive and fun. Sport mode automatically adjusts the ride height, suspension, power delivery and throttle mapping for optimal on-road performance, and you can feel it.
Without a doubt, the biggest on-road takeaway was that it felt more like a streamlined sports car than an SUV, despite being 200 inches long and 87 inches wide with the mirrors out.
Later on, we did run into what was pretty much a downpour, but the R1S was hardly troubled. Beyond the windshield wipers whipping back and forth at full blast, the handling itself felt super stable and reliable. Much more challenging terrain was, after all, yet to come.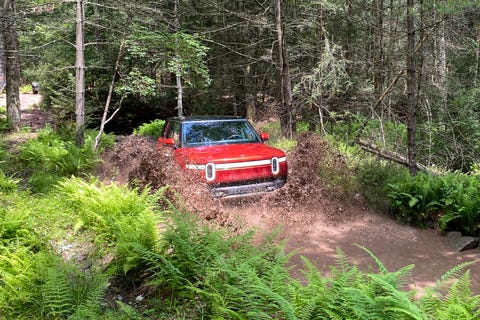 Once we got to Monticello, we had the opportunity to take the R1S through the woods, on off-road trails featuring plenty of climbs, descents, loose gravel, boulders and streams. I've tackled similar terrain on mountain bikes and motorcycles, but never in a four-wheeler, so I was a bit apprehensive.
However, it's a testament to the capability of the R1S that even I could maneuver it through this gauntlet with relative ease. I quickly learned that once I trusted in the vehicle itself, it proved far more competent than the novice off-roader behind the wheel.
The on-board air compressor enables you to quickly drop the tire pressure and among the many drive modes are three off-road-specific ones — all-terrain, rock crawl and rally — that make things easier when the trail gets rough. Rock crawl in particular raises the ride height (and drops the maximum speed to 20 mph). In the Quad-Motor AWD Launch units we were testing, each wheel independently does what it needs to, torque-wise, to navigate seemingly impossible obstacles.
Twelve ultrasonic sensors, five radars and nine exterior cameras — including ones showing what's around the wheels — make it possible to avoid the natural features that might scratch that beautiful paint job. A layered underbody shield composed of steel, alloyed aluminum and carbon fiber composite protects you from any you don't see.
All those qualities together add up to one phrase popping into my head: so easy, even I can do it.
We also got to drive an R1T off-road, which turned out to be quite illuminating. It's an awesomely rugged off-roader in its own right. However, because of the R1S's aforementioned shorter length and wheelbase, it's actually a bit easier to drive off-road. That may prove to be quite a strong selling point for those who plan to mostly drive on-road with only occasional forays off the beaten path, as their relative lack of experience won't really prevent them from giving it a shot.
Both vehicles also offer another indisputable advantage over any ICE alternative. Whether you're rolling through a flowing stream or climbing over crunchy boulders, take a moment to roll down the windows. Because without the roar of engine noise, you can hear damn near everything.
What's the Rivian R1S like inside?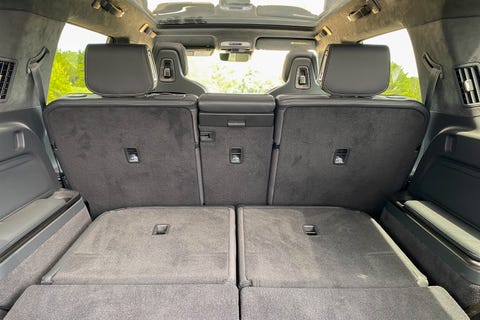 As you'd expect, the interior is where the R1S really distinguishes itself — thanks to three rows, seven seats and 104.7 cubic feet of storage, versus two rows, five seats and 62 cubic feet for the R1T. Even without the gear tunnel, you also get an additional 11 cubic feet of storage space in the front trunk (a.k.a. the frunk).
The second and third row seats fold down (the former splitting 40/20/40 and the latter 50/50), enabling you to find the perfect mix of passenger and cargo space. That translates to storage for tons of luggage, or, say, a couple of sweet mountain bikes. You can also throw an air mattress back there and camp, staring up at the stars through the all-glass panoramic roof.
But that's not all there is to appreciate in the R1S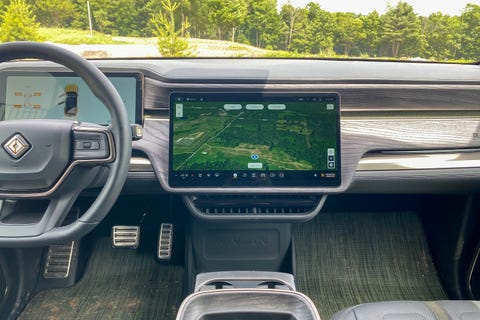 Within all that space, you'll find not only the generous central touchscreen but a 12.3-inch driver display — both resting on a reclaimed ash dashboard, handy for knocking on wood — and a 6.5-inch rear touchscreen display. They're useful for many things, not least of which is choosing what sort of music to pump through the 23-speaker Rivian Elevation by Meridian sound system available on the Launch and Adventure packages. (The Explore package, no slouch itself, gets a standard 14-speaker system.)
Rivian has an actual person in charge of making the interaction between humans and technology as seamless as possible, and it shows in how much you can do from the displays, including fun touches like the fact that the windshield wiper settings range from "sprinkle" and "drizzle" to "downpour" to "storm."
Forethought extends to device charging options that won't leave you wanting as well: eight USB-C ports, three 12V ports, two 120V ports and a wireless charging pad right between the front seats.
The climate control — highlighted by heated and ventilated front seats on the higher trims — is also excellent, even when you need to leave Fido behind for an errand. While enabled, Pet Comfort mode maintains a user-selected temperature to keep furry ones safe and comfy.
The Rivian's infotainment is its sole interior issue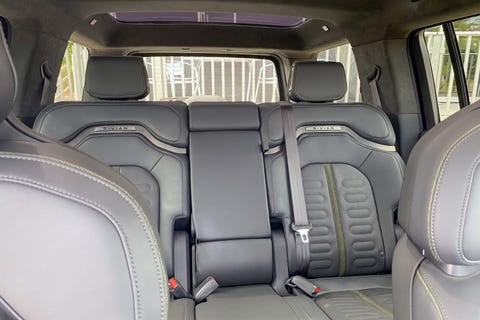 All that said, we do have a few small interior beefs. First off, it certainly helps to have a co-pilot the first few times you hit the road, as getting the hang of everything you can do with the central touchscreen — while actually driving — feels borderline dangerous. And sometimes it is maybe a little too cute, as in the case of the little snowflakes you move around with your finger to shift the vents.
My co-pilots and I also found the GPS to be a bit wonky from time to time — zooming in abruptly for turns and re-routing weirdly in spots where service was sketchy, for example. Those moments left us yearning for Apple CarPlay or Android Auto. Like the R1T, the R1S integrates with Spotify integration and Amazon Alexa, which is quite nice, but no car maker ever went wrong simply letting users basically cast their phones to the touchscreen and go from there.
The relative pettiness of these complaints, however, can only mean one thing: there's really not too much to quibble with here.
What does the Rivian R1S compete against?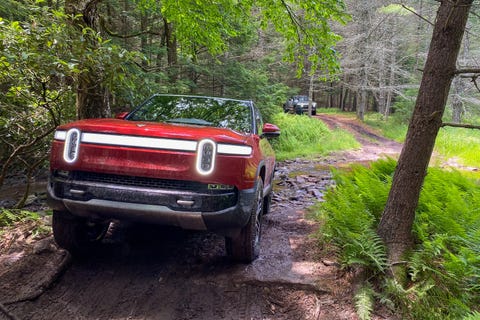 So, which Rivian is right for me?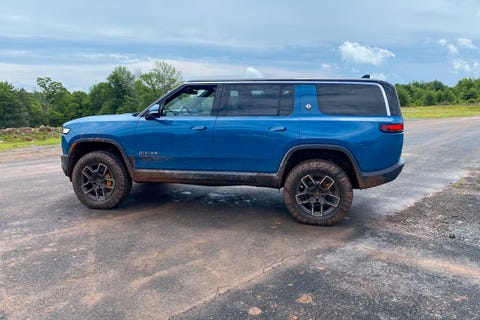 That's the (potentially) $100,000 question. The key is to be honest with yourself about how you plan to use such a truck or SUV. If you've read our R1T review and gotten this far with this one, you probably already have a pretty good idea. If you've got, say, a beloved dirt bike you need to haul around, the answer is obvious. If you're regularly chauffeuring half a youth soccer team, the answer is also obvious.
But if you are sort of hanging in an in-between space — a pod waiting for the call from the mothership to start throwing seven different kinds of smoke — my only advice is to leave room in your mind for possibilities. When I was first debating whether to get a motorcycle, my big hesitation was, "Where the heck will I ride it?" To which a moto-ing friend replied, "Just get one, and trust me, you'll find places to go." Since then I've found myself zipping all over the country and even a bit internationally, and my whole world has opened up.
Everything Rivian is trying to do really drives toward the brand's slogan: keep the world adventurous forever. And I have no doubt that with either option, you'll be looking for excuses to hit the road regularly, and before you know it, you'll probably be checking national parks, great lakes and towering mountains and more off your bucket list. It's just part of their inspirational nature. So, take stock of your dreams, and go for the ride that'll help you roll toward them just a little faster.
How much does the Rivian R1S cost?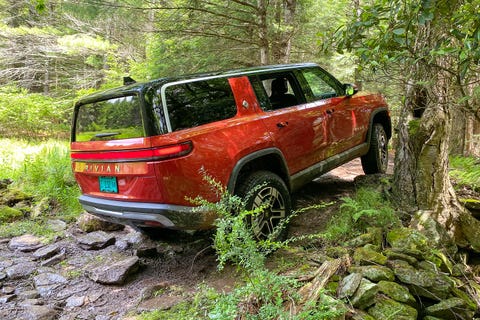 The most affordable edition, the Explore package, starts at $72,500 and includes most of what we've covered in this review. However, it's a Dual-Motor AWD vehicle, rather than a Quad-Motor AWD, so the front and back wheels are linked rather than independently powered. That translates to a step down in horsepower and torque (see the numbers below) and off-road handling — and while Rivian's reps assure us it's still quite capable, we did not have an opportunity to test it ourselves.
Keep in mind that this price, like the ones that follow, does not take into account federal and state tax credits. At a minimum, you should be looking at a $7,500 federal tax refund. California and New York put another $2,000 back in your bank account, while New Jersey throws in a whopping $5,000. Garden State indeed.
The next level is the Adventure package, a large Dual-Motor AWD vehicle that starts at $78,500. Notable upgrades here include dual front bumper tow hooks — all Rivian models also include 2-inch Class V receivers at the rear, with the R1T1T boasting 11,000 pounds of towing capacity and the R1S offering 7,700 pounds — as well as booming Rivian Elevation audio by Meridian (versus standard audio), seats that are both heated and ventilated, driver and passenger lumbar adjustments, natural-grained ash wood interior finishes and Chilewich floor mats.
Finally there's the Launch edition we tested, which starts at $90,000. This one boasts everything in the Adventure package, plus the considerably more powerful large Quad-Motor AWD and priority delivery. It also comes with a large battery pack, an upgrade to 20-inch all-terrain wheels or 22-inch sport wheels, Launch Edition interior badging and a Launch Green paint color option. Alas, reservations are full for this particular version. Considering my experiences ripping around in one truly unprecedented e-SUV for a couple of days, I can't say I'm surprised.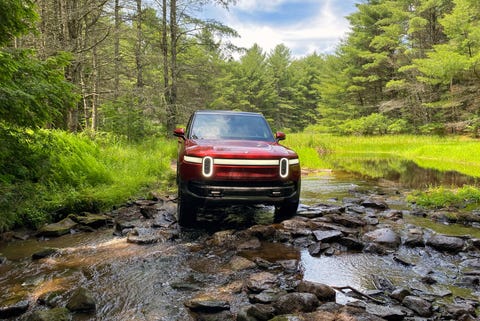 Price: $72,500 (Explore edition); $78,500 (Adventure edition); $90,000 (Launch edition, what we tested)
Powertrain: Dual or quad-motor electric drive; single-speed transmission
Horsepower: 600+ (Dual Motor); 835 (Quad Motor)
Torque: 600+ lb-ft (Dual Motor); 908 lb-ft (Quad Motor)
EPA Efficiency: 73 MPGe city, 65 MPGe highway, 316 miles of range
Seats: 7 (including up to 5 car seats)
The Electric Cars We're Most Excited to Drive in the Future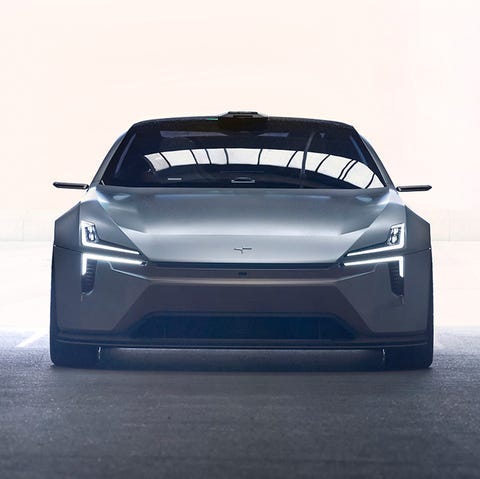 The next few years will be packed with new EVs. These are the ones that have us jazzed the most.