2022 Toyota GR86 Review: A Porsche Cayman for the Masses
It's GRRRRR-eight!-y-six.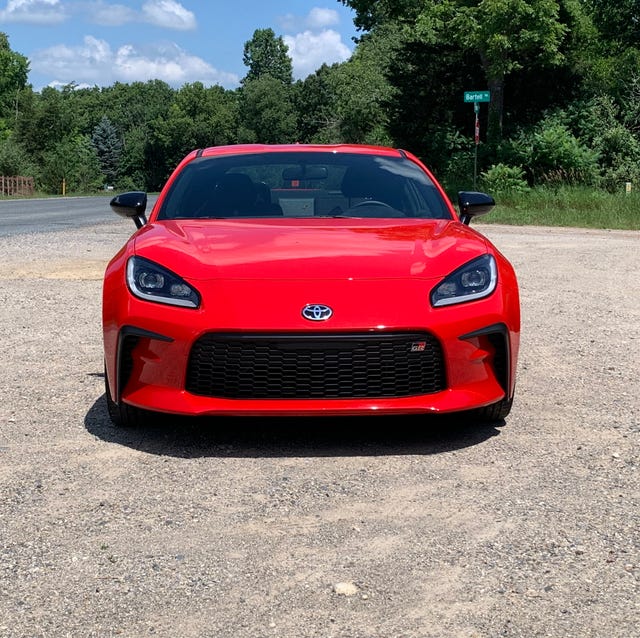 "Ouch. God. Fuck."
I muttered some variation of that each time I entered or exited the all-new 2022 Toyota GR86. I don't think the car caused my injury; that was either yoga or wrangling toddlers. But it exacerbated it every day — a perhaps-too-poignant reminder that as I grow older and grayer and responsibilities weigh on me, I move farther away from the GR86's exceedingly niche demographic. And that's okay.
Toyota could have sacrificed before the altar of compromise and made a GR86 for everyone with the new generation. Instead, Toyota enhanced what the first-gen 86 did well: being a super-lightweight, purist-approved corner carver for canyon roads and, with relatively little modification, the track. And, sure, maybe they made it a tad easier to live with daily.
Toyota loaned me a manual-transmission — what kind of weirdo buys a six-speed automatic one? — GR86 to drive around mostly (but not wholly) corner-free southeastern Michigan for a week. And it was enough time to thoroughly appreciate the GR86's single-minded brilliance...even if each drive sent me scrambling for the Aleve.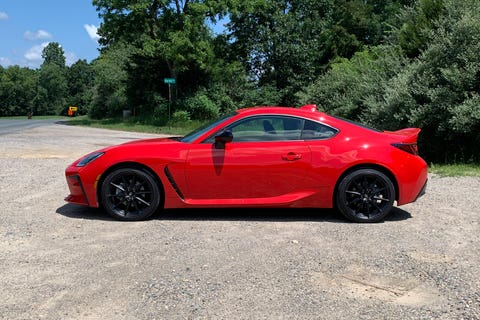 The GR86 is Toyota's 2+2 fastback sports coupe. GR stands for Gazoo Racing, Toyota's high-performance sub-brand. It's the entry-level sports car in the Toyota lineup. It was sold as the Toyota 86 in the last generation, after debuting as the Scion FR-S. Subaru sells a twin of this car, the BRZ.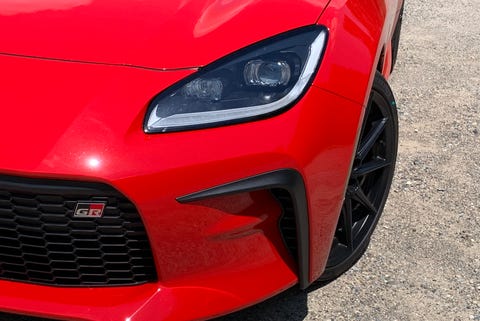 Yes. The GR86 is all-new for the 2022 model year — all-new in the marketing sense. Toyota and Subaru modified the outgoing generation's platform instead of migrating the car to one of the fancy new global platforms. Going literally all-new would have been expensive and have resulted in changes to the purist vision of the car. So Toyota updated the previous model — albeit heavily.
The GR86 has more power — 228 hp — through a larger, but still naturally-aspirated, 2.4-liter four-cylinder engine. It has a more rigid platform and a lower center of gravity for better handling.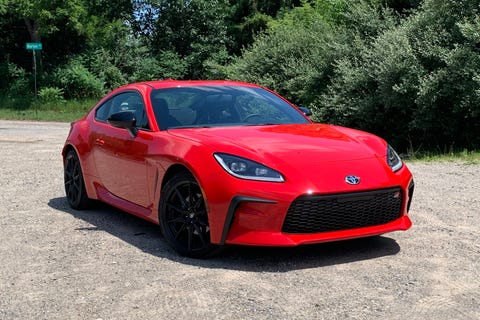 The Porsche 718 Cayman may be the purest driver's car out there. But most mortals will never be able to afford a Porsche. For the rest of us, there's the Toyota GR86. It's rear-wheel drive. It has a stick shift. It weighs only 2,800 pounds, with close to 50/50 distribution. There's a hand brake placed in easily accessible position for hijinx along with not one but two buttons for disabling the traction control.
There are quicker sports cars than the GR86, but many are less fun. And there are certainly more refined sports cars than the GR86, but few you can snag for less than $30,000.

How is this Toyota to drive?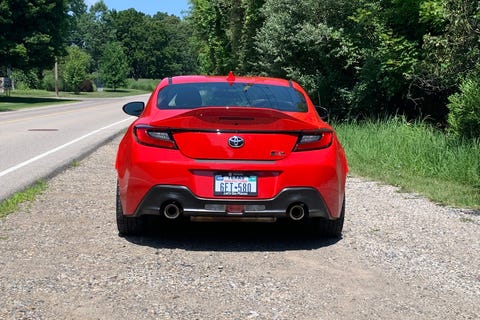 Awesome. As noted, Toyota kept and improved what made the 86 great — nimble handling, precise and perfectly weighted steering and incredible road feel. Again, it's a Porsche for the rest of us paupers.
Toyota also resolved what was the 86's biggest flaw. You get peak torque at 3,700 rpm instead of 6,600 — so you don't need to wring performance out of it driving like a maniac. And 3,700 rpm or so is also where the last car experienced a pronounced dip in torque, which has now been solved by the more linear delivery.
The GR86 is substantially quicker, but you can still push its constraints on real roads. The engine doesn't sound as majestic and orchestral as a Lexus 5.0-liter V8. But it proved spirited enough to get my son excited driving home from his pre-school at 25 mph.
Noise, vibration and harshness were all things you experienced driving the last-generation 86. The new GR86 tones that down a bit — you can hear the stereo while driving on the highway now. But the ride is stiff. The seats don't absorb the bumps. And the background din, if no longer deafening, is still quite loud.
Whoa, the Toyota GR86 has a back seat?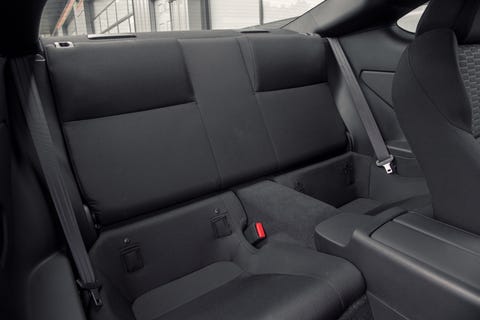 Yes, technically the GR86 has two of them. But as you'd probably anticipate, they aren't very useful. I was able to fit my four-year-old son's forward-facing car seat back there (and bragged to my colleagues about installing it in less than 30 seconds). But I had to jam the front seat all the way forward to accommodate him.
I tried flipping it rear-facing for my daughter for scientific purposes. This required me to climb into the back seat myself while holding her — not pleasant for either of us. We did not attempt that a second time.
A young couple with a small dog may be able to make a go of it in the 86. But its best use case is someone flying solo, flipping down the rear seat and using it for track day implements.

How much does the Toyota GR86 cost?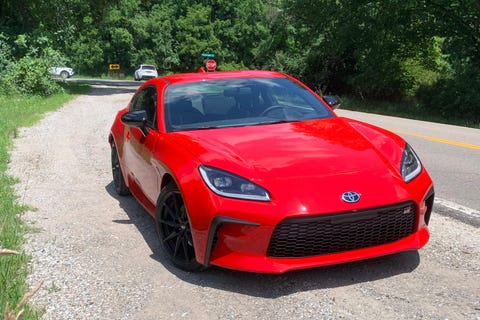 The GR86 starts affordable and stays affordable. Starting MSRP is $27,900. I drove the Premium version, which started at $30,300 ($30,500 with 2023 pricing) and with $425 red paint, odds, ends, shipping and handling it came out to $32,432. You can spend a few thousand more on bronze alloy wheels and a performance exhaust. You could also tack on an automatic transmission (but again, why?).
What are some GR86 alternatives?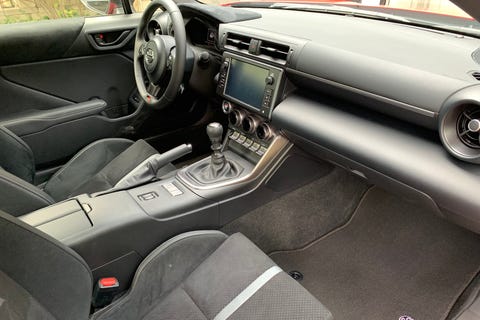 Well, as we noted you can get the same car with a Subaru badge and a smile as the BRZ. The GR86 buyer would probably consider the Mazda MX-5 Miata — sexier, more refined and dramatically less powerful — and the more practical Honda Civic Si. The Volkswagen GTI is probably in that discussion too.
Verdict: The GR86 is brilliant, but may not be for you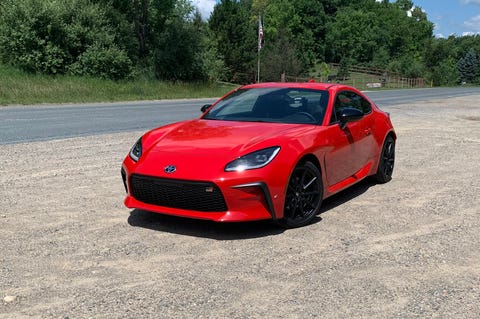 The GR86 is phenomenal on curvy canyon roads and track days. Real driving — for most people — isn't all curvy canyon roads and track days. While the GR86 is brilliant at what it does. Most buyers will be happier with something like a VW GTI. The GTI gives you similar stick-shift fun without the masochism.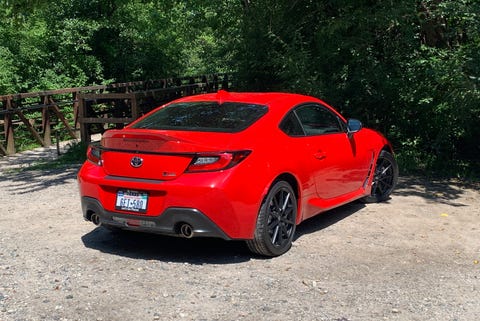 Powertrain: 2.4-liter inline-four; 6-speed manual (or 6-speed auto), RWD
Horsepower: 228
Torque: 184 lb-ft
EPA Fuel Economy: 20 mpg city, 27 mpg highway

Seats: 4 technically, 2 actually
The 2024 Toyota 4Runner: What You Need to Know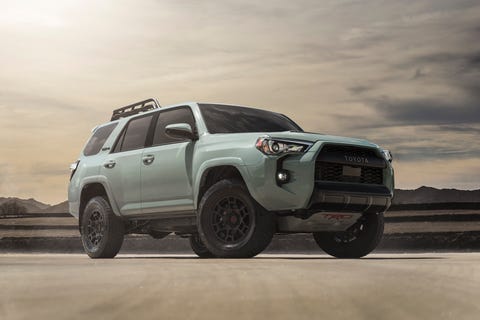 The 4Runner is due for a redesign. Here's what to expect.