2023 Honda HR-V Review: A Great Value Crossover, With One Groaning Flaw
Honda hit on the right formula, but missed a key component.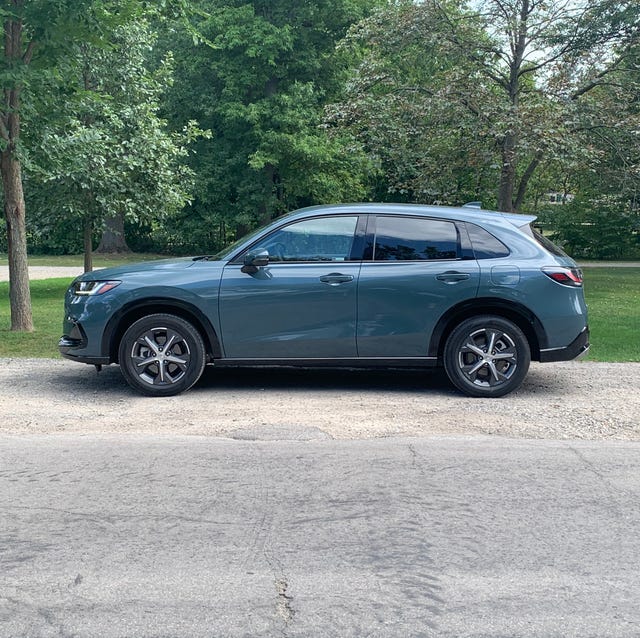 Honda nailed it with the new 11th-generation Civic. It's pretty much the best affordable compact on the market. It was an easy choice for our GP100 list last year. But it's the 2020s. Sedans are in decline. If you were product-planning for Honda, you'd want "the Civic…but a crossover." And Honda now sells the all-new 2023 Honda HR-V, which is, quite literally, that.
Honda kept the HR-V name for the new entry-level SUV. But they diverged it from the global HR-V lineup. Out go the quirky door handles and the second-row magic seat. In comes a more conventional, Civic-based (and Civic-looking) crossover, also called the ZR-V in China. "Civic Cross" may have been a more accurate name. But Honda's weird experience with the Accord Crosstour likely precluded that choice.
I tested the new HR-V driving it around my home in Michigan for a week. It was not the swankiest car to roll up to the valet stand in when my wife and I attended a rehearsal dinner. But it did prove a solid, good value, agreeable little crossover — as long as I wasn't hitting the gas pedal with any gusto.
The 2022 Honda HR-V EX-L AWD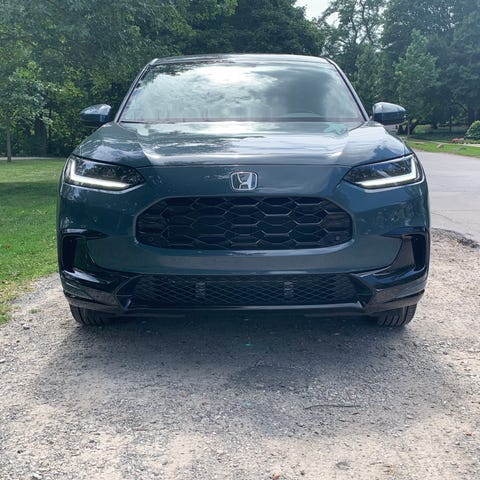 Pros: Upscale interior, solid handling, strong value for price point
Cons: Engine lacks power and liveliness
Powertrain: 2.0-liter inline-four, CVT, AWD
Horsepower: 158
Torque: 138 lb-ft
EPA Fuel Economy: 25 mpg city, 30 mpg highway
Seats: 5
The Honda HR-V drives fairly well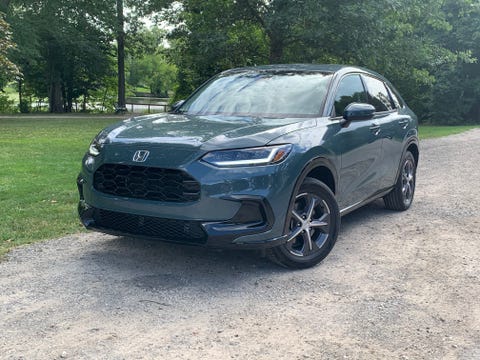 The Civic's superpower is excellent chassis tuning for its price point. And a bit of that brilliance makes its way to the HR-V. The HR-V is more agile and well-balanced than you would think, at least in Michigan-grade corners, and the steering feels direct and nicely weighted.
The HR-V delivered surprisingly cushy ride quality for a cheap crossover. It was pliant and quiet going over some Michigan-grade choppy pavement. The HR-V can be so smooth-cruising, I found myself driving 10-15 mph above the speed limit without intending to.
But the HR-V's base engine is flat-out depressing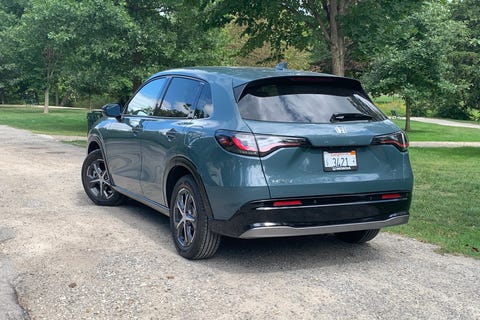 The new HR-V gets one engine option. It's the base engine from the Civic, a naturally-aspirated 2.0-liter plant pushing out about 158 hp. That engine mates with a droning CVT transmission. And the combination proves achingly slow. Motortrend clocked the HR-V at 9.8 seconds from 0-60 mph.
I found a safe location while driving the HR-V and mashed the throttle. It resulted in a whine, a spiking rev meter and the car —to my perception — not going any faster. I reached for the sport mode to execute a pass on the aforementioned rehearsal dinner drive. But there is no sport mode in the drive modes.
The Corolla Cross added a more powerful hybrid. Hopefully, Honda will follow suit.

The HR-V interior is upscale, but a little less magical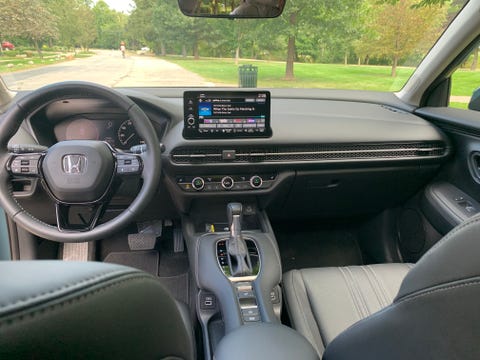 Honda doesn't work miracles for the price point. But buyers of the top-tier EX-L trim I drove won't feel short changed. The design is similar to the new Civic with the minimalist horizontal line across the dash. You get quilted leather, body-supporitng seats and a comfortable leather-wrapped steering wheel, a moonroof and dual-zone climate control. You also get ample tech with wireless phone charging, wireless Apple Carplay and Android Auto and features like remote start.
The HR-V does lose one of its distinctive features from the previous generation, the second-row magic seat. The magic seat could fold 60/40 and fold flat; the seat bottoms flipped up to have space for tall items; plus, you could remove the front passenger headrest and fold that seat for extra long items. So even though the new Civic-based HR-V is bigger, you actually get nearly four cubic feet less cargo space.
How much does the Honda HR-V cost?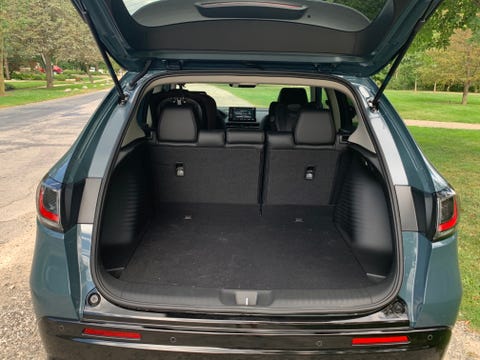 The HR-V is an affordable, entry-level crossover. Starting MSRP is $23,650. My top-trim EX-L tester with AWD came more or less fully-loaded — unless you want fancy gold-colored rims — with $395 Nordic Forest paint for $30,590 with the destination charge included.
What are some Honda HR-V alternatives?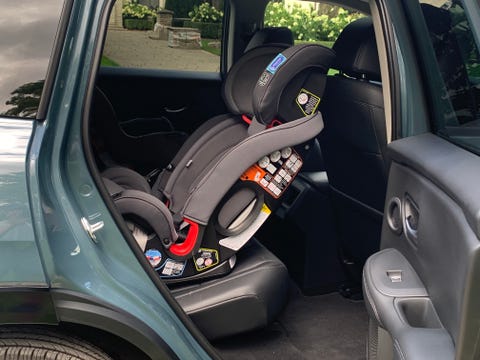 The most direct rival for the Honda HR-V is the Toyota Corolla Cross ($22,445), a new crossover based on the Civic-rival Corolla. Both cars have similar strengths (ride quality) and weaknesses (engine). The driver's alternative would be the excellent Mazda CX-30 ($22,500). It has less cargo space. But you can level up with a 227-hp engine for not that much more money than an HR-V. Other compelling options for cross-shopping could include the Kia Seltos ($22,840) and Volkswagen Taos ($24,155).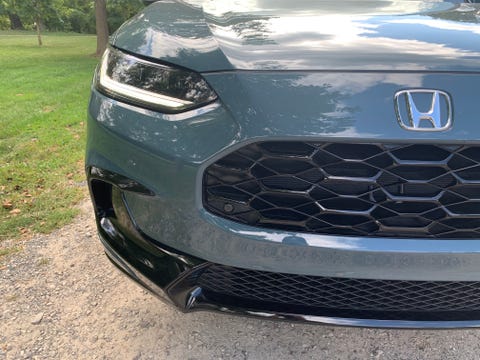 The new HR-V is a more elevated vehicle than the one it replaces. Its ride quality and interior make it feel more expensive than it is. But it's impossible to overlook the sad engine/CVT combo, especially when competitors offer more power and conventional automatic transmissions.
The Best Cars You Can Buy in 2022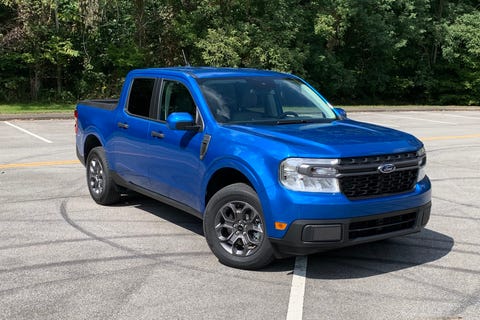 Looking for a great new ride? Start looking here.