Looking for even more great savings? Head over to Today's Best Deals page to see all our top deals from today.
---
Years ago, in preparation for a four-month trip through South America, I decided the time had come to invest in a proper, quality pocket knife. The only trouble was I didn't know what that meant; only that I didn't want something too big or aggressively tactical. I found myself drawn to the simple drop-point folders I saw in shops' display cases, many of which had a butterfly etched onto their blades.
I didn't know that butterfly was Benchmade's logo, nor that it refers to the brand's origins as a producer of butterfly knives. But I soon found out these pocket knives didn't fit into my budget and settled on a $40 Gerber that got me through my trip handily.
Benchmade's allure remained, though, and it grew as I learned more about the company, the high-quality steels and handles it uses, and the exacting nature of its manufacturing. I did eventually get a Benchmade, and recently I enlisted the brand's custom shop to create the pocket knife of my dreams. But when I was combing through gear shops years ago, I would've been thankful for Blade HQ's latest sale, which offers discounts on some of the brand's most beloved blades.
For one of the brand's classics, check out the Griptillian, and for a lightweight knife suitable for outdoor adventures, look to the Bugout. Then there's the high-end Proper Clip Point Slip Joint Knife, which features a 2.825-inch clip point blade that Benchmade discontinued. The Griptillian and Bugout are both 15 percent off, with the Proper being 34 percent discontinued.
Best Pocket Knives Gallery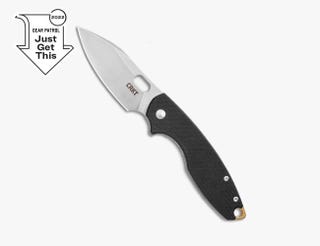 CRKT Pilar III
Thumb slot allows for one-handed opening
Broad blade combined with fine point is quite versatile
Not available in multiple colors
Pocket clip is not reversible
Esteemed knifemaker Jesper Voxnaes designed this folding knife with clean, curvy lines that maximize its utility and give it a unique look. Its blade is made of great tool steel that will stand up regular use and its handle, which features a reliable frame lock, is designed with finger cutouts to foster a firm grip.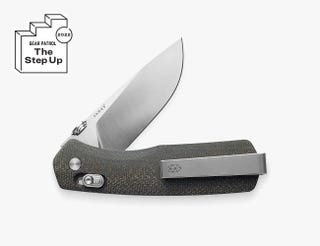 The James Brand The Carter
The James Brand
huckberry.com
$159.00
Blade is very corrosion-resistant
Slide lock allows you to flick it open fast
Still expensive for many pocket knife buyers
Often sold out
There are pocket knives with higher-quality materials than The Carter, but they come with higher prices too. With low-maintenance and high-end VG-10 steel, a milled handle, sliding lock and smooth action, this pocket knife cuts a fine line between awesome features and an approachable price.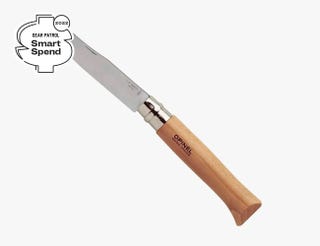 Opinel No.08
Good-sized blade is versatile
Wood handle wears nicely over time
Opening and locking requires two hands
Doesn't have an automatic lock
A lot of cheap pocket knives are, unfortunately, bad pocket knives. Opinel's No.8 is remarkably cheap, but it isn't bad at all. In fact, it's iconic — the French knifemaker has been producing it for more than 100 years. It doesn't have any fancy mechanisms, but it will stand up to lots of use, and you replace it when it fails without thinking twice, thanks to its sub $20 price. (Plus, it's pretty darn handsome.)
Editor's Picks: Best Deals Today