Every product is carefully selected by our editors. If you buy from a link, we may earn a commission.
Lodge's New Cast-Iron Bakeware Line Is for the Baking-Obsessed
I could probably start my own bakery now.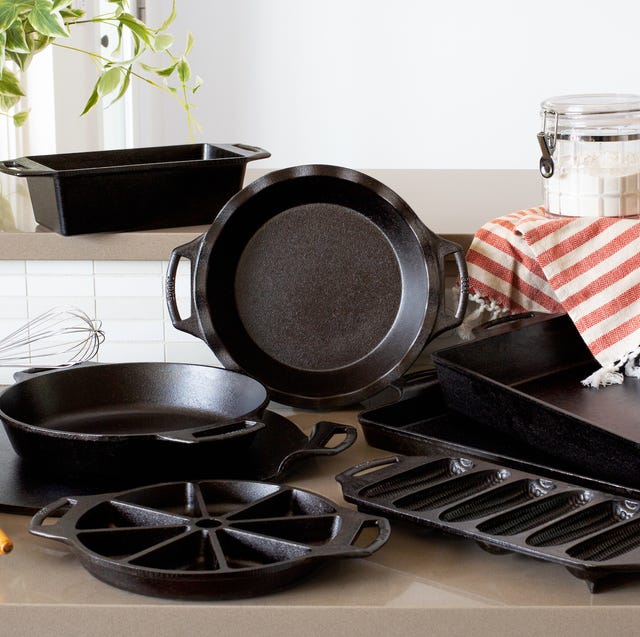 Welcome to Window Shopping, a weekly exercise in lusting over home products we want in our homes right the hell now. This week: a nicer bottle opener, a better-for-you water pitcher and more.
1
Lodge 9-inch Seasoned Cast-Iron Pie Pan
While cooks could use Lodge's cast-iron skillets in the oven, the cast iron experts just dropped a new dedicated bakeware line. The collection includes a pie pan, casserole pan, baking pan and baker's skillet, as well as redesigned versions of its pizza pan, loaf pan, wedge pan and cornstick pan. Each piece is designed to be easy to grab so you don't burn yourself on the scalding hot cast iron. And like every other piece of Lodge cast-iron cookware, the new line is incredibly affordable and made in the US.
I drink a gallon of water a day. Some say that's too much, but if I fall short for the day I feel like I'm doing my body a disservice. This is all just a long-winded intro for me to say I love water, and Larq just released a new water pitcher on Kickstarter that I want. The Larq Pitcher is the evolution of the brand's flagship Larq bottle, which automatically cleans itself and its water contents every two hours.
The Larq Pitcher uses a two-step water filtration and purification system for fresh, clean water. Existing water filters trap and collect bacteria, which quickly multiply and compromise the filter's ability to work. Larq's purification system eradicates bacteria, viruses and mold, so your filter doesn't end up being obsolete in a couple weeks.
3
by Humankind Travel Sets
Traveling is fun and all, but travel-sized products aren't so fun for the environment. Those tiny, single-use plastic containers are a detriment to the earth, so by Humankind made its most popular grooming products travel-sized, while also eliminating the need for plastic. Housed in a recyclable paper box are three grooming bars (soap, shampoo and conditioner), cotton swabs and mouthwash and toothpaste tablets. Take this kit on the go to keep yourself and the planet clean.
4
Recess x Poolside.FM Merch
I didn't get the Recess hype until I tried it. The brand's hemp-infused sparkling waters were thirst-quenching and somehow made me more focused, presumably because of the drink's added adaptogens. Recess recently dropped a line of clothing, called Realitywear, that was cooler than anything we would expect from a beverage brand. This time, Recess partnered with Poolside.FM, a retro online radio station, for a limited-release line of merch from a bucket hat to tees. I've got my eye on a collaborative Baggu nylon tote in a tie-dye print for future grocery trips.
5
Revision Convex Bottle Opener
Craighill founding member Nate McCracken started his own brand, Revision, with fellow designer Damein Williams. Revision's inaugural product is the Convex bottle opener, a sleek orb for seamlessly uncapping your bottles. The polished surface reflects its surroundings for a playful warped look, and unlike most bottle openers on the market, the Convex also doubles as a nice piece of home decor.
This content is created and maintained by a third party, and imported onto this page to help users provide their email addresses. You may be able to find more information about this and similar content at piano.io