Every product is carefully selected by our editors. If you buy from a link, we may earn a commission.
10 Short-Sleeve Collared Shirts to Wear This Summer
Shelve your long-sleeve shirts until the season changes.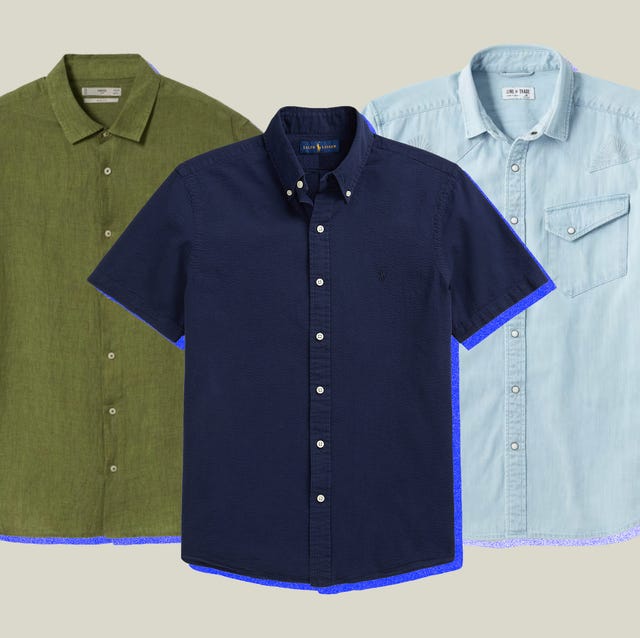 For the majority of the year, the long-sleeve shirt is an infallible menswear staple never to be discarded. But when summer arrives, carrying with it warm breezes (and humidity), therein lies an opportunity to shed sleeves and embrace more seasonally appropriate threads. Presentable without losing a casual edge, the short-sleeve collared shirt looks great on top of shorts at the beach, or layered beneath a lightweight blazer at the office — if you're headed there.
When to Wear a Short-Sleeve Collared Shirt
Simply put, short-sleeve collared shirts are a versatile cornerstone of a complete wardrobe. Sure, rolling your sleeves works — we've proved it! — but being seasonally appropriate means breaking free from excess fabric. There's no sense in suffering through scorching days in shirts intended for another season entirely. And perhaps you can't jump all the way to the other end of the spectrum, where camp-collar shirts reside. Those have spread collars, fit in a more relaxed way, and probably have split hems. Stow those away for your next trip — or weekend date night to a dark bar.
Needless to say, short-sleeve collared shirts are shape-shifters. Casual when unbuttoned and paired with shorts and office-appropriate atop chinos and loafers. Stock up on a few different kinds, and let the day's duties guide how you wear them.
The Best Short-Sleeve Collared Shirts for Men
This content is created and maintained by a third party, and imported onto this page to help users provide their email addresses. You may be able to find more information about this and similar content at piano.io