Every product is carefully selected by our editors. If you buy from a link, we may earn a commission.
The Best Shorts for Summer 2022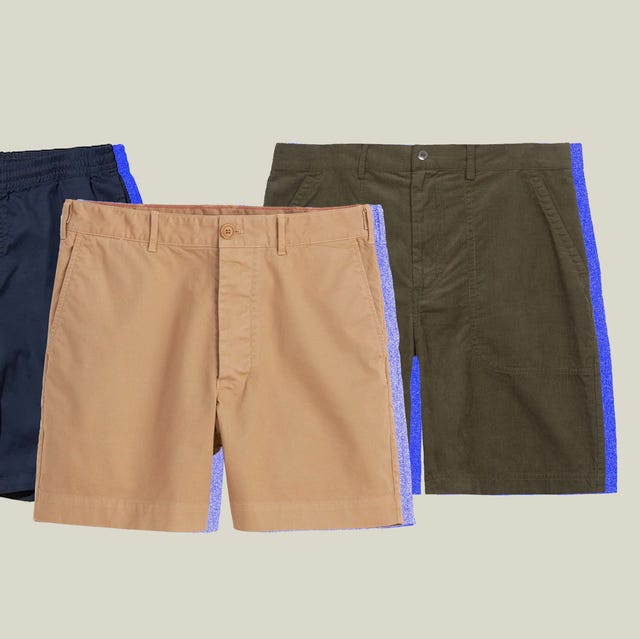 In the summer months, shorts are a necessity. They're how you'll stay cool commuting to work or relaxing outside on the weekend. You should aim for a pair that is both comfortable and fun, an equal embrace of casual elements like linen and drawstrings and structured features like pockets and polished hems.
What to Look for
Just like pants, shorts can be divided into several categories: chino, utility, sweat and, broadly speaking, sport shorts. The former are more formal, while the latter skew more casual — the sort you wear to the gym or to the grocery store, but rarely anywhere else. For the sake of brevity, I'm covering the kinds you can wear to summer events and on errands.
Keep an eye out for shorts with an adjustable waist, structured hips and pockets and a finished hem. Shorts with big, billowing pockets will make you appear wider than you are, breaking up the body's natural line. Shorts that flare out will do this too, so avoid ultra-lightweight fabrics like nylon unless the occasion truly calls for them. Stick to fabrics like cotton or twill, because they're breathable but also the most versatile.
These fabrics are also the ideal weight. They're hefty enough to afford the shorts some structure while being lightweight enough to wear comfortably even on the hottest days. The fit of your shorts matters, too. Pardon the weird visual, but you should be able to slide an open hand up into the bottom of your shorts. If you can't, your shorts are too tight. (Compression shorts don't count.)
Understanding Inseam and Outseam
When buying a pair of shorts, you've probably inspected their inseam — aka how long they are. What's the difference between a 5-inch, 7-inch and 9-inch inseam? Five-inch shorts are the most ambitious of the bunch. For most men, this short will sit smack dab in the center of your hip and knee. High enough to be breezy yet low enough to ensure you aren't revealing too much.
A 7-inch short will hang further down, essentially just above the knee. On most bodies, there will still be a little thigh showing, but this is the short short for men who don't like short shorts.
For the conservative crowd, there's the 9-inch short. It'll be right at or slightly above the bend of the knee, meaning little to no real thigh exposure. But don't worry about the 9-inch short being capri-like. This length will rarely, if ever, hit beyond the knee on anybody, even if you're all torso. Anything beyond 9, though, is where the droopy designer, or early aughts-referencing, pairs are. Super baggy shorts are a look, but rarely a flattering one for normal folks.
Simply put: 5-inch shorts are short; 7-inch shorts are the sweet spot; 9-inch shorts are for those too scared to show off some thigh.
As far as the difference between an inseam and an outseam, think of it this way: the inseam accounts for the length between the crotch and bottom hem. The outseam measures from the top edge of the waistband to the bottom hem. An average outseam is 18 inches. An average inseam is 7 inches.
The Best Shorts for Summer 2022
More Shorts for Men
---
This content is created and maintained by a third party, and imported onto this page to help users provide their email addresses. You may be able to find more information about this and similar content at piano.io