Every product is carefully selected by our editors. If you buy from a link, we may earn a commission.
Dress Socks Are the Secret to Looking Truly Dressed Up
You shouldn't wear white Nike socks to a wedding. Here are six pairs you should save for special occasions.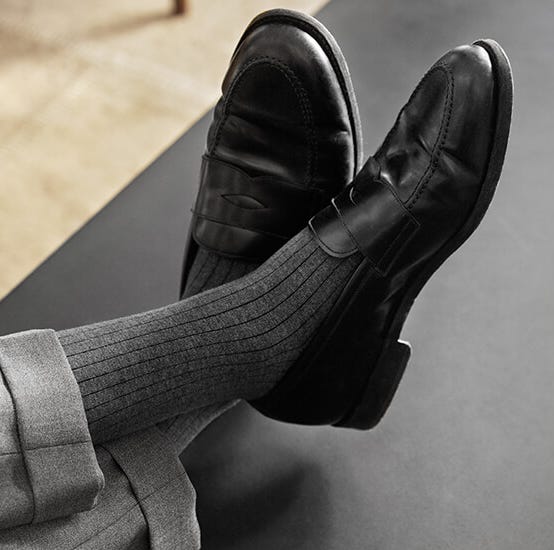 Spending a little extra on your socks is always encouraged. Bad ones will ruin your day — they can rub, bunch together, rip, or simply won't stay up. But buying nicer ones in bulk won't solve your sock problem. Yes, you need nice ones you can wear everyday, but you need your socks for special occasions, too: no-show socks for when you're wearing low tops and dress socks for, well, dressier events.
How Are Dress Socks Different?
How are dress socks different from regular socks? It's in the gauge. You don't want to wear loosely-woven socks with dress shoes. Instead, opt for tightly-woven, ultra-thin socks made from elevated materials — like merino wool or maybe even combed cotton mixed with nylon or polyester. These fabrics encourage moisture absorption or evaporation, keeping your feet comfortable inside your (likely leather) dress shoes.
A dress socks' density differentiates it from, say, a Nike Dri-FIT sock. Nike socks have elasticated arches, padded heels, a toe seam and tight, ribbed shafts. They're plush and comfortable. Dress socks are the opposite: They're thin, feature very few elasticated components and opt for textureless shafts that don't attract too much attention when exposed. Thinness is a requirement because most dress shoes, especially loafers, which are tight at first and stretch with wear, cannot accommodate your standard sock. The combination proves uncomfortable, no matter how many pairs you try.
Length is another point of differentiation between everyday socks and socks you save for special occasions. Although most of the options below are mid-calf height, dress socks range from mid-calf all the way to knee-high. It's because few folks want their bare legs, whether hairy or shaved, to be what occupies the space between their shoes and their pant's hem. Knee-high socks are a smart way to prevent potential exposure, but knee height is no means required.
To Pop, or Not to Pop, That Is the Question
Colorful dress socks, or dress socks with chaotic and kitschy patterns, have grown in popularity. Personally, there's nothing worse than spotting a polka dot sock on the foot of a groomsman at a summer wedding; or, a weird hot dog pattern wrapped around your coworker's ankle. If you're going to go over the top, I'd argue, add argyle, not a brand logo or something from your favorite movie.
As such, you'll see that most of these socks are solid. That's how it should be. Call me boring, but if you're dressing up, the sock isn't a safe space to express yourself. It'll probably show at some point, whether while you're sitting or when you step on stage to give your long awaited speech. Instead, opt for a statement-making pocket square, which, once stuffed into your front pocket, proves harder to decipher.
The Best Dress Socks