Every product is carefully selected by our editors. If you buy from a link, we may earn a commission.
Bombas Makes Nice Socks. But Are They Worth It? Here's What We Think
Bombas sells dress, sport, non-slip, no-show and so many other socks that range from $12.50 to $24 a pair.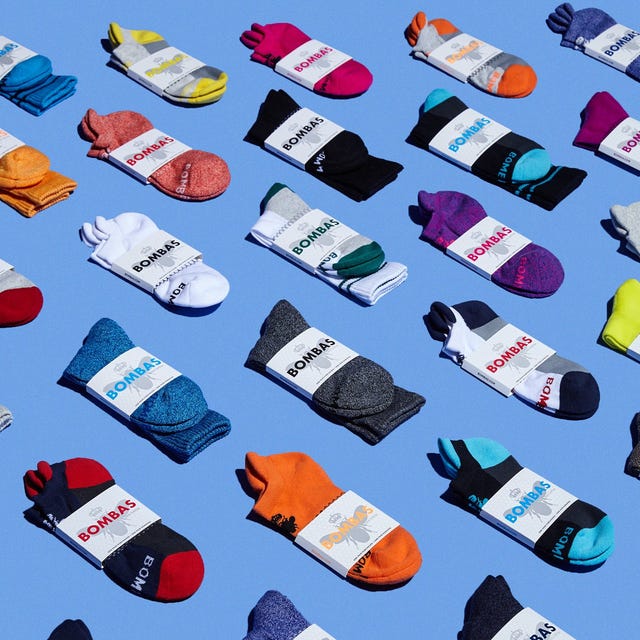 Socks are a touchy subject. They should be an easy buy — something you wear until they're worn out and restock without doing much research. However, times have changed. Socks have gone from a stale department store product (and a cop out Christmas gift) to a category rife with direct-to-consumer disruptors. It's fair to wonder whether or not these newcomers are really offering anything new. Can their socks, which often cost as much for one pair as the packs used to, really be worth it?
About Bombas' Socks
Bombas, for one, promises not only upgrades in aesthetics and performance but also business practices. They pledge to donate an item to someone in need for every item bought. With this model, they say they've donated "more than 50 million items to more than 3,500 community organizations" since 2013. In doing so, they've fulfilled on a promise founder Randy Goldberg set forth in the business' original Indiegogo campaign (which raised 949 percent, aka $143,000, of its original $15,000 goal).
As for which organizations Bombas give socks to, Goldberg told Glossy they "are anything from a small shelter in a small town to big organizations like the VA and the Special Olympics. We're in all 50 states. And we send out boxes of socks that are specially designed to meet the needs of those living on the streets, or who aren't able to change their clothes as frequently." They followed similar initiatives brands like Warby Parker and Toms promised — which were both one for one, but for glasses and shoes, respectively — in hopes of not only bettering the category but the situations of those less fortunate, too.
Are Their Socks Any Better?
Their charitable contributions are hard to contest. 50 million items is a massive number, and one that will only grow as the business does. But is this promise hinged on a faulty, slightly expensive product? No. In my opinion, Bombas has definitely bettered the category. Their socks, which come in five heights (no show, ankle, quarter, calf, knee high) designed for three different activities (casual, performance, dress), stand up to repeated washing, wear in without ripping or loosing their elasticity and rarely, if ever, slouch at the toe or heel or slide down your leg.
This hold, which a wearer will feel up on the shaft of the sock (the part that hugs your ankle and above) and across the arch, comes courtesy of Bombas' signature "honeycomb" stretch. The honeycombs link together to form a thick band that nearly spans the length of your arch, wrapping all the way around the top of your foot, too. This helps distribute your weight as you step, preventing pressure points or the dreaded bunch up. But Bombas socks also stay up: the cinch around your calf is tight but not too tight, meaning you won't be pulling your socks up during the work day or as you walk. I, for one, love the simplicity of Uniqlo's super-cheap socks but they fall down every 10 minutes without fail.
Bombas socks also come with a seamless toe — you know the line where socks are usually finished? That stitch line typically rubs across the tops of your toes, creating enough tension to irritate but rarely blister. On the back, there is a tab dedicated to blisters specifically. Addressing the spot where your heel rubs on the back of your sneaker or boot, their socks offer cushion between your skin and the shoe.
And although, yes, spending between $12.50 and $24 dollars for a single pair seems insane at first, buying fewer but nicer socks is better for your bank account (and the planet) than restocking your entire top drawer every few weeks. I've found few very few socks that stand up to usual wear and tear like these do. Most wear out beyond repair — but not Bombas'.
Shop Bombas' Socks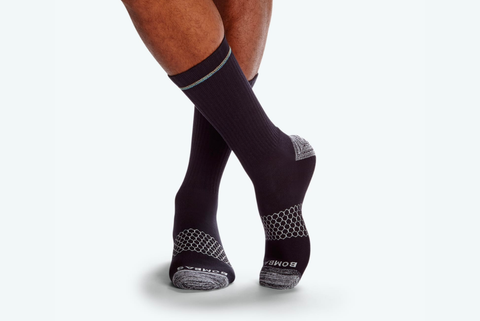 What Our Staff Has to Say About Bombas Socks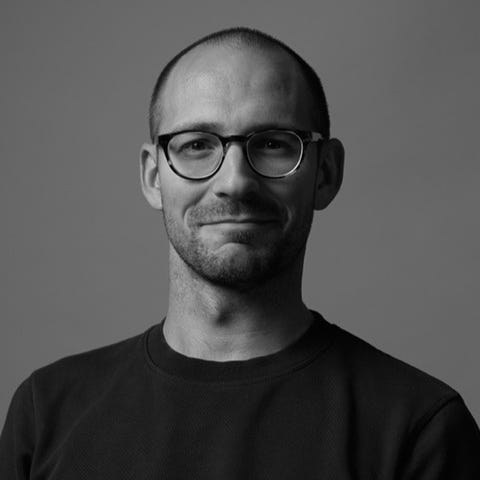 "Bombas have everything I want in a casual sock: They're cushioned well in the right places, grip firmly but not tightly, never lose elasticity and they look great. I am slowly filling my sock drawer with different styles, starting with these vintage stripes — the merino calf socks are next, then ankle socks. Then some of the fun colorways," Nick Caruso, Senior Editor, Branded Content, says.