Every product is carefully selected by our editors. If you buy from a link, we may earn a commission.
11 Corduroy Shorts Built for Summer Days
Take a nod from surf culture and wear the tough fabric through the warmer months.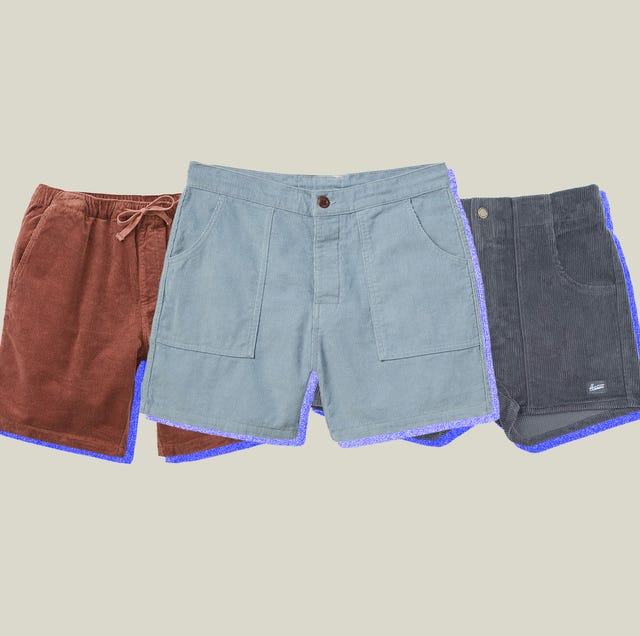 If there's one thing we can learn from surfers, it's how to dress for comfort in warm weather. One fabric that reigns supreme in the world of surf, and even summertime skating, is corduroy. Not just for fall and winter, corduroy is a tough material that offers surprising comfort on warmer days. Find a pair of corduroy shorts and wear 'em with a short-sleeve collared shirt or a camp collar shirt while you hit the beach this season.
Corduroy for Summer?
Corduroy pants can keep you warm, sure, but as a short they're as breezy as cotton. There's a reason why surfers and skaters of the '70s and '80s preferred the rows of ribbed yarns, called wales, of corduroy: It can take a beating. It can trap heat, but not much when it's loose and in the form of shorts. Much like Dickies' workpants have been co-opted by the athletes of extreme sports, corduroy serves the purpose of a tough-wearing fabric that's built to take on saltwater, sunshine and minor scrapes.
Simply put, corduroy shorts were made for an active lifestyle. They're reinforced at the seams for durability, somewhat loose in the leg for maneuverability and look great when they've gotten slightly faded from the sun's rays. Look no further than Ocean Pacific, a '70s-born beachwear brand that dominated the surf and skate scenes with its ribbed short.
Of course, your climate may vary. Wearing corduroy in the spring and summer is easier for those who live well above the southern hemisphere or are located on a windy coast by the water. If you're looking to stay cool in cords, opt for those with a shorter inseam length than 7 inches. The higher the hem hits your thighs, the breezier you'll be.
Keep in Mind: Corduroy Will Fade
It won't look bad, though. Similar to a pair of denim jeans, corduroy fades through use and wear. However, it's got a unique way of fading that gives them pretty cool character. Corduroy softens over time with each wash, creating a fuzzier touch similar to velvet on the skin. It'll also lose its tone and color through direct contact with sunlight and areas of high stress. You'll begin to see fading between its wales on the fabric's significant stress points. This is usually around the knees of a corduroy pant, but on a pair of shorts, the fade could be caused by your wallet.
---