Every product is carefully selected by our editors. If you buy from a link, we may earn a commission.
Why Everyone Needs a Corduroy Jacket (and Which to Buy)
The breathable, durable fabric is used in pants and blazers, but also a bunch of other jackets.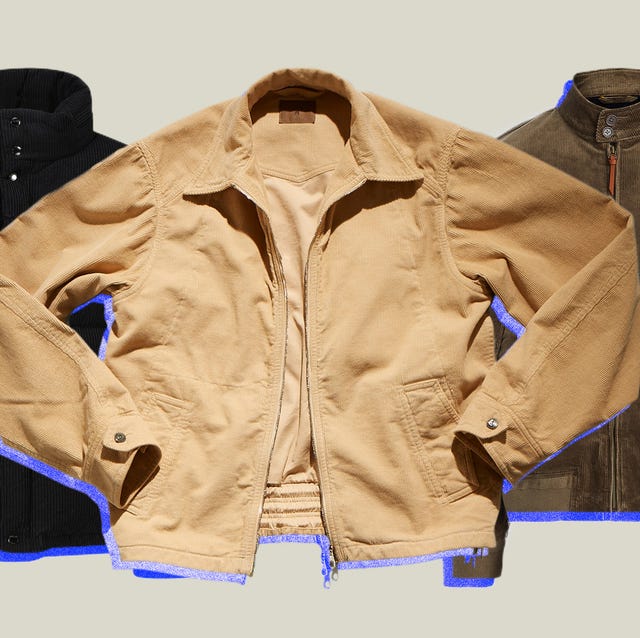 As Jeff Goldblum, Wes Anderson, and Dustin Hoffman prove, a corduroy suit jacket immediately lends an outfit an air of sophistication — something vaguely academic, but not fussy or staid. It's relaxed, stylish, bookish and raffish in equal amounts.
But as our reliance on the suit wanes, corduroy has been spun off into a million different types of jacket — it's been used for jackets of the trucker and hunter variety, deployed as chore coats or Harringtons. Even as worldly noragis. The possibilities are endless.
Why You Need a Corduroy Jacket
The history of corduroy takes us all the way back to ancient Egypt, to a small town near Cairo, called Al-Fustat. And despite its signature ridged finish, corduroy was originally smooth. Without getting too technical, it was a thick, sturdy fabric woven from a warp of linen and a weft of cotton. The result was a dense "pile" (like on a carpet), and in the intervening years since this weave has yielded two types of commonly used materials: velvet and corduroy. As you probably know, the latter comes with a textured surface of long ridges, known as wales. As such there can be thick fat "wide wale" corduroy or more subtle, slimmer wale ones.
Because of corduroy's strong yet lightweight properties, and its intrinsic versatility, designers have leaned into corduroy often throughout history. But it's in recent years that we've seen it adopted by everyone from the Italian artisans at Brunello Cucinelli to the warriors of everyday style at J.Crew. Ralph Lauren, Tommy Hilfiger, Tom Ford, and Thom Browne have all embraced it.
And as the weather transitions and the climate starts its slow, hopeful thaw, corduroy — breathable, light, and oh-so-versatile — is the perfect thing to consider. Regardless of your mood, your personal tastes or, ahem, your credit card limit, there's an option for you. Here are nine corduroy jackets to keep you both stylish and comfortable.
The Best Corduroy Jackets for Men
---