Every product is carefully selected by our editors. If you buy from a link, we may earn a commission.
The Best Muck Boots for All of Your Dirty, Messy Deeds
Knee-height and easily cleaned, these boots are far superior to Chelsea-style rain clogs.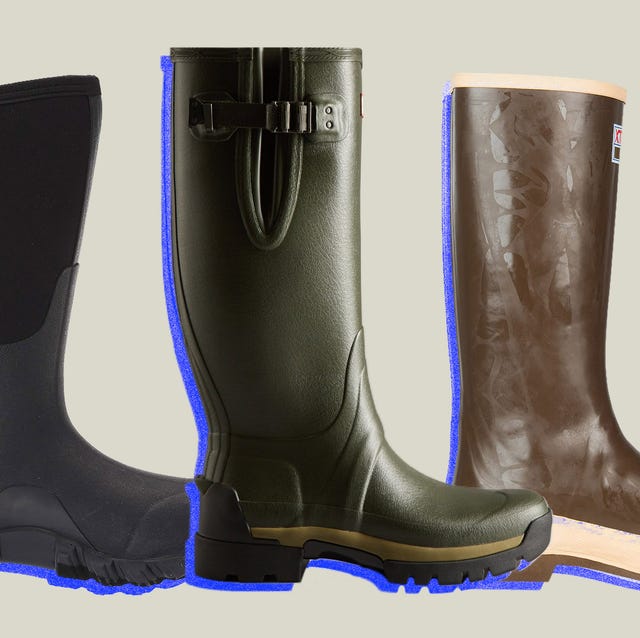 Of the boot styles you can really beat to hell without worrying about them much, muck boots take the crown. And that's even against stiff competition: work boots, rain boots, engineer boots, duck boots and hiking boots, to name a few. Yes, the term "muck boots" are an abbreviation for an official brand — The Original Muck Boot Company, which was founded in 1999 — but it's also a broader description for a style of boots.
They're recognizable by their super-high uppers (11-17 inches to be exact), rubber or neoprene construction, traction-focused tread, are seamless and slip on and have few, if any (save for maybe an adjustable gusset for tightening the shaft), bells and whistles. You can wear these the same way you'd wear rain boots, but they are obviously a lot less subtle. Unless your pants are boot cut they likely won't slide down over these, but that's OK; if you're really trying to stay dry (or away from the muck — yes, it's a noun too! — of your workplace) tucking your pant legs in is probably the best move.
What Are Muck Boots?
Muck boots, while technically specific to one brand, Connecticut's The Original Muck Boot Company, are defined as tall boots capable of keeping your feet, shins and sometimes knees protected from water (whether that be rain or puddles), dirt, mud, sludge, slime and many more kinds of muck.
So, what's the difference between muck and rain boots? Don't they both do the same job? Well, yes, but standard rain boots are typically shorter. Wellies (short for Wellington Boots) are the closest comp considering they usually stop near the knee. But while Wellingtons are a little bit more casual — for skipping in puddles, crossing slick city streets and herding cattle dogs on wet grass, like an English Royal — muck boots are made for the farm or wet factory floors or that muddy trail out behind your house.
Who Are Muck Boots for?
Muck boots have made a name for themselves in agricultural settings, becoming the go-to boot for workers tending to cattle, toxic waste (some are protective against hazardous materials) and other messy materials. Some reviewers retold stories of stepping through dung and over knee-high spills with ease in these. As such, these are best saved for folks forced to step into, let's say, sticky, messy, wet or altogether chaotic situations. No, they don't offer the protection of a waterproof work boot, with their structured toes and puncture-proof outsoles, but these are far higher.
Therefore they're really for anyone who wants to stay dry, whether when wading through a shallow creek or working at a wet station. For factory workers and at-home makers alike, muck boots are ready for the job ahead, no matter what it is.
---