Every product is carefully selected by our editors. If you buy from a link, we may earn a commission.
Our Guide to Every Boot UGG Makes for Men
Cozy season can be year-round.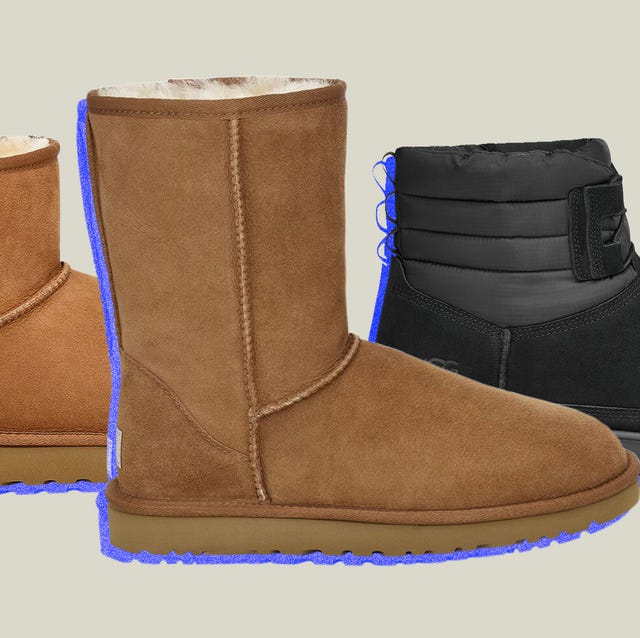 Despite their ubiquity nowadays, UGG boots were original to surf circles. The boots offered surfers respite after long, cold sessions catching waves, courtesy of their high rise capable of covering the toes, feet and shins and sheepskin liners that lock in heat. This was the '70s along the coast in California, long before UGG shoes became a staple of cozycore, a term for fashion sense driven exclusively by comfort and comfort alone. They were beloved because they were easy... It's funny how some things don't change with time.
The History of UGG Boots
But ugg boots — yes, lowercase ugg boots, as a reference to the style not the brand — have a long history that predates the US-born brand. Ugg shoes, although heavily debated, can be traced as far back as 1920 in rural Australia. There, the story goes, shearers trusted these boots over others because they could withstand the greasiness of wool. (The grease would otherwise ruin most boots.) But there's also an Australian surfer that claims he invented the style, since no one can really prove the shearers did it first. Other trademarks akin to ugg — UGH, UGH-BOOTS, Uggs-N-Rugs — cropped up in the 60s and 70s, but without the legal standing to be the sole supplier of the style. In fact, they were so common in Australia shoppers rarely knew the name of the brand that made them, instead calling them just as they were colloquially known — as uggs. (In court, one of the so-called inventors said the name is a play on initial reactions: an abbreviation for "ugly.")
Stateside, UGG boots were initially an independent hit. Australia-born founder (and surfer) Brian Smith launched the company with a small round of fundraising from family and friends after a relatively unsuccessful stint as an importer of ugg-style boots from down under. He was in school at UCLA and part of tight-knit surf communities in San Diego and Santa Cruz. Surf shops propelled UGG sales early on, but ad campaigns that "featured models 'who couldn't surf,'" totally didn't help, Smith told Forbes. It wasn't until he "ran ads of young pro surfers" that "sales jumped to $400k in one season," he explained.
An appearance on Oprah's annual "favorite things" list, a commercial with Tom Brady, cameos in movies and TV shows and on the feet of hundreds of celebrities (and lots of moms), skyrocketed the sheepskin footwear, which, by then, was fully owned by Deckers, which also owns Hoka One One, Teva and Sanuk. Trademark battles have been waged on UGG a million times over, but the brand retains ownership of its name in the US and 100-plus countries. It's their popularity, I believe, and their dissolution into everyday Americanism, that's made them uniquely their own — and covetable still after several steep ups and downs.
Why UGG Boots?
Their catalog includes slippers and sneakers, but we're here for the boots. For surfers, they made a lot of sense: They were easy to put on, warm, could withstand salty ocean water and sand and required little maintenance. That means most of the reasons they were popular then are what's keeping them around: the comfortable sheepskin construction, the fluffy wool insides, their cushioned foam insoles and, of course, their color — which is nearly as signature as their shape.
I'd implore you to try them even if you feel extremely adverse. At worst, they're your new waddle-from-desk-t0-bed, work-from-home shoes. At best, you're strutting the grocery store aisles like a suburban Tom Brady (or a cool-ass Australian surfer looking for post-sesh snacks). W either way. And, I promise you the "stigma" you associate with UGG boots — and men wearing UGG boots especially — is merely made up. Tom Brady might've gotten the meme treatment for his advert in them, but he laid the groundwork for a generation of cozy boys behind him. (I wonder if Brady has a closet full of UGG shoes waiting for him in retirement?)
UGG Boots for Men
UGG makes an assortment of staple boots and variations of those staples, which is why you'll see the Classic Boot in both Mini and Short heights or the Neumel Boot as the Neumel Boot but also the Neumel Strapback, Neumel Cozy and Neumel Chelsea, for example. And UGG makes more than just sheepskin slippers, you know: They do Chelsea Boots, Duck Boots, Rain Boots, Snow Boots, and beyond. Explore all 30 — yes, 30 — styles below.
---