Every product is carefully selected by our editors. If you buy from a link, we may earn a commission.
This UGG Slip-On Should Be the Next "It" Shoe
The North Face Nuptse Mule is cool, but the Tasman LTA is even cooler.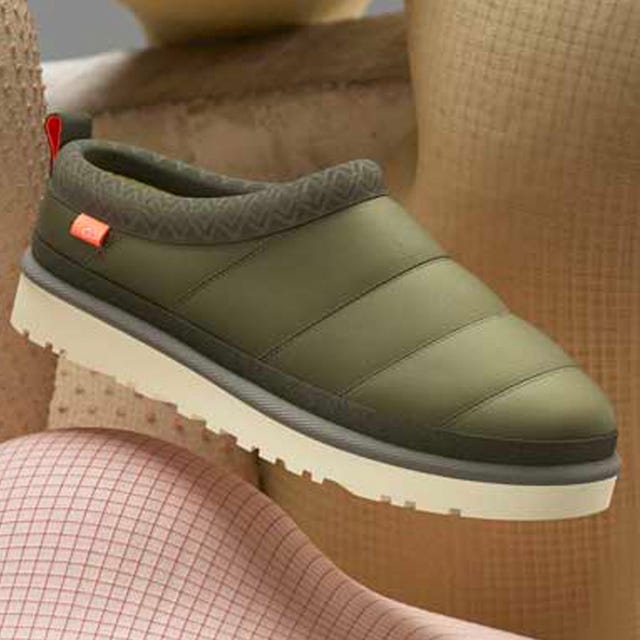 This winter, few shoes were more popular than The North Face's Nuptse Mule — at least according to The Lyst Index, an industry-wide survey of consumers' shopping habits. The slip-on "sleeping bags for your feet," as we called them last year, are comfortable enough to be worn around the house, but also built to withstand being worn out in the real world.
This category of slip-on shoes, colloquially referred to as mules (a combination of "mullet" and "shoes"), is filled with comfortable, classic options: Birkenstock Bostons, Crocs and Gucci slippers, to name a few. But The North Face's new mule took over because it combined two emerging trends: the slip-on shoe itself, and gorpcore (which is basically the act of dressing in head-to-toe outdoor gear; think: fleeces, rain shells, hiker sneakers and waterproof climber pants).
But the new UGG Tasman LTA does this too; and it's newer, and I'd argue, better. It should be the next "it" shoe. The LTA swaps the popular Tasman slipper's usual suede upper for a 100 percent recycled polyester puffer upper, and the traditional sheepskin liner for 7mm curly UGGplush (a blend of upcycled wool and lyocell), which is more like sherpa than fur. Some suede sticks around, though, in the form of a mudguard that wraps around the upper, separating it from the Treadlite outsole, and an embroidered collar that keeps your foot inside once it's on.
They aren't graded for prolonged exposure to the elements (i.e. rain, mud or snow), but I found they survive misty walks and melty sidewalks. Plus, they paired well with casual outfits if I was working from home and clothing more streetwear-centric if I was headed out for the day. The LTA balances the fine line between slipper and sneaker, because it's really both. And for those who have an unwarranted fear of the UGG aesthetic, the sheer lack of brown suede distances these from your usual UGG boots.
UGG Tasman LTA
This content is created and maintained by a third party, and imported onto this page to help users provide their email addresses. You may be able to find more information about this and similar content at piano.io