The Twisted Automotive NA-V8 Defender Is the Land Rover of Your Dreams
Ever desperately wanted a Defender in your driveway? This is the one you were fantasizing about.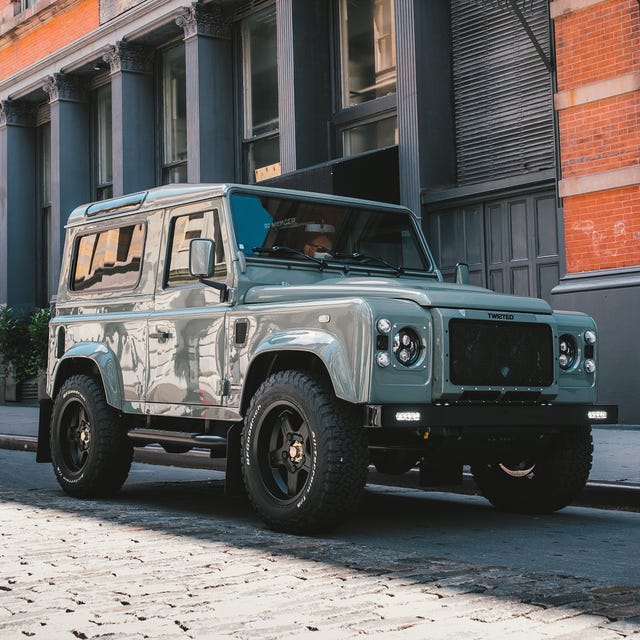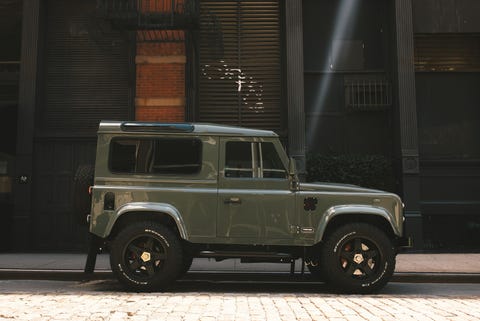 Yes...and no. Twisted Automotive has been around since 2001, though its Virginia HQ2 is quite a bit newer, having opened in late 2019. The Defender, of course, is hardly new either; it first hit the streets in 1983, based on bones that can be traced back to the 1940s.
Even if you look across the Atlantic to source one (as most Defender restomodders do), the newest version you can source dates from five years ago. But Twisted's work transforms that old ride into one that — in spirit, at least, if not on paper.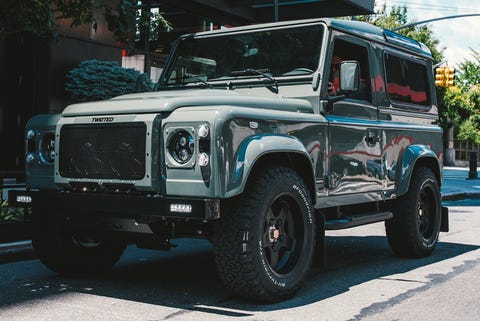 Car nerds of a certain stripe like to throw around the term "Singerize" — in essence, verbing the exceptional restoration, customization and improvement that Singer Vehicle Design performs on 964-generation Porsche 911s into a word that can be applied to any vehicle. Twisted's NA V8 Defender certainly qualifies as an example of the technique; indeed, the brand's representatives mentioned Singer as a benchmark for their work.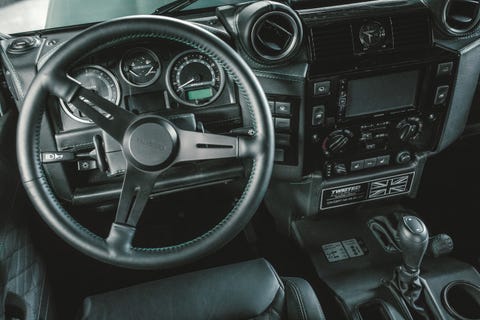 About as nice as a Defender can get. It's not quite the match of a Singer-customized 911, but it's damn close — and to be fair, few production cars can come close to Singer quality and fit and finish, let alone custom jobs. If that California Porsche shop didn't exist, Twisted's craftsmanship would be the best
Almost every surface your fingers are likely to touch is covered in pleasing new material, from the quilted leather seats to the steering wheel to the four-wheel-drive mode selector. The levers and knobs for the likes of the climate control and blinkers are still good ol' plastic units, but they work fine, damn it — a nice reminder of the virtues of analog, manual controls in an era when every carmaker seems to be flooding their cars with touchscreens.
They also suit the Defender's mission: buyers in this bracket, after all, have the cash to choose from pretty much any SUV on sale; they clearly have specific reasons for choosing a restomodded Land Rover older than their children (or, in some cases, themselves), and those reasons likely include an enthusiasm for an era when computers hadn't infected every inch of the automobile.
Still, there's no escaping the basic physics of the Defender 90's packaging. There's simply not a lot of space in there, either in the front row or in the cargo bay to the stern that holds those incidental jump seats. As with pretty much any vintage Defender, taller folks will find the driver's seat a bit cramped after a while, but the racy bucket seats offer better support than the traditional units, at least.
If you needed further proof of this Defender's mission as a boulevardier, not a work truck, take a look at the cargo area: it's made for Rodeo Drive shopping bags and high-end leather suitcases, not bags of mulch and two-by-fours.

The Gear You Absolutely Need for Car Camping
Car camping makes getting away easy as pie. These items will make it even tastier.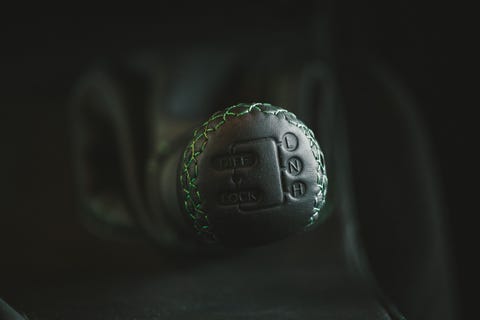 Better than a classic Defender has a right to. Although it's still a far cry from, say, a modern Land Rover, let alone a Porsche, the suspension work Twisted has done goes a long way towards making it amenable to road use. You can't hide the age of the design, but it certainly can tack through turns better than its kin do. The ride is smooth, but the car never bounces around. The steering is slow, as always, but it's accurate — not loose at all.
Granted, no one fantasizes about driving a Defender around town — but that's where my drive was, because that is where people drive them nowadays. Due to their rarity, the market has blown up so much that now, they're largely runabouts for the well-to-do in beach towns, tony suburbs and gentleman farming communities. And while those folks might drive on the sand or down a muddy two-track every now and again, perhaps even more than most SUV drivers, they still spend 99 percent of their time on roads — so that's where Twisted concentrated their improvements.
A bit heretical, to the zealots, but very logical from a business standpoint. (That road-going, around-town emphasis is also why I predict Twisted will do very well with their forthcoming electric Defender.)

One thing the electric Defender will never match, though: the sheer thrill of hearing that V8 roar. Punch it, and the custom exhaust makes a sound like Talladega; it's utterly intoxicating, though I'm sure owners will be very glad for that mute switch that comes on the production versions.
It certainly never feels lacking in go, which is something you can't say about a stock Defender. Merging onto a highway or catching up to traffic, just floor it and it goes with an alacrity that'll stun O.G. defender drivers. The gearbox is nice and quick enough to kick down, as well, making it feel quicker than you might expect from the claimed six-second 0-60 time. Or maybe you just think it's quicker because it sounds like an angry ZR1.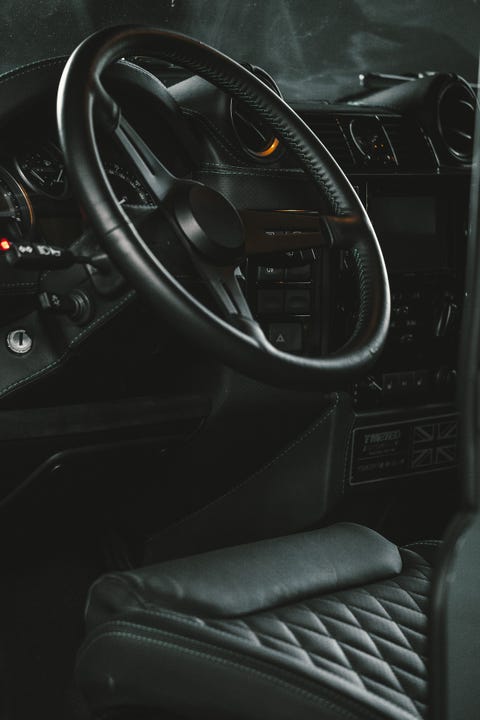 Indeed, at least the in short-wheelbase Defender 90 form that I drove, the smallblock's output might be too much power. (At the very least, those off-road tires just aren't meant to handle that kind of power; it had trouble putting that juice down, even in spite of all four wheels helping wrangle the ponies.)
Overall, it doesn't drive like you'd expect of an old car; there is a bit of that Singer-like aspect, in that the Twisted rig feels the way you'd always imagined an old Land Rover would drive, rather than how it actually drives. Which, suffice it to say, is a high complement.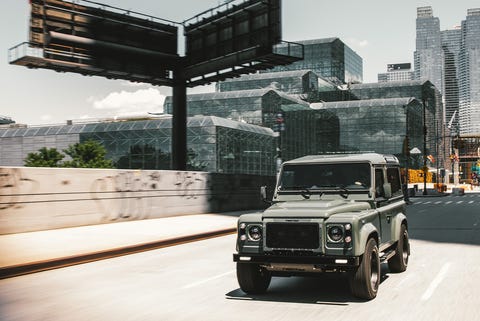 By now, you may well be quite entranced by the likes of this sweet ride; I certainly was after my time behind the wheel. Still, the $250,000 base price was enough to shock me out of my post-drive reverie. That, after all, is enough to buy a Lamborghini Urus, Bentley Bentayga, Aston Martin DBX or practically any other new SUV (bar the Rolls-Royce Cullinan) — or enough for a fairly dreamy three-car garage of other rides.
But while those of us who're window-shopping might think twice at that sort of outlay for a custom Land Rover of this age, Twisted's exquisite Defenders are for the sort of buyer who doesn't think in terms of only car or second car; they're for folks who choose from an ample garage the way most of us choose outfits from the closet.
If you so happen to count yourself among those lucky people, let me just say that a Twisted Defender would be a dynamite addition to your ample automotive portfolio. Just do me (and it) a favor: take it off-roading every so often. Just to say you did.
The Best Rooftop Tents You Can Buy
If you've always enjoyed the top bunk, you should invest in a rooftop car tent.