The Jeep Grand Cherokee 4xe Is the Plug-In Hybrid SUV You've Been Waiting For
Everything you like about the Grand Cherokee, but now with 25 miles of electric range.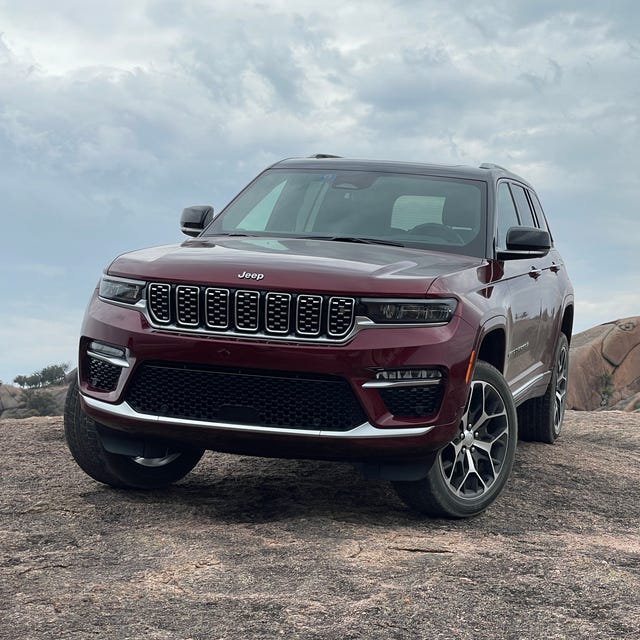 Strange as it may seem, there really aren't that many plug-in hybrid SUVs out there. Then again, maybe not; there really aren't many PHEVs on sale in America, period — especially considering how good a fit they are for many buyers, with their combination of zero-emission, low-cost commuting and long-trip flexibility. Many a carmaker doesn't even bother offering them, and many that do only serve up one or two — pity rides to assuage the EPA and environmentalists.

Credit to Jeep, then, for not just letting the plug-in hybrid powertrain found under the hood of the Wrangler 4xe languish there. For 2022, the company's super-popular Grand Cherokee — fresh off its best sales year ever last year — is gaining the same hybrid powertrain, in hopes of bringing short-range zero-emissions travel to buyers who might want something a little more mainstream than the Wrangler...as well, of course, as bringing down Jeep's average corporate fuel economy.

To find out how well this new PHEV SUV lives up to its billing, we ventured deep into the heart of Texas to Austin, where we sampled the Grand Cherokee 4xe in a variety of forms on a number of surfaces — paved and unpaved, urban and rural, empty and crowded alike. How'd it do? Read on.
What, exactly, is the Grand Cherokee 4xe?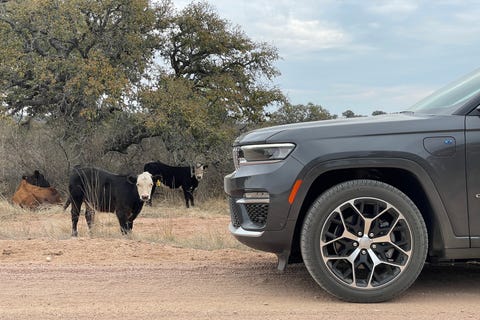 As mentioned, it's the second Jeep — the second Stellantis product — to pair up the 2.0-liter turbocharged inline-four with a 17-kWh lithium ion battery pack and an electric motor. Jeep claims the system will deliver 25 miles of range in all-electric mode and still get the best combined fuel economy of the Grand Cherokee lineup when depending on the gas engine alone – along with packing more horsepower than Jeep's 5.7-liter Hemi V8 and as much torque as the 6.4-liter eight-pot muscle car motor found in the crazy Wrangler 392.
What's this Jeep like to drive?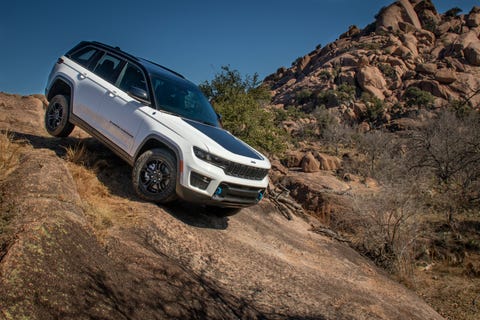 Well, let's start that answer the way Jeep had me and the other assembled journalists start our drive: on the street, with a fully-charged battery. Left in EV mode and driven through the extended suburbs of Austin, I managed to coax more than 27 miles out of the 4xe on electrons alone. Granted, I wasn't driving with a lead foot, but I wasn't babying it too much, either. Squeezing 25 miles of range out of the battery on a regular basis seems like it would be a cinch.
Once the battery depletes itself, the 4xe drives more or less like any other new Grand Cherokee. Granted, it always has the full poke of 370hp and 370 lb-ft available when you mash the gas, but that doesn't turn this Jeep into the rocket you might expect; based on the difference between the Wrangler and Wrangler 4xe, the PHEV Grand Cherokee likely weighs in around 800 pounds heavier than the V6 equivalent — which means it weighs in around three tons with a driver aboard. It feels every ounce of that when you floor the gas. Acceleration is decent — I informally clocked a 0-60 in the high fives — but you won't be buying it for the go-quick thrills.

Off-road, of course, it's remarkably capable – probably far more so than you'll ever likely use. Jeep sent us on a slightly modified version of the same off-road course we tried the Wrangler Rubicon 4xe, and the Grand Cherokee Trackhawk 4xe — which boasts a 47.4:1 crawl ratio in four-wheel-drive-low, an electronic limited-slip rear differential and a disconnecting front sway bar, as well as best-in-class approach and departure angles — made short work of it, even the drops too steep to see the bottom of from the driver's seat, and the ponds deep enough to reach if I leaned my arm down out the open window.
And believe me, I drove with the windows open. As the likes of the PHEV Wrangler and Rivian R1T have already shown, electric off-roading remains a novel delight, immersing the driver and passengers in the environment more deeply than in gas-powered off-roaders. The sole issue with the 4xe: With the Jeep in four-low, the throttle pedal's sensitivity made the crucial zero-to-one-mph modulation a bit tricky; nudging the accelerator would result in nothing at first, then a sudden lurch forward as the electric motor overcame inertia and grip. Still, it's nothing a little practice — or, down the road, a software update — couldn't overcome.

How's the Grand Cherokee 4xe's gas mileage?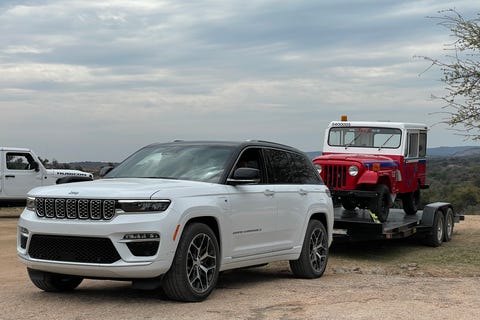 You won't be buying it for exceptional highway mileage, unfortunately. Once it was depending on the turbo four to maintain open-road speed, the 4xe turned in around 20-21 miles per gallon in my testing. For comparison, similar driving in an almost-identical V6-powered Grand Cherokee resulted in fuel economy of exactly 20 miles per gallon.
In town, however, it fares better. Even with no official charge left in the battery, the gas engine can still shut down at stoplights and when coasting, and the batteries often nurse the car along for stints of a few dozen yards at a time at city speeds.
What's the Grand Cherokee 4xe like inside?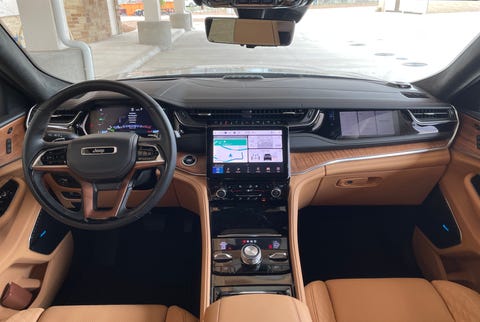 Extremely nice — especially if you happen to climb aboard one of the top-trim Summit versions like I spent much of my time in. It's effectively a downsized version of the Grand Wagoneer's interior, all the way to the quilted leather and the McIntosh stereo that certainly ranks among the top 10 best audio systems found in a new car today.
In addition, much like the bigger, more expensive Jeep-that-dare-not-wear-the-badge, the Grand Cherokee Summit comes replete with screens. All 4xe variants pick up the Ferrari-esque passenger's side touchscreen display as standard, should the driver require a navigator or DJ who can't be bothered to reach over with their left hand and operate the main infotainment system. Or, of course, the shotgun occupant can even watch television on the screen, just as the rear-seat riders can in high-trim models: either via an HDMI port or using Amazon streaming through the car's built-in Internet connection. (Don't worry — it's tinted strongly enough that the driver can't see the screen when it's on.)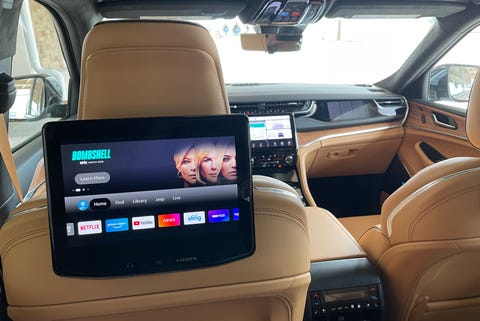 While it is certainly almost as nice as the Grand Wagoneer, it's certainly not as roomy. For now, at least, the 4xe is only available in two-row Grand Cherokees, and while that certainly makes for a better-proportioned, more-off-road-capable machine than the three row, it does mean that interior space is something you have to consider carefully before packing people aboard. Four six-footers can climb aboard at once, but the folks in back will be awfully close to their video screens. Five adults is manageable — for a short period.
Still, trunk space is ample, even generous, for those four adults. The 4xe is only available with the two-row Grand Cherokee, so anyone whose search is restricted to three-row Grand Cherokee L models will unfortunately be stuck with gas power alone, at least for now. (Jeep refused to comment as to whether the 4xe system would find its way to the L model, but it seems like a layup.) That means all the space behind the second row — 37.7 cubic feet of it, to be precise — is dedicated solely to cargo. I didn't have a lot of luggage to test against it, but it certainly had not trouble swallowing up my 13-inch MacBook.
Is the Jeep Grand Cherokee 4xe a good buy?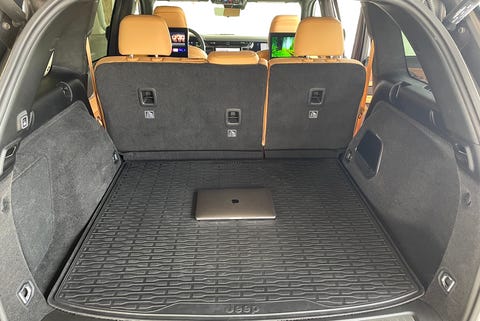 The added complexity of the plug-in hybrid powertrain comes at a cost, not surprisingly. While the Grand Cherokee starts at $40,120, the PHEV variant's base price is $59,495 — nearly 50 percent higher.
There's more to it than that, however. The 4xe's base model is equivalent to the mid-level Limited trim, and unlike that model, every 4xe comes with standard four-wheel-drive. Compared to a V6-powered Limited 4x4, the starter 4xe is only about $11,000 more; add on the sunroof and passenger screen that come standard on the hybrid, and the difference drops to $7,050.
Likely not coincidentally, that delta is less than the $7,500 federal tax credit that's available on the Grand Cherokee 4xe. While it can take a little accounting finesse to bring that money home – remember, it's a non-refundable tax credit — it's still enough to technically make the more powerful, more efficient 4xe the more affordable option – at least, when comparing apples to apples in the higher-end section of the Grand Cherokee market. (And other incentives from states and municipalities can lower the price even further.)
As with the Wrangler 4xe, whether or not it's the best bet largely depends on whether you have the ability to plug in regularly or not. If you can charge up the battery every day or so — a process that, keep in mind, can be done in 12 hours on a standard household outlet, or a little over two hours on a level 2 charger — you'll be able to knock out the first 25 miles of daily driving with little to no fuel burn. At current gas prices, that means saving $4-$6 a day; if these prices last all year (fingers crossed they won't, but hey), six months of charged-up 4xe driving would mean saving around $750–$1,000.
And again, on top of being better for your pocketbook and better for the environment, you're getting more power, too. No wonder Jeep expects the Grand Cherokee 4xe to sell like hotcakes.
2022 Jeep Grand Cherokee 4xe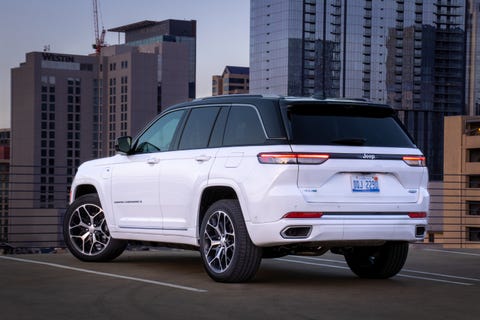 Base Price: $59,495
Powertrain: 2.0-liter turbocharged inline-four + electric motor / 17.1-kWh battery; eight-speed automatic; four-wheel-drive
Horsepower: 375
Torque: 470
EPA Fuel Economy: 56 mpg-e (electric driving), 23 mpg combined (gas driving)
Seats: Four, maaaybe five
The 34 Electric Cars We're Most Excited to Drive in the Future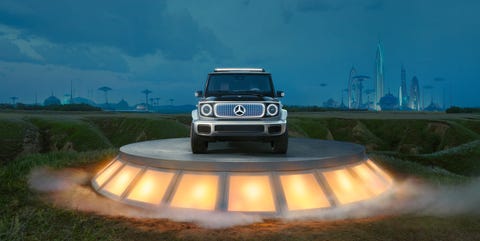 The next few years will be packed with new EVs. These are the ones that have us jazzed the most.