The Jeep Wrangler 392 Is Absurd, But That's Kind of the Point
The Wrangler needs more power, sure, but not this much power — and not at this price. But if you're judging the 392 on practical grounds...you don't get it.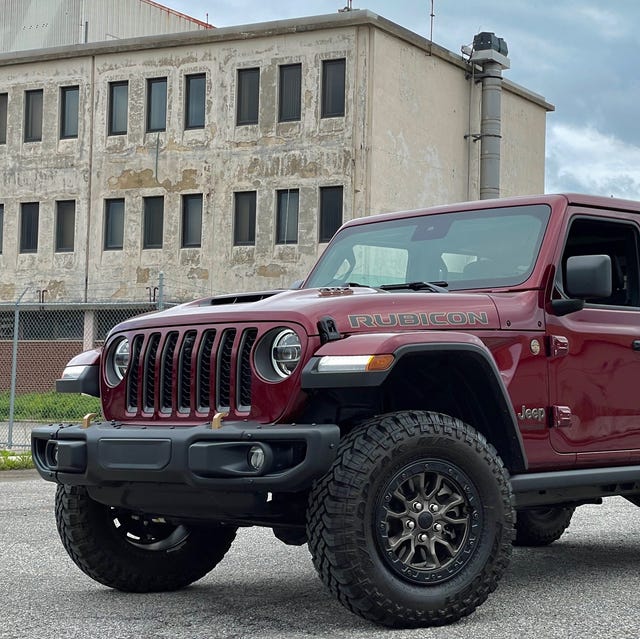 After many, many years wandering in a desert of powertrain choices, Jeep Wrangler buyers in 2021 have found themselves in the land of milk and honey. There's the venerable naturally aspirated 3.6-liter V6 and its rather anemic 285 horsepower and 260 lb-ft of torque, which still finds some buyers who want the cheapest Wrangler possible (or, in few numbers, insist on a manual gearbox); there's the turbocharged 2.0-liter inline-four, whose marquee numbers largely mirror the V6's but which delivers its torque much lower in the rev range, making it feel peppier; there's a 3.0-liter turbodiesel V6 for those who love their torque so much, they want it as commonplace and easy to access as possible; there's the new plug-in hybrid Wrangler 4xe, which finally gives the Jeep the power to be a reasonably potent vehicle on the highway while also enabling up to 25 miles of emissions-free driving.
Then...there's the Jeep Wrangler 392.
As the nomenclature would lead Mopar fans to believe, the distinguishing feature of this Wrangler is the presence of a 6.4-liter Hemi V8 beneath its bow — the same 470-horsepower, 470-lb-ft salute to America found in the likes of the Dodge Charger Scat Pack, Jeep Grand Wagoneer and Ram 2500 Power Wagon. It is, far and away, the most powerful stock Wrangler to ever roll out of Toledo. It is, also, completely illogical.
This is how the Wrangler 392 is meant to be used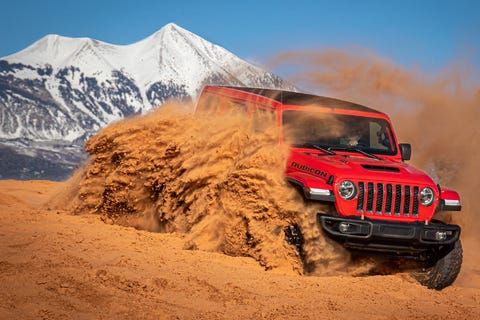 While the Wrangler comes in (checks jeep.com) 13 trims and counting as of this story's publication, there's only one way to order a 392-powered one: as a four-door Rubicon. That is to say, with the full-fledged array of off-road options and features available on the Wrangler from the factory, from an electronic sway bar disconnect to locking front and rear differentials. It also features a standard two-inch lift kit versus others Rubicons, as well.
One feature you won't find on the 392 that comes on lesser Rubicons, however: the 4:1 low range Rock-Trac four-wheel-drive system. V8 Wranglers all use the 2.72:1 low range Selec-Trac setup instead...but let's face it, with 470 torques on command, you likely won't miss the lower low range.
This is how the Wrangler 392 will actually be used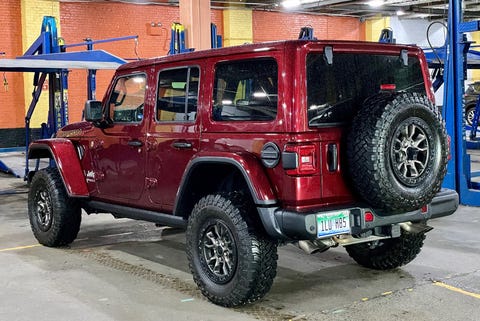 As with most off-roaders, though, you can fully expect the vast majority of V8-powered 2021 Wranglers to spend most of their lives on pavement. Indeed, as I've mentioned before, off-roading isn't really a power-intensive activity; low range and short gearing are what matter most, as they can multiply even a small engine's torque to remarkable levels so long as you stick to the low speeds mostly used in off-road adventures.
Luckily, the 392 excels at urban living — at least, by Wrangler standards. All that power means merging, passing, bobbing and weaving into, around and through traffic require no forethought; just point and squirt, and let the honey of a V8 do the rest. The 392 is the only Wrangler with a full-time four-wheel-drive system (i.e. one without a two-wheel-drive mode), so you never need to worry about not being able to make the most of the power, either.
It's still just as livable as any four-door 2021 Wrangler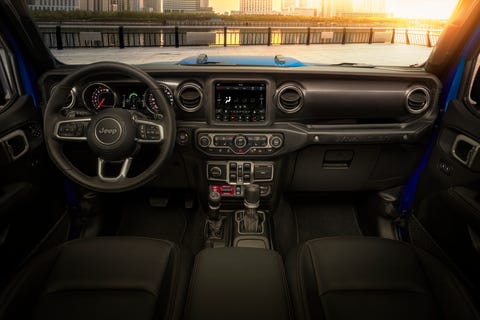 Which is to say, much better than Wranglers of old, but not quite as nice as most modern SUVs. The 392 comes with the standard three-piece hard top that Jeep calls the Freedom Top, with pop-out panels above the front seats for easy al fresco motoring (and, of course, the ability to remove the giant aft piece as well to go fully topless). Even with the top up, there's a fair amount of road noise, especially since the off-road tires make quite the racket on pavement and the boxy body has to continuously slap air aside at speed. On the plus side, however, the lack of sheetmetal and sound insulation means the Wrangler 392 offers its occupants a better experience when it comes to appreciating the roar of the 6.4-liter V8 at full whack.
The interior is largely well laid-out, with easy-to-find (and waterproof) buttons and knobs for most controls and the easy-to-master infotainment system. The seats are fine enough for the daily commute, but not exactly ideal for road trips — especially if you're long-limbed, at which point you'll find the driver's legroom not only constrained by a lack of distance to the pedals, but also by the connector for the door electronics, which juts out into your calf.
The Wrangler 392 is, ultimately, a toy — and that's okay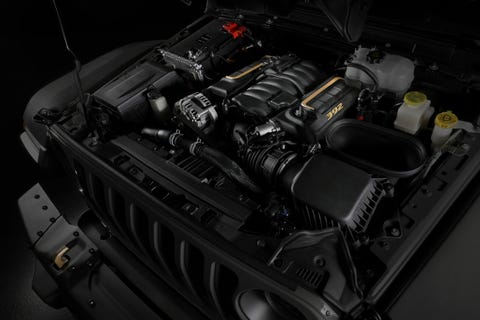 All that might make it sound like the 392 could be the ideal Wrangler for many folks, but there's one factor holding it back from that: the price. The four-door Wrangler starts at $33,570, the Wrangler Rubicon begins at $44,216 and the Wrangler Rubicon 4xe — which, remember, makes just as much torque as this V8 version — starts at $53,190.
The Wrangler Rubicon 392? It starts at $74,995.
In other words, you could buy two nicely-equipped Wranglers for the price of this one. Or a regular Wrangler Rubicon and a Honda Accord Sport. Or a fully-loaded, brand-new 2021 Jeep Grand Cherokee Summit Reserve 4x4...or a Ram 1500 TRX...or a Dodge Challenger Hellcat Redeye.
Is the 392 worth that much, objectively speaking? Is it worth nearly $22,000 more than the Rubicon 4xe? No way. But this is not a car meant to be judged in objective terms. It's a plaything, a toy, a car meant to provide thrills and chills first and everyday transportation second. It's much like, say, a Porsche 718 Boxster GTS 4.0: cramming a bigger engine into a fun open-top ride to make it more appealing to a demographic. You don't have to spend this much to have most of the fun...but if you can swing it, why not?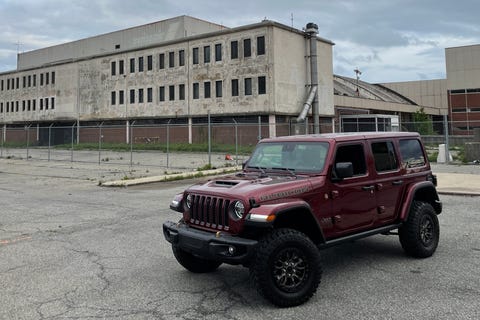 Base Price: $74,995
Powertrain: 6.4-liter V8, eight-speed automatic, full-time four-wheel-drive
Horsepower: 470
Torque: 470
EPA Fuel Economy: Don't worry 'bout it, eh?
Seats: 5
The Gear You Need for Car Camping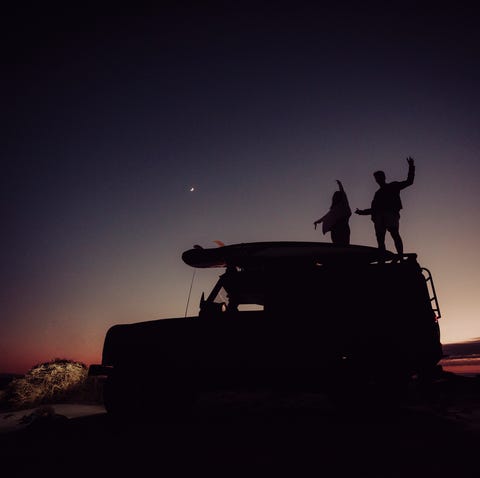 Car camping makes getting away easy as pie. These items make it even tastier.