The 2022 Porsche Cayenne Turbo GT Blurs the Lines
It's an SUV with a "coupe" body that goes like a sports car. What a time to be alive.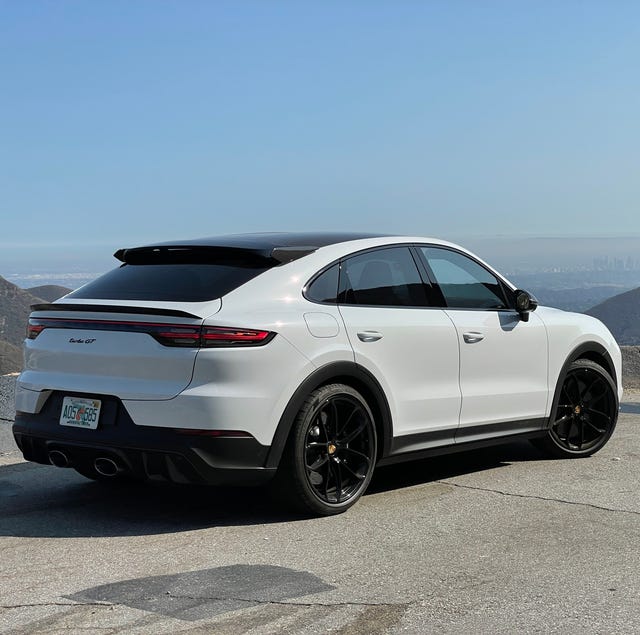 Here's one easy way to know if you're a true Porschephiles if you know the company's unique nomenclature, chapter and verse. Chapter, in this case, means your models — 911, Taycan, Cayenne, etc. — whereas verse, in this setting, refers to the various trim levels that define where in each of those model families any particular Porsche resides. Carrera is an entry-level 911; T means a stripped-down version; GT4, GT3 and GT2 represent increasing levels of track-focused performance, especially when paired with a subsequent RS; Turbo represents top-tier on-road performance, especially when coupled with an S at the end.
When Porsche unveiled their newest, highest-performance Cayenne earlier in 2021, though, the suffix caused a bit of vexation. After all, Turbo GT is not a term previously know in the Porsche lexicon — and while its constituent parts may seem familiar, the merging of them has created something altogether new.
So when Porsche invited us out to test the Cayenne Turbo GT in the serpentine mountains above Los Angeles months before it went on sale anywhere else, I felt compelled to go — strictly to find out more about what the name meant, mind you. Getting to test drive a 631-horsepower super-SUV made by one of the world's greatest car companies on some of the best roads in the country had nothing to do with it.
Is the Porsche Cayenne Turbo GT new?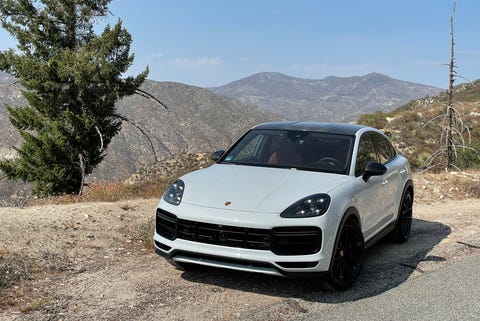 Yes — at least, the sum of its parts is. The Cayenne Coupe body has been around since 2019; the twin-turbo 4.0-liter V8 under hood has been found, in various states of tune, in Porsches for years; and most of the other performance hardware that makes this machine tick has been seen before in Porsche's other cars and SUVs. But while anybody can follow a recipe, it's how you cook the meal that matters — and Porsche's engineers and designers know how to prep a performance car better than almost anyone else.
What makes the Cayenne Turbo GT special?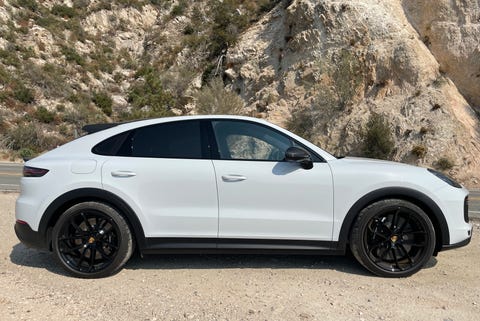 Basically, it's the fastest, highest-performance Cayenne money can buy you from a Porsche showroom. Porsche engineers basically threw every performance part they could at the Cayenne Coupe to make this beefy SUV go, stop and handle as much like a sports car as physics allows. Porsche Dynamic Chassis Control (a.k.a. active anti-roll tech) and 4D Chassis Control (which integrates all the chassis systems together for more seamless operation), torque vectoring, rear-axle steering, speed-sensitive power steering, a three-chamber air suspension — all not just standard, but tuned especially for the Turbo GT.
Compared with the already-sporty Cayenne Turbo Coupe, the Turbo GT's stance has been adjusted as well. 22-inch wheels wrapped in high-performance tires come standard versus 21-inchers on the Turbo Coupe, and the tires' contact patches are an inch wider as well; the Turbo GT also rides two-thirds of an inch lower, and has revised camber, to boot.
This may only make sense to those true Porschephiles I mentioned earlier, but to put it in rough SAT analogy terms, Cayenne S : Cayenne GTS :: Cayenne Turbo : Cayenne Turbo GT. Or better yet, think of the Turbo GT title as something of a super-GTS.
What's the Cayenne Turbo GT like inside?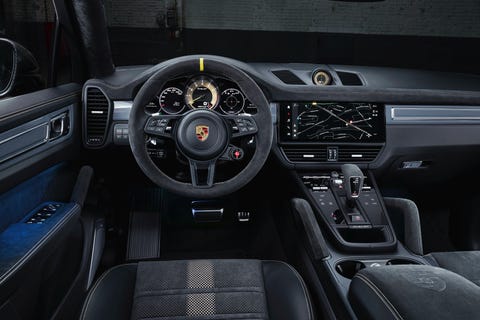 Pretty similar to the Cayenne GTS (which, in turn, is fairly similar to the Panamera GTS, ride height nothwithstanding). In stock form, the interior is dressed in Alcantara, the grippy microsuede imparting a racy attitude to the interior of this 5,000-pound (no joke) SUV.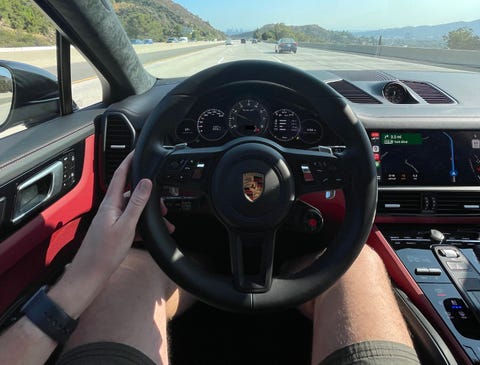 My test car, however, was specced out with the optional leather interior, thoroughly doused in red and black cowskin. Going full leather is the only way to score ventilated seats, which seems like reason enough to pay for the upcharge.
Otherwise, the interior is much like any other Cayenne — cool yet comfortable, spacious enough for four adults, replete with immobile glass haptic feedback-laced "buttons" and a sometime vexing volume control (it's the metal drum in front of the gear lever, not the round dial that you expect to be it above that), and otherwise a delightful space to spend time, whether cruising along at autobahn speeds, chilling in traffic or carving up a back road from the embrace of its supportive, side-hugging seats.

The Turbo GT is the first Cayenne to get the latest version of Porsche infotainment system, called Porsche Communication Management 6 — but honestly, I'm not sure what the need for a redesign was. Having bopped back and forth between PCM 5 and PCM 6 on the same day (I also was able to spend time in a 2021 Panamera GTS), the older system seems better organized in terms of layout and functionality. Also, it was likely just my early build car, but 6 dropped the wireless Apple CarPlay mid-use and I couldn't get it back — which wouldn't have been an issue were it not for the fact that I was out of cell service range and lost my Google Maps route in the process.
What's this Porsche like to drive?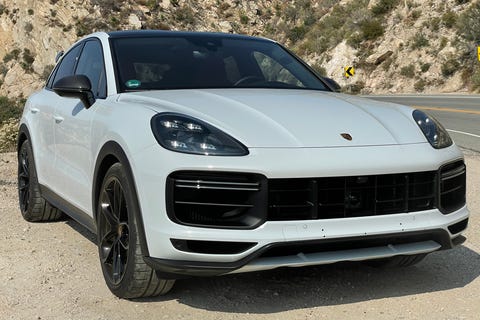 In a word: astounding. It doesn't just seem to defy physics, it throws Isaac Newton to the pavement and curb-stomps him. Dial everything up to Sport Plus, and it grips and goes better than any crossover this size has business doing. It's not playful really, but it's very neutral, at least at the speeds you'd achieve on the road. You can rip it through turns at well over twice the recommended speed in most cases. Just keep your foot on the gas, pick your line, and it rips on through. No fuss, no muss. It feels incredibly well-balanced.

I tried a launch control start, and even with a suboptimal start and a slight uphill, it cleared 60 mph in around three and a half seconds. It does, after all, have a batshit amount of power. It also has incredible tires, which honestly account for a good chunk of its capability; there's seemingly endless grip, at least on warm, dry pavement.

Porsche's gearbox is much more apt to downshift than most automatics; where they usually let you surf the low end torque unless you really prod them, even in default mode, the Tiptronic will snap down a gear or two to hold speed on mild inclines or when you're gently accelerating. It feels much most like what you'd want in a sports car…or at least, from a car made by a sports car company. It does kick down in manual mode still if you absolutely floor it, but only to the lowest gear possible; it doesn't then return to the previous gear when you let off.)
But this is very much one of those cars that do, in fact, offer a noticeable difference between drive modes. In normal mode, it acts just as politely as any Cayenne. It's plenty quiet, even at highway speeds, and plenty comfortable. Normal's too soft for a winding road, though; you need to close those air chambers to stiffen up to handle the vertical and horizontal stresses of this much mass bopping around.
All in all, I struggle to think of any other vehicle that could cover ground more quickly over more conditions, or maybe has a broader range of capability; not only can it lap the Nurburgring Nordschleife in 7 minutes 38.9 seconds, but it packs up to 8.8 inches of ground clearance for hopping over obstacles. No one's gonna take this off-roading, but that clearance certainly still comes in handy — navigating dirt roads, clambering over curbs, plowing through storm debris, and so on. Plus, slap some snow tires on there (there's a winter wheel and tire package forthcoming) and it'll deal with winter horrors like few other 631-hp vehicles can.
What does the Cayenne Turbo GT compete against?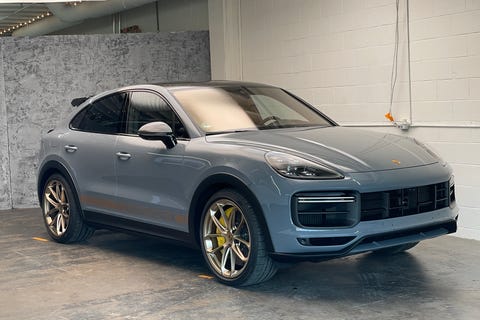 As it turns out, all the Turbo GT's competitors are basically its relatives. The Lamborghini Urus is target one for this Porsche, and it's based on the same MLB Evo SUV architecture as the Cayenne; hell, its 4.0-liter twin-turbo V8 and eight-speed automatic are closely related to the Porsche's, as well. The Bentley Bentayga Speed is nearly as sporty but adds extra luxury to the mix; it too uses the same platform, but it has the decency to use a twin-turbo W12 engine instead. The Audi RS Q8 boasts a similar silhouette (and also uses the same platform), but it — and the likes of the BMW X6 M and Mercedes-AMG GLE 63 S Coupe — sit a half-rung further down the performance ladder.
Compared with the Urus and the Bentayga, the Cayenne Turbo GT's $182,150 price seems almost reasonable. Compared with those slightly-less-sporty competitors — or, to look in-house, compared with the Cayenne Turbo Coupe, which starts at more than $47,000 less — it seems much less so. After all, any of those 590-plus-hp German super-utes can do the 0-60 sprint in a tick more than three seconds, top out at speeds fast enough to outrun police cars, and power through turns hard enough to make your entire family puke; unless you're that very unusual soul who's planning on repeatedly tracking their two-and-a-half-ton SUV, or really need to keep pace with your friend's Ferrari 812 GTS on a back road, you'll probably never know the difference. Much like the 911 Turbo, the Cayenne Turbo is already so stupendously quick and capable as to be all that most buyers really need.
But need and want are two very different things. Which is why Porsche also makes a 911 Turbo S. The Cayenne Turbo GT is outrageous by any rational standard, but as a testament to what modern automotive engineering — and Porsche in particular — is capable of, it's astounding. And way, way more fun than any vehicle this size and weight has a right to be.
The 2022 Porsche Cayenne Turbo GT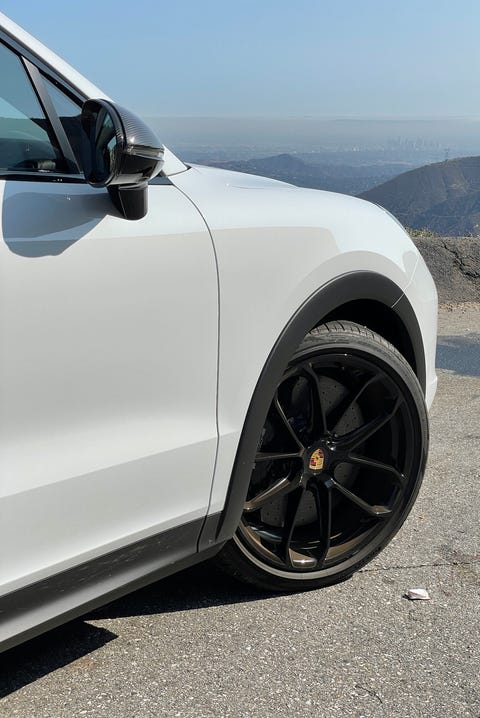 Base Price: $182,150
Powertrain: 4.0-liter twin turbo V8, eight-speed automatic, all-wheel-drive
Horsepower: 631
Torque: 626 lb-ft
EPA Fuel Economy: Not yet rated
Seats: Four in comfort
The Complete Porsche Buying Guide