The 2022 Mercedes-AMG SL-Class Takes a Swipe at the Porsche 911
The newest version of the iconic SL turns up the sportiness without sacrificing luxury.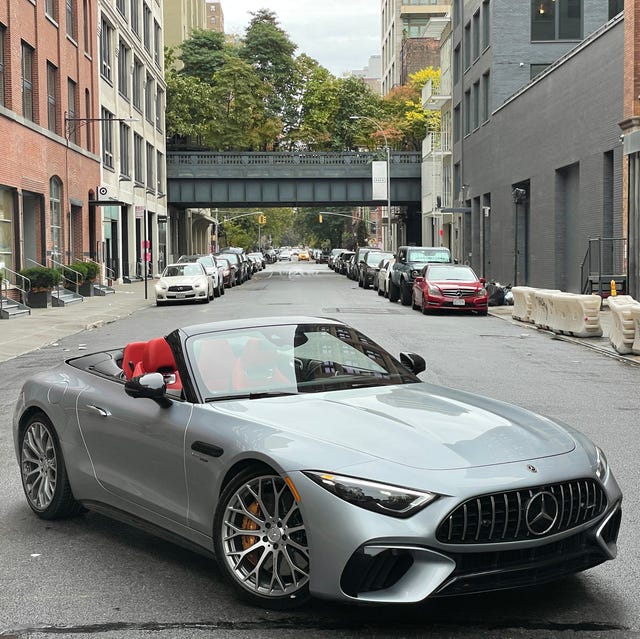 Believe it or not, the Mercedes-Benz SL-Class used to be something of a beast. While it spent the last few decades as a boulevardier with a reputation for being a ride of choice for yuppies and Real Housewives, when it launched in 1954, it did so as the street-legal version of a race car — one that had just claimed victories at the 24 Hours of Le Mans and the Nurburgring. The 300 SL Gullwing was a dynamo of a sports car for its era, but it was the version that would follow in 1957 that would be the true progenitor of the SL breed: a fine-looking convertible with a big Three-Pointed Star on the front.
So here in 2022, Mercedes is giving the SL-Class a chance to reclaim past glories — or at least recoup some of its sports car bona fides. The all-new model, code-named R232, is bigger than the past version, but its tight proportions make it look smaller than it is — and, more importantly, make it look faster. That aligns nicely with all the other shifts Mercedes made with the new model — alterations in the SL-Class's philosophy designed to make it more appealing to people who buy convertibles for driving fun as much as to be seen in them.
How does this change in attitude bear out in the real world? I hopped into a new Mercedes-AMG SL63 for a couple days of driving — one through Southern California, another through New York — to find out.
Is the 2022 Mercedes-AMG SL-Class new?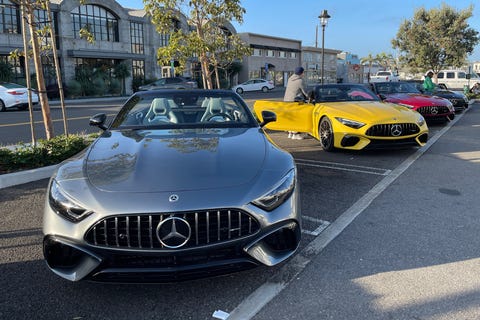 From tip to tail. The design, the engines, the gearbox, the interior — all new. Not necessarily new to anyone who's familiar with the current Mercedes portfolio, of course; many of the updates simply involve bringing the SL up to 2022 freshness, as the previous model still packed a good bit of style, tech and engineering dating back to its origins more than a decade ago.
Some things are 100-percent fresh, however. Mercedes whipped up a brand-new chassis based around a composite aluminum structure for the new SL, one that — in modified form, of course — will go on to be the foundation for the next generation of AMG GT sports car. It's liable to be one of the final new car architectures Mercedes will ever develop around internal-combustion vehicles, as well, so, y'know, enjoy it while it lasts.
What makes the 2022 SL-Class special?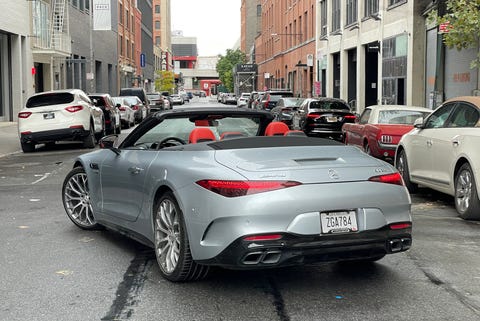 Well, for starters, it only comes in AMG form, unlike previous versions. The 2022 SL was actually developed by AMG, much like the GT cars. It only comes in V8-powered forms (at least for now; a six-cylinder AMG SL53 seems all but inevitable), and for the first time for an SL, it comes with all-wheel-drive. In fact, it only comes with all-wheel-drive — the better to make use of the thunderous power coming off the engine's crank.
Unlike the past two generations of SL-Class, the 2022 model ditches the retractable hard top, going instead with a folding soft top that works in just 15 seconds at speeds up to 37 miles per hour. As with many other convertibles that traded collapsible tin lids for fabric-coated ones, credit the impressive improvements in stability and sound management in recent years; with the top up, today's best soft tops are nearly as quiet as hardtop cars.
(Pro soft top tip: while it might seem like you have to use in the infotainment screen to raise or lower it, you can also do so just by holding the physical button that takes you to that menu.)
AMG roots notwithstanding, Mercedes knows there'll still be plenty of people who want to use their new SLs much like they did their old ones — for cruising Rodeo Drive and Highway 1, not attacking tight back roads. The trunk is roomy enough to pack two golf bags neatly into it, and the plus-two seats good for two peoples' carry-on luggage.
What's the Mercedes-AMG SL-Class like to drive?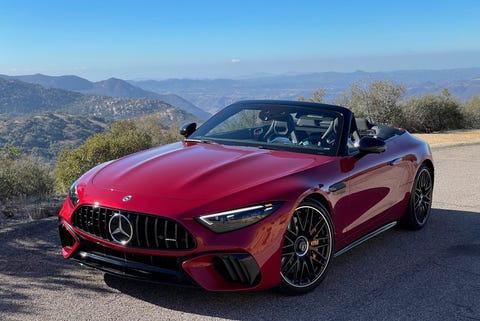 If you like to drive, well, this new SL is the best version since the first one. (By the standards of the day, of course; comparing a sports car from 1957 with one brand-new for 2022 is like comparing submarines from World War I and the Cold War.) Granted, it's not a raw, hard-edged race car for the street; it's not even as but a fun, fast open-top sports car.
The power, not surprisingly, is delightful. AMG may be starting to go electric, but they haven't given up on the V8 yet, and the twin-turbo 4.0-liter unit in the SL-Class is a spectacular example of the breed. Toe into the gas, and it snarls, rips and goes — not too boisterously, just effortlessly and endlessly. The surge of power that comes on anywhere from half-throttle to the floorboard is intoxicating — especially with the top down and the wind picking up speed at seemingly exponentially. Even using launch control, the SL63 doesn't necessarily feel explosive — it definitely still feels like a car possessing a decent amount of mass — but once it starts to rip it just goes and goes.
As in the likes of the E63 S, having the V8's power coupled to an AWD system means you can make more use of it. (Sadly, there's no Drift Mode as in the E; when I asked a Mercedes product planner about it, he said it didn't fit the character of the SL.) Even so, all that power means the car's computers have to constantly work to determine how much juice should reach the wheels; this is a car with a lot of power and a lot of gears, so it's always trying to control all that power, especially at lower speeds. In all honesty, it felt a bit more comfortable in its own skin with the ESP in Sport mode. That's true of a lot of powerful cars, however — and requires an added level of care when driving.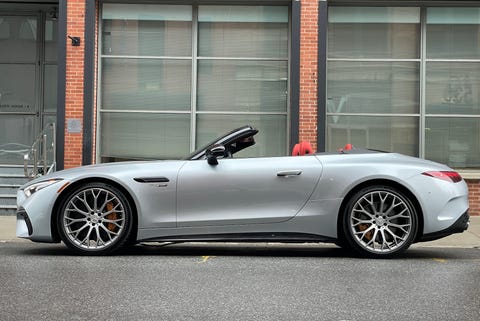 So it's quick as hell, you might be thinking. Big surprise there. How is it in the turns?
Well, it's very good, but not great enough to beat the best. Compared with the likes of a Porsche 911 — and believe me, a lot of people are going to be comparing this new SL against the 911 — the steering feels more numb, offering much less in the way of feel and directness. But that's an initial impression; after an hour or two, you don't think about it as much, and odds are good you wouldn't think much about it at all after a few weeks.
It also takes a little getting used to the standard rear-wheel steering, as well — especially in tight, low-speed corners, where it really cinches up the line and forces you to recalibrate your expectations of where the car will go. It certainly does contribute to the car's agility, though. Indeed, in terms of abject handling capability, there's no disputing how capable this car is. The SL benefits from active hydraulic stabilizers in place of conventional anti-roll bars, active torque redistribution between front and rear axles, and a multi-link front axle with five links entirely inside the rim, and a bunch of other remarkable handling tech.
Bottom line, there's no disputing that it's a ton of fun in the turns — and capable of ripping through them faster than probably any SL in history besides the batshit SL65 Black Series of yore.
What's the SL63 like to live with in the real world?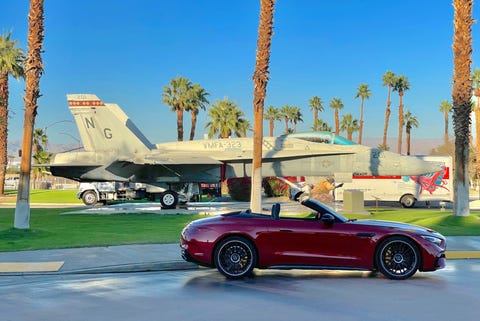 My first blast with the SL63 was, as can be the case with automotive media test drives, curated to show off the car's best strengths: several hours of driving through winding, empty mountain roads under the southern California sun. Which, certainly, is the way many buyers will use it, at least some of the time — but for most owners, most of their time behind the wheel will be spent surrounded by other cars, zipping between home and work and weekend destinations.
So, for my second but with the car, I did just that — venturing from New York City upstate to the Catskills on a pleasant autumn day in hopes of getting in a hike and enjoying the foliage. The former task proved maddeningly impossible — every trail head worth a damn within three hours of NYC is jammed up every weekend in October — but the latter was more than
Dropping the top in the crisp fall weather gave me a chance to test out the seat heaters and the "Airscarf" feature that blows hot air onto the back of your neck; the former are excellent, the latter mediocre. (Unless your skull is pressed firmly against the headrest, you might not even realize it's on.) Long stretches of fast highway cruising offered chances to test the noise insulation of the soft top: it's effectively as quiet as a hard top. And the occasional on-ramp and quiet stretch of road turned out to be ideal for unleashing the V8's thunder and testing (and re-testing, and re-testing) just how quickly 577 horsepower and 590 lb-ft of torque can make a car reach the speed limit...
What's the new Mercedes-AMG SL-Class like inside?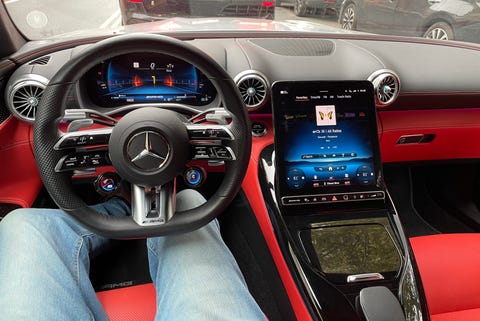 Gorgeous. Mercedes's interiors have always been nice, of course, but the last few years have seen new design languages and forms make their way inside. Elegant curves and winding lines have made their way inside, bringing a more exotic, natural feel to the cabin than older models.
Slide into the driver's seat, and once you fiddle with the seat controls (a slight downgrade from the old ones, which actually moved when you pushed them), you'll find a good seating position, with all the controls falling easily to hand. As in many a sports car these days, folks with long legs will want to push the seat back to keep the tall side bolsters from digging into your thighs, but otherwise, the seats are plenty comfortable even for the sort of long drive SL owners likely dream of taking all the time but usually wind up using their other Benz for.
It's surprisingly roomy, too. It's no substitute for the dearly departed S-Class Convertible, but the back seats are sized large enough that could could fit four smaller folks in the car at once. (Other journalists on the drive managed to fit a six-foot-three man in the second row behind a five-foot-three driver.) Still, most people will probably prefer to use as much of the front seat room as possible and leave the second row for supplemental storage space maybe for a baby seat if you can squeeze it in there.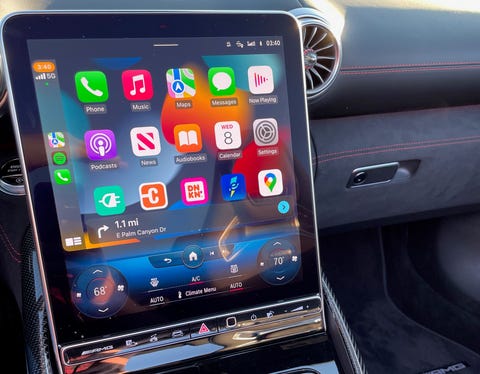 The biggest, most obvious change is the infotainment system — the same iPad Pro-sized tablet found in the new S-Class. There, it fits in with the opulent, expansive nature of the interior; in the SL, however, it dominates the compact cabin like a TV too big for a living room or Karen Gillen in a group photo of MCU leading ladies. It's so large, it almost blocks some of the air vents, leading me to wonder if the design team had this IMAX-of-infotainment foisted upon them late in the game.
Still, it at least has the decency to be a good infotainment system. The screen is crystal-clear and responds to inputs with immediacy, while the user interface — seemingly dense at first — becomes intuitive after a day or so of us, with nicely-sized "buttons" for most tasks and a futuristic look that feels apropos for a new car with a six-figure pricetag. And thanks to the array of dedicated haptic controls on the four arms of the steering wheel, you likely won't have to delve into the screen all that often when driving.
What does the Mercedes-AMG SL-Class compete against?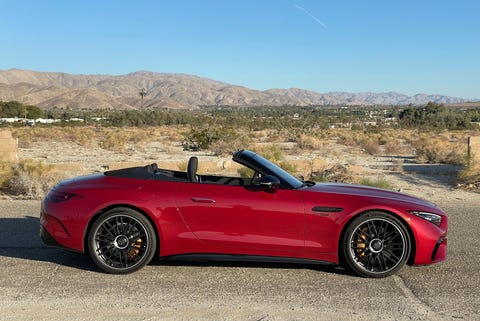 The most obvious foe, of course, is the crosstown competition: the Porsche 911. With the SL55 starting just a hair under $140K, it seems made to compete directly against the $144,450 Carrera 4S Cabriolet; the sawbuck-short-of-$180K SL63, meanwhile, slides right between the $163,150 Carrera 4 GTS Cabriolet and the $197,150 Turbo Cabrio. Anyone shopping for a sporty convertible with two extra courtesy seats in back is likely to start with these two models, unless they're willing to spend far more for a Bentley Continental GT convertible or Rolls-Royce Dawn (or, conversely, are more frugally-minded and prefer something in a drop-top muscle car).
But people don't buy cars just based on the number of seats, especially in categories like this. The Aston Martin Vantage roadster seems likely to be cross-shopped against the new SL, and perhaps even the occasional Ferrari Portofino M. And I wouldn't be shocked to see a few frumpled faces at Mercedes-Benz dealers trying to decide between the 2022 SL-Class and any remaining AMG GT Roadsters in stock, either.

Still, buyers of six-figure sports cars generally aren't shopping around for the best value proposition; they're interested in whatever combination of style, comfort and speed suits their tastes best. The new SL seems likely to win over a few converts who never would have considered buying any of the earlier, softer versions, while still holding onto most of its loyalists. In other words, it seems like a win.
The 2022 Mercedes-AMG SL-Class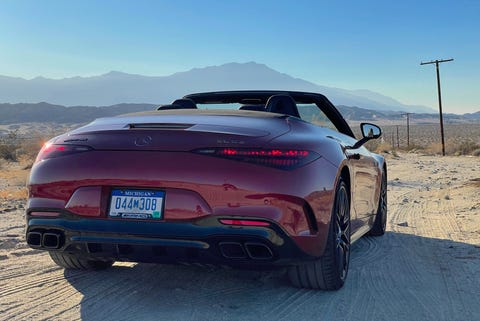 Base Price: $139,950 (SL55); $179,900 (SL63)
Powertrain: 4.0-liter twin-turbo V8; nine-speed automatic; all-wheel-drive
Horsepower: 469 (SL55); 577 (SL63)
Torque: 516 lb0ft (SL55); 590 lb-ft (SL63)
EPA Fuel Economy: 14 mpg city, 21 mpg highway
Seats: 2 big people and 2 small people
The Porsche 911 Turbo S Cabriolet Made Me Fall in Love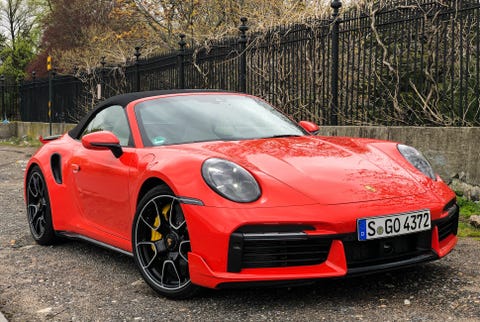 A beastly drop-top ride that does just about everything well.