The 2023 Subaru Solterra Is a Little Bit Toyota, a Lot of Subaru
Subaru's new EV is surprisingly impressive. But you may need to look through Subie-tinted glasses.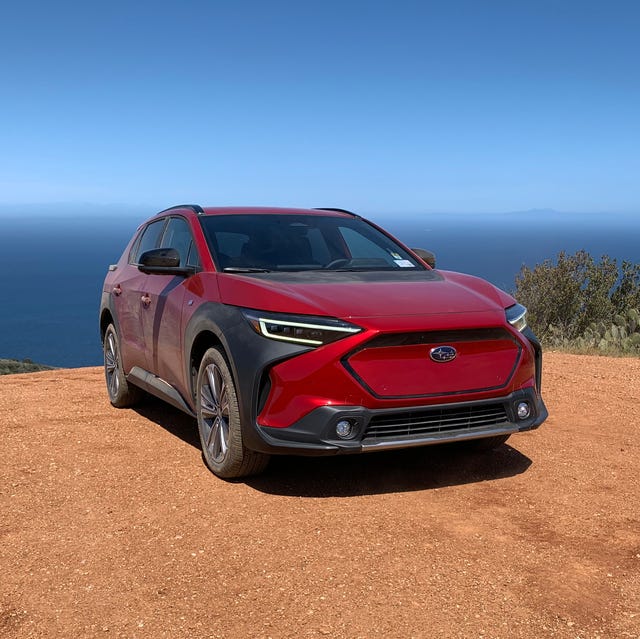 Subaru's marketing slogan for its new Solterra EV is "love is now electric." That phrase sounds like marketing blather (and it is), but it's still on point. Subaru's strength in America comes from understanding and catering to its devoted following — the people from woodsy areas of Oregon and Vermont hitting the dealership for their third Forester or Outback. And the Solterra, despite having considerable Toyota DNA, is the EV option for those Subie obsessives.
Subaru brought me out to Santa Barbara to test the new Solterra on-road and off-road on Catalina Island's back roads. And I found the Solterra surprisingly impressive. It drives smoothly and pleasurably on normal roads. It's far more game than you would anticipate when you leave the pavement. And even with the Toyota bits, the Solterra feels very much like a Subaru that happens to be electric — what the brand needed for its first all-electric offering. I liked it more than I thought I would.
The only real problems with the Solterra — ironically for Subaru — stem from the brand's traditional strengths: practicality and value. The Solterra may prove as durable and capable as a Forester. But the EV tech isn't groundbreaking and may make it tough for the Solterra to be a stand-alone primary car. And unless you live in a state with additional credits like California and owe a lot on your taxes, it could get pricey.
What is the Subaru Solterra?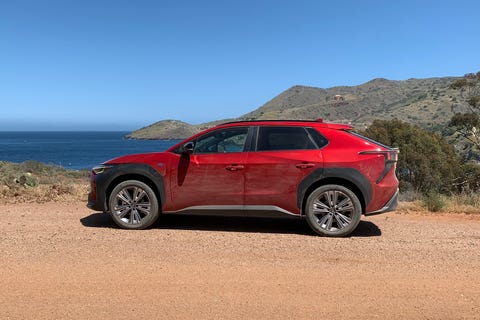 The Subaru Solterra is a battery-electric compact crossover. Size-wise it is an inch wider, 1.9 inches longer and 3.9 inches shorter than the non-Wilderness Subaru Forester. But it has a substantially longer 112.2-inch wheelbase, the same length as a Toyota Highlander. Its dual-electric motors combine for 215 horsepower and 249 lb-ft of torque. And it delivers up to 228 miles of EPA range, but only 222 for the Limited and Touring trims we drove, due to their bigger wheels.
How is the Solterra different from the Toyota bZ4X?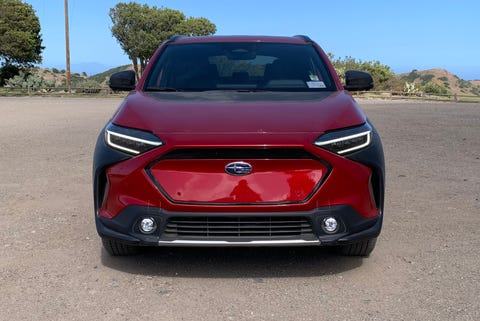 The Solterra is a rebadged version of Toyota's electric car, the bZ4X. But there are some Subaru-specific tweaks that go beyond having a car name that doesn't sound like newfangled office machinery. The Solterra has a slightly higher 8.3 inches of ground clearance. It also comes with standard all-wheel drive, standard heated seats with wider coverage and standard multi-element LED headlights. The Solterra lets the driver adjust the braking regen, and it gets unique Subaru styling on the exterior and interior.
Both the Solterra and bZ4X have contrasting black paneling on the front fenders. On the bZ4X, it's shiny. On the Solterra, it's black, matte cladding that looks a lot like the new Outback. It also wraps around the headlights, making the car look a bit like Zorro; we'd also accept a raccoon, or the Hamburglar. The Solterra also has a hexagonal outline hinting at a Subaru grille and a logo below the hood line.
How does the Solterra drive on the road?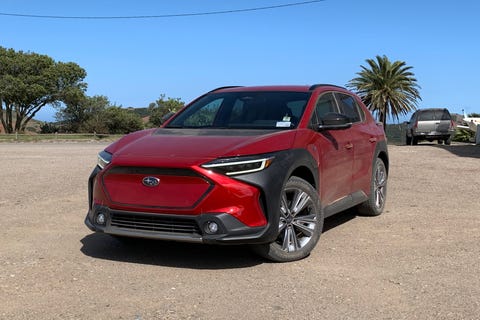 By Subaru's own admission, the Solterra isn't a sports car. It's tuned for driving comfort. And it delivers a pleasant, comfortable drive that won't alarm a current combustion Subaru owner. The Solterra is not super-quick by EV standards, accelerating from 0-60 mph in 6.5 seconds. But that's still rapid for a Subaru — about a second faster than a Forester. It felt very planted and composed in hard California corners with a low center of gravity and AWD grip. And you don't have to listen to a gravelly underpowered engine or a whining CVT.
The Solterra is also a smooth highway cruiser. Even rolling down Highway 101 at 70 mph, the Solterra had ample power to speed up for a highway pass. The ride quality is also excellent for 20-inch wheels. My one quibble was the steering felt a bit soft on pavement and didn't offer much feedback. Though again, it's not a sports car, and I suspect one would get used to that.
How does this Subaru drive off-road?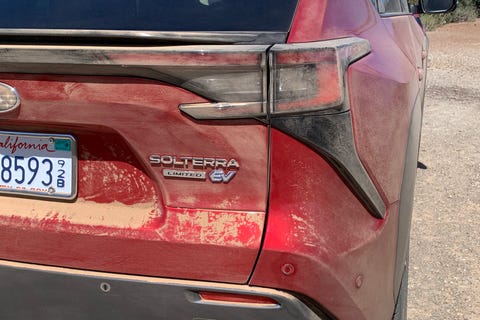 The Solterra is more impressive off-road than you would think. Its 8.3-inch ground clearance is nearly on the level with the standard Outback and Forester's 8.7 inches. EVs are naturally good for off-roading with a low center of gravity and instant torque. And this one adds in Subaru-tuned AWD, Subaru's dual-function X-Mode and Grip Control, an off-road cruise control for ascending and descending.
We started our Catalina Island off-road drive on flat roads with loose gravelly surfaces, where the Solterra did predictably well; the steering felt better tuned for that environment. Then, we started climbing a mountain trail. It wasn't a masochistic rock crawling event for Wranglers and Broncos. But it was decently steep and bumpy. And the Solterra powered through it without sweating or undue jostling. It made it to the top and kept going over a series of mountain crests. It was so good many of us were pining for a Wilderness version.
The Solterra should be equipped for anything one would typically put a crossover on all-season tires and without a skid plate through. It will get you to the head of the hiking trail. And while we didn't experience snow in Southern California in April, the Solterra should handle the white stuff very well — priority 1A for many Subaru buyers.
What's the Subaru Solterra's interior like?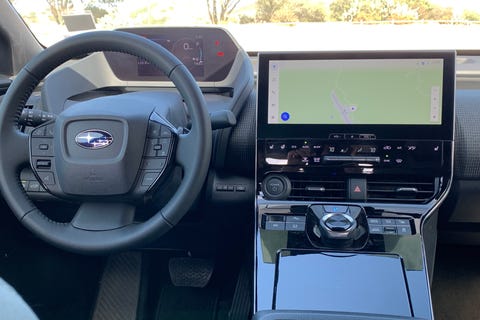 Subaru wanted the Solterra interior to feel as intuitive and Subaru-like as possible — so not like you're sitting in a minimalist space pod. They delivered on that. There are no haptic buttons — customers hated them — and, unlike the Toyota variant, there are no plans to offer a steering yoke.
The Solterra's longer wheelbase yields a spacious cabin. Sitting in the front row passenger seat provides plane exit row-like legroom. And the 27.7 cubic feet of trunk space on offer are about the same as the Forester. Materials aren't especially premium and some noise gets into the cabin — this is a Subaru, not a Lexus — but the overall effect is cozy and well thought out.
The biggest distinction from a typical Subaru is the instrument cluster. Subaru put it above the steering wheel, just below the windshield — where a head-up display would be located. Theoretically, this results in less head movement and a more natural wheel position to strain the driverless on long drives. It was not a rude adjustment.
The Solterra's EV range and charging may be a problem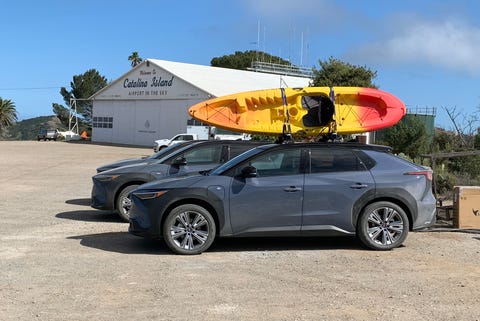 The Solterra's 228-mile (or 222 with the fancy trims) is at the low end of what Americans have deemed acceptable EV range. Driving a Solterra in winter will diminish that range, especially if you use the climate control and fire up those standard heated seats.
Subaru compounds that problem by not offering the fast charging capability other manufacturers do. The Solterra can fill up to 80% charge in 56 minutes with 100kW charging. The rival Kia EV6 can charge to 80% in 18 minutes (if you can find a fast enough charger).
Charging won't be a daily issue for most buyers. They'll install a Level 2 charger at home — Subaru is offering a $400 QMerit credit to install one. They will charge up overnight. And they won't drive anywhere near 200 miles during a typical day.
But low range plus slowish charging will preclude longer, active-lifestyle road trips. And Subaru's road trip solution is literally another car. They're including 10 days of free loans of a Subaru combustion vehicle.

Solterra pricing may give Subaru buyers sticker shock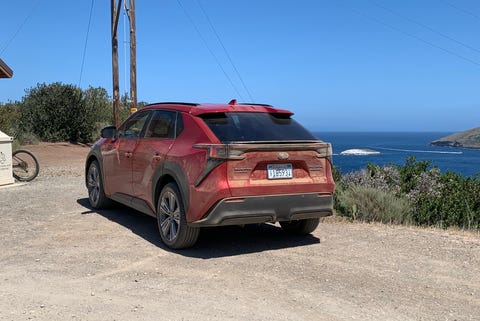 The Solterra is the most expensive vehicle in the Subaru lineup. The base Premium trim starts at $44,995 MSRP, which is really $46,220 when you factor in the $1,225 destination charge. That's more than $4,000 more than a luxed Outback Touring XT model. The Limited trim starts at $48,495, and the top-level Touring trim begins at $51,995.
By EV standards, the Solterra is relatively affordable, when you factor in the standard AWD. EVs that start lower than the Solterra typically do so with a single motor version. Rivals' AWD models will start where the Solterra Premium is or even a few thousand higher. Though those models will add more performance.
What are some Subaru Solterra alternatives?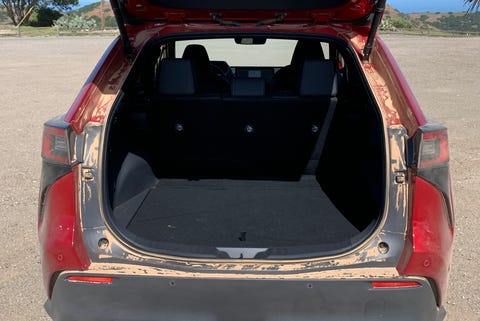 The Solterra is pitted against other reasonably-priced electric crossovers from brands that Subaru would typically compete with. Toyota, obviously, offers a version of the same car with the bZ4X. Other rivals include the Volkswagen ID.4, Ford Mustang Mach E, Kia EV6 and World Car of the Year-winning Hyundai Ioniq 5. Subaru's selling point in that competitive field is that it's the most off-road capable of the bunch.
Those looking for a fuel thrifty Subaru could check out the Crosstrek Hybrid. The PHEV averages 35 mpg in hybrid drive mode, offers 17 miles of EV-only range and starts more than $9,000 cheaper than the Solterra.
The 2023 Subaru Solterra EV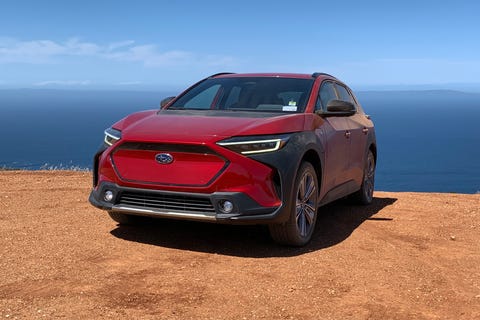 Powertrain: dual-motor electric; AWD
Horsepower: 215
Torque: 249 lb-ft
EPA Range: Up to 228 miles
Ground Clearance: 8.3 inches
Seats: 5
The 34 Electric Cars We're Most Excited to Drive in the Future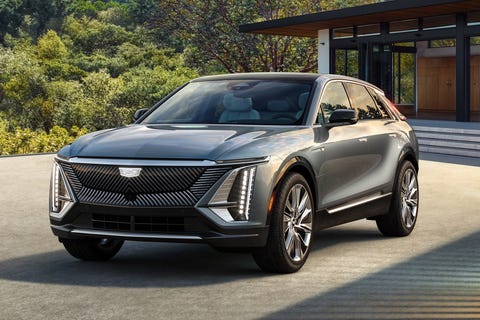 The next few years will be packed with new EVs. These are the ones that have us jazzed the most.