Every product is carefully selected by our editors. If you buy from a link, we may earn a commission.
The Best LED Light Bars You Can Buy
For the Weekend Jeepers and Pavement Princesses alike.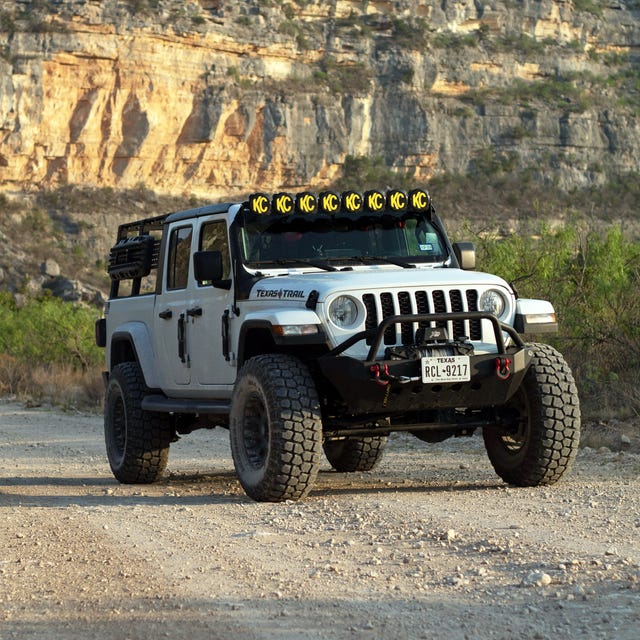 Off-road and overlanding setups have steadily increased in popularity for the past 50 years. Your daily driver can turn into a vessel that takes you on adventures far beyond your hiking boots by adding just a few pieces of equipment. Among these bells and whistles are light bars that have improved the safety, performance and looks for weekend Jeepers, Baja racers and pavement princesses alike. These lights make traversing the darkest nights possible.

What to Look For
There are a whole lot of numbers on a light bar spec sheet, so what do they mean? The lumen (lm) is the most common way to measure brightness; it measures the bulb's total amount of visible light. Candela (cd) tells you how far away from an object you can be and still see it. Lux (lx) measures the amount of light on a surface per unit area. And, wattage (W) is how power is measured and should be considered with your car battery in mind, especially if you are running other accessories simultaneously.
Beam Patterns
While most off-road LED light bars come with a combination of spot and flood beam patterns, it is crucial to know how each improves your visibility. Without spot beams, for example, the deer won't be in the headlights until it's too late. It gives you visibility further down the road, allowing for more warning when the twists and turns will be coming, but you won't be able to see as much in your peripherals. Flood beams project more broadly, making more immediate threats visible. You won't be able to see as far down the stretch, but the road's sides will be clear as day.
What About the Setup?
There is no simplification when it comes to mounting and connecting your lights. It would be a lie to say there is one best way. If you have a popular off-road vehicle like a Jeep, Tacoma or Bronco, the light bar manufacturers often make mounting systems specifically designed for your vehicle. This does make things a lot easier, but don't count yourself out as aftermarket options are all over the place with different commitment levels (i.e., drilling holes in your car) and price points.
Your electrical setup will be what matches your mounting, battery and frequency of use. Some common options involve aftermarket switchboards, while others use whatever power mechanism that may come with the lights.
The Best LED Light Bars
Note: The following prices are for 50-inch light bars, one of the most common lengths. Prices will vary depending on size.
This content is created and maintained by a third party, and imported onto this page to help users provide their email addresses. You may be able to find more information about this and similar content at piano.io