The Volkswagen ID. Buzz Arrives in America in 2024
The American version arrives in June.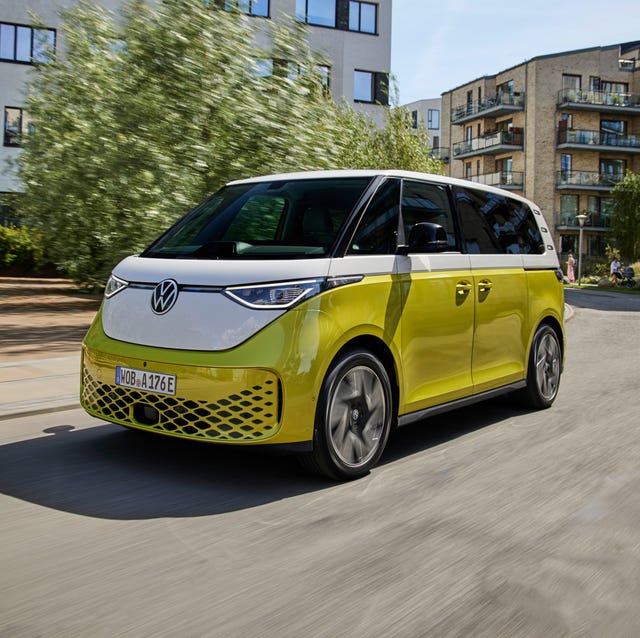 Volkswagen's ID lineup promised a vibrant future with fresh new electric vehicles and exciting reinterpretations of VW classics. So far in America, VW has shelved fanciful concepts like the ID. Buggy for more broadly appealing electric cars like the ID.4 crossover. But Volkswagen has finally unveiled one of its more flavorful electric vehicles — at least to counterculture nostalgists — the ID. Buzz.
The ID. Buzz is still a conventional van that will be used for things like VW's self-driving vehicle project. But it pays visual homage to an all-time classic, the Type 2 VW Microbus. And that, plus some compelling practicality, could make the ID. Buzz very popular in America and the world at large.
Here's what you need to know about the new 2024 ID. Buzz.
The Volkswagen ID. Buzz Has Been Unveiled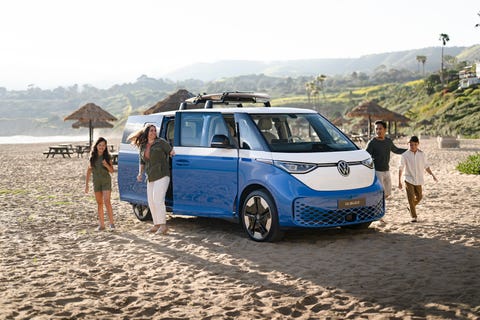 VW unveiled the long wheelbase ID. Buzz that will arrive in America in 2024.
Wait, didn't VW already reveal the ID. Buzz?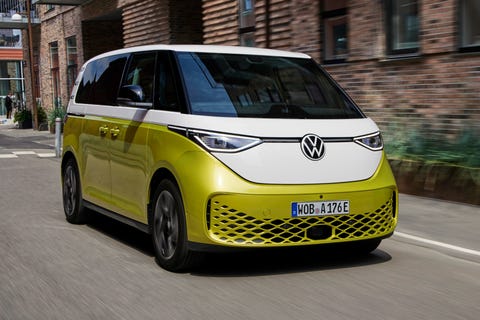 Yes, but not the one coming to America. VW revealed the short wheelbase and commercial wheelbase versions bound for Europe. America is getting the extended wheelbase ID. Buzz, which will be more of a fashionable luxury EV and less of a workhorse.
How will the American ID. Buzz be different?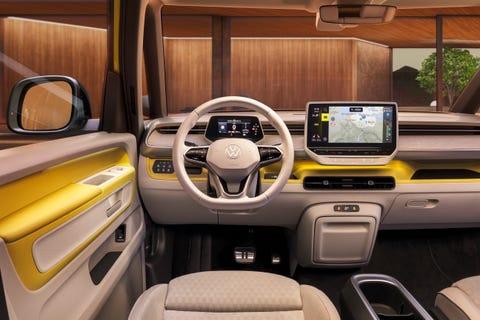 The American version should look similar. We'd expect the two-tone paint and LED lights to carry over. But it will reportedly be about 10.6 inches longer, putting it at 195.1 inches. That would make the ID. Buzz about seven or eight inches shorter than a standard minivan. But with the EV's lack of a combustion engine and short overhangs, it should offer comparable cargo space. It will also be a seven-seater, three-row vehicle.
Will the Volkswagen ID. Buzz be eligible for the federal tax credit?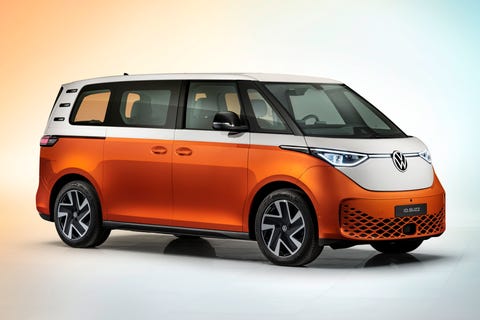 Will the Volkswagen ID. Buzz get all-wheel drive?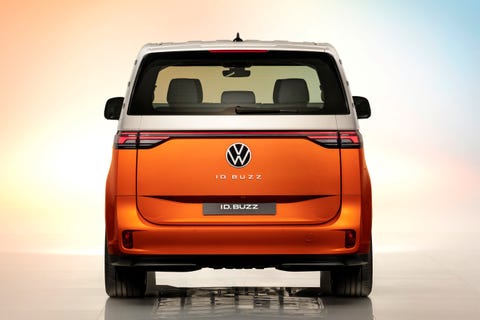 It should. Thus far, VW has only confirmed a single-motor RWD layout for the ID. Buzz with 201 horsepower and 229 lb-ft of torque — the same output as the base ID.4 crossover. In Europe, that version will be electronically limited to 90 mph.
VW has said more powertrain options will arrive in 2023. We expect one of them will be a 295-hp dual-motor AWD version that tracks with the ID.4.
How much range will the ID. Buzz have?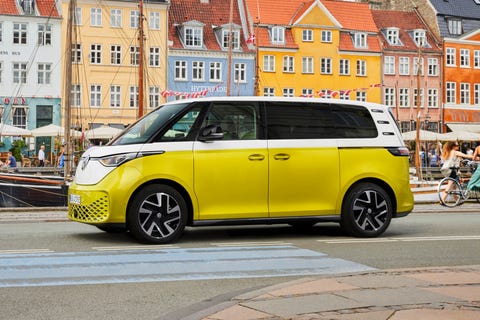 VW has not released the battery configurations yet. And the EPA has not released its assessments. But it's believed VW is targeting about 260 miles of range for the ID. Buzz.
The European ID. Buzz, per VW, will get up to 170kW fast charging, permitting it to charge from 5 to 80% in just 30 minutes. It will get Plug & Charge functionality, alleviating owners from using apps and charging cards. And at least in Europe, the ID. Buzz will get Ford F-150 Lightning-like V2L capability to send power back into your home.
The ID. Buzz should offer a lot of space and utility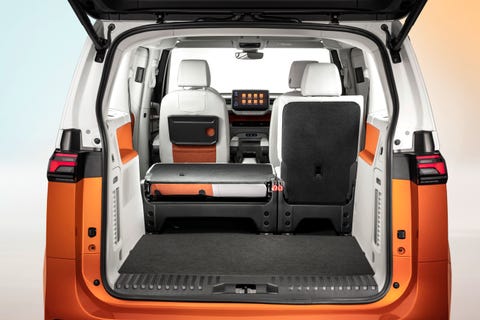 The ID. Buzz will function similarly to the original Microbus, offering a large interior volume in a compact footprint. The rear motor sits where the gasoline motor on the original bus did but lower. The dedicated EV platform allows for a short front and overhangs, allowing ample space for people and things. The original VW Bus could hold eight people and their stuff in a space about the size of a modern Jetta.
The ID. Buzz channel stereotypical Microbus devotees in spirit, using organic paint, an animal-free leather alternative for seating and recycled plastic.
Will there be an ID. Buzz campervan?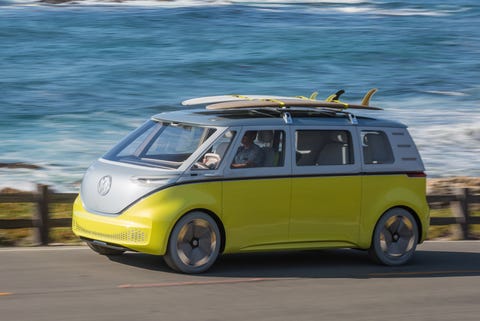 Volkswagen confirmed it is building an electric ID. California camper van, which may be based on the ID. Buzz. It's not clear whether VW will offer that version in America. Though even if VW does not, we'd expect the ID. Buzz to launch with a wide range of camping accessories.
How much will the Volkswagen ID. Buzz cost?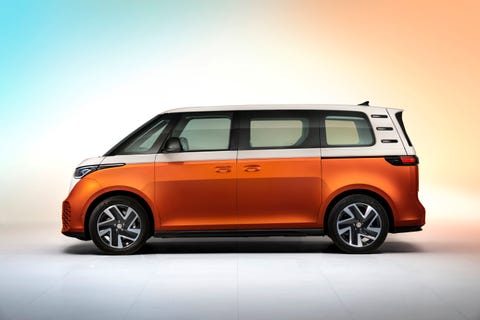 We don't know yet. But reports have suggested it could be more expensive than one would anticipate. Pre-booking in the U.K. showed the ID. Buzz starts for around $60,000 before taxes.
Judging from other popular EV releases, we could see VW launch a more expensive version in America with plans to get to the cheaper model as they ramp up production.
The 33 Electric Cars We're Most Excited to Drive in the Future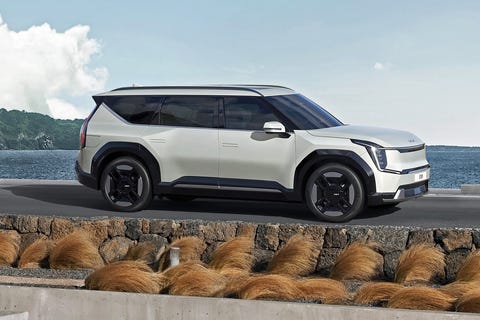 The next few years will be packed with new EVs. These are the ones that have us jazzed the most.