The Genesis GV60 Is the (Slightly Awkward) Face of the Future
It may not win any beauty pageants, but this electric crossover excels in virtually every other way.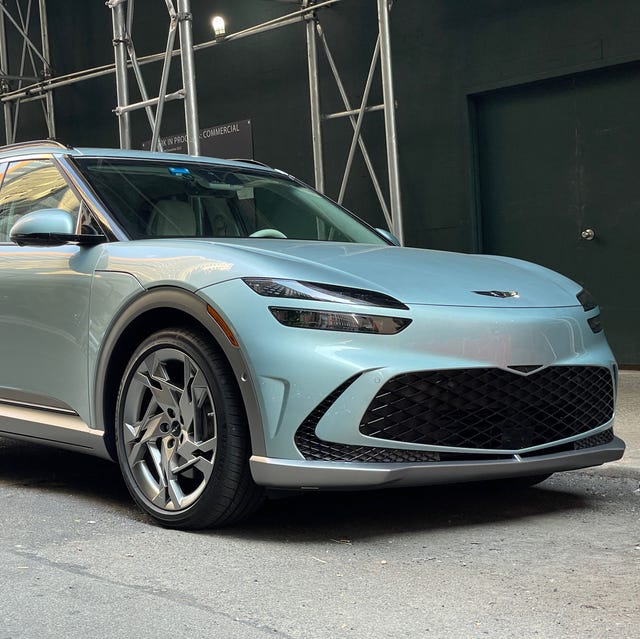 It's taken nearly a decade, but Genesis is finally escaping the Rodney Dangerfield period of its rise. After an awkward transition from being the name of a fancy Hyundai to selling a couple of rebadged fancy Hyundais, the Korean luxury brand has finally produced a full lineup of vehicles. Here in 2022, the brand now sells a trio of sedans and a trio of SUVs — a six-car hand that puts its total number of models on sale ahead of, for example, Jaguar.
And, as this is 2022, that expansion include an electric vehicle component. But the all-new GV60 is way more than just an EV-for-EV's-sake; in some ways, it's a game changer for the brand. Look past its slightly unorthodox mug, and there's an awful lot to like here.
What's special about the GV60?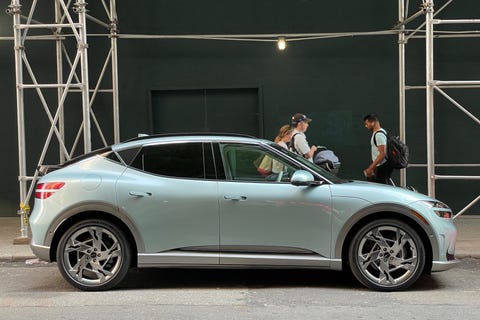 It's the first Genesis use of the Hyundai Motor Group's groundbreaking E-GMP electric vehicle platform — the same architecture found under the award-winning Hyundai Ioniq 5 and the stellar Kia EV6. It's part of a two-prong electrification strategy that the brand is pursuing: offering both more conservative electrified versions of existing gas-powered models, such as the G80 Electrified, and wilder bespoke EVs such as the GV60.
It also serves as a harbinger of what's to come for Genesis, in more ways than one. First and foremost, it teases the technology of the future; cameras in the door pillars enable face recognition-based unlocking, while a fingerprint reader inside lets you start the car as easy as logging into your MacBook Pro. And, in a more strategic sense, it gives a sense of what tomorrow holds for the brand; Genesis has vowed that it will only introduce electric vehicles going forward starting in 2025, so the GV60 is a way to help warm buyers up to the carmaker's future.
What's the Genesis GV60 like to drive?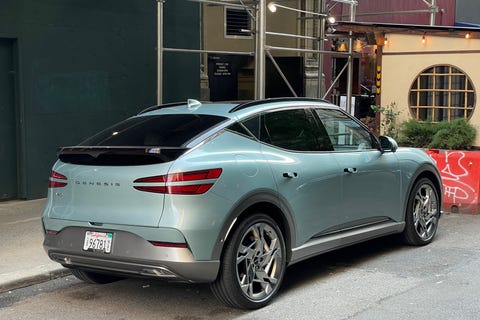 It's quite the hoot. The GV60 boasts surprisingly tidy dimensions — at 177 inches long, it's about the size of a Honda Civic Hatchback — while its comparatively wheelbase helps lend it impressive stability in turns. The steering may not offer much feedback, but it's direct and quick, and makes accessing the impressive levels of agility enabled by its well-tuned suspension and low center of gravity more entertaining than in any other Genesis released to date.
The GV60 Performance represents the most potent variant of an E-GMP vehicle sold in America yet, packing 429 horsepower and 443 lb-ft of torque. There's a caveat there; the maximum power output is 482 horsepower, but only for bursts of 10 seconds at a time, when the driver activates Boost Mode. (It may be limited in time, but really, how often do you need to accelerate for more than 10 seconds straight with more than 400 hp?)
Punch the Boost button on the steering wheel to unlock the full whammy and floor the right pedal, and the GV60 Performance does a strong impression of an A-6 Intruder being launched from an aircraft carrier catapult. Like all powerful EVs, the instantaneous response of the motors and lack of transmission gearbox kickdown concerns make it feel quicker than even an equivalent gas-powered car.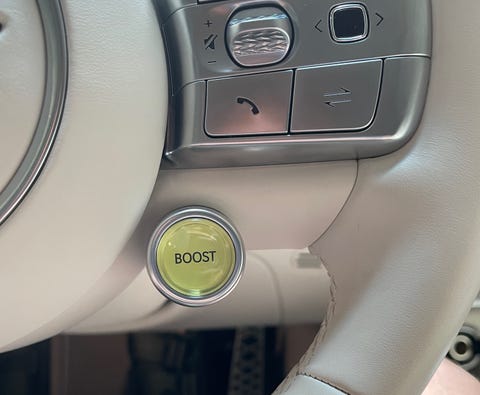 Sadly, hitting this button does not cause John Cena to appear while riding a purple cow.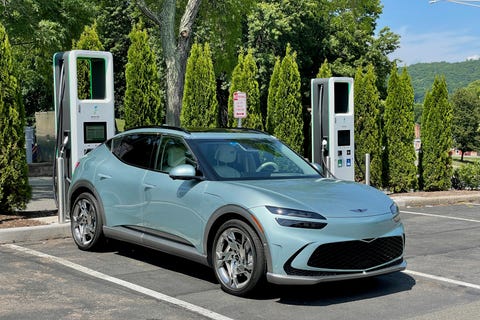 Range and recharging, of course, tend to be the frustrating parts of living with an EV. The GV60's battery pack of 77.4 kWh is fairly small by the standards of new EVs, and due to its power and other choices made in the name of luxury and performance, its range can't quite match its siblings; the less-powerful entry-level GV60 Advanced is rated for 248 miles on the EPA cycle, while my GV60 Performance tester is rated for 235 miles.
Still, like the Ioniq 5 and EV6, it's capable of recharging at some of the quickest rates of any modern EV, which mitigates that problem to some degree. Thanks to its 800-volt electrical architecture, the GV60 can hop from 10 percent battery to 80 percent — in other words, going from roughly 25 miles of range to just under 200 — in just 18 minutes if connected to a 350-kW charger.
That, of course, is if you can find a working charger capable of such power. The best I could do without going close to an hour out of my way was a 150-kW charger, which still managed to juice the GV60 from 44 percent to 80 percent — around 87 miles worth of range — in 11 minutes. Of course, charging speeds slow down as the battery fills up; I wound up spending half an hour strolling around a suburban neighborhood waiting for the Genesis to reach the mid-90-percent range where I felt comfortable with it, given my lack of home charging capabilities and the extreme annoyance of powering up in Manhattan.
What's the GV60 like inside?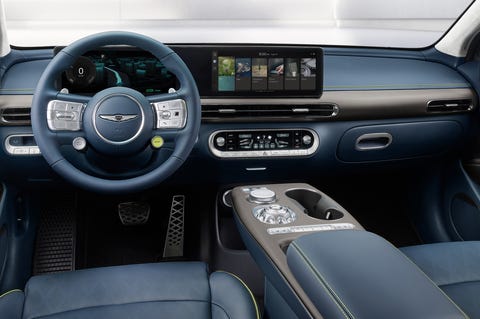 Elegant, to say the least. Recently, Genesis has been quietly yet consistently elevated the game when it comes to interiors at whatever price point their models land at, at the GV60 is no exception. High-quality materials abound inside, with soft, elegant-looking leather coating most surfaces and metal trim interspersed where it isn't.
Details both subtle and obvious can be found everywhere, from the metal shift orb that spins over to reveal a crystal ball when the car is off to the sheer convenience afforded by the open front floor, where there's room in front of the center console for a small backpack or large purse. Hell, the vehicle-to-load capability of the high-voltage electric outlet in back means you could even run a TV off the GV60 for a tailgating party if you so wanted.

What does the GV60 compete against?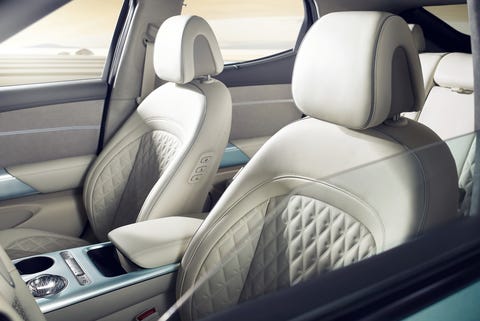 The Tesla Model Y is the clearest competitor to the Genesis, in just about every way — size, price, unconventional shape and everything else. The incipient Audi Q4 E-Tron will likely woo a fair share of potential buyers, as well. The Cadillac Lyriq comes in at a similar price point, but it's a bit of a different proposition in terms of size and power (though the latter will change when the dual-motor AWD version arrives soon). And if you're not wedded to an SUV (or SUV-esque) form, the BMW i4 delivers a similar blend of luxury and EV performance.
If you're willing to explore outside luxury nameplates, however, the Ford Mustang Mach-E is certainly also worthy of consideration — as are the GV60's corporate siblings, the Ioniq 5 and EV6. While they may lack some of the supremely luxurious accoutrements, they still stand as some of the best EVs on sale in the U.S. today — a category the GV60 can also claim to be in.
2023 Genesis GV60 Performance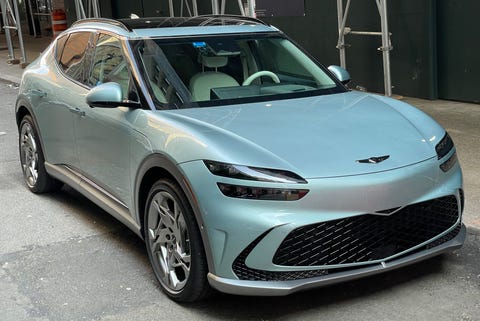 Base Price / Price as Tested: $68,985 / $69,560
Powertrain: 77.4-kWh battery pack, front and rear electric motors
Horsepower: 429 (482 with Boost Mode)
Torque: 442 lb-ft
EPA-Estimated Range: 235 miles
Seats: Five
The All-Electric Volvo EX90: Everything You Need to Know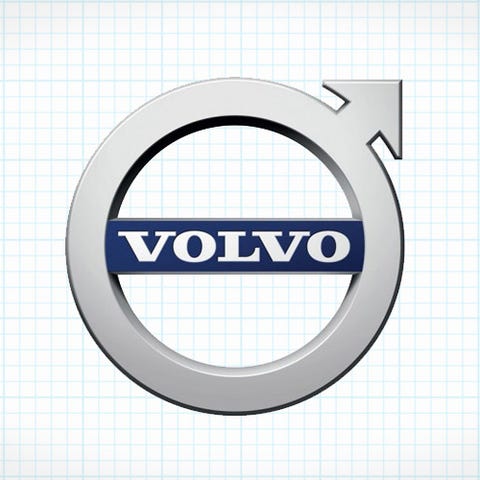 Volvo's next vehicle generation arrives very soon. Here's what will lead the charge.