Every product is carefully selected by our editors. If you buy from a link, we may earn a commission.
The Best Truck Bed Toolboxes You Can Buy
The ideal way to keep that gear in your bed safe and secure.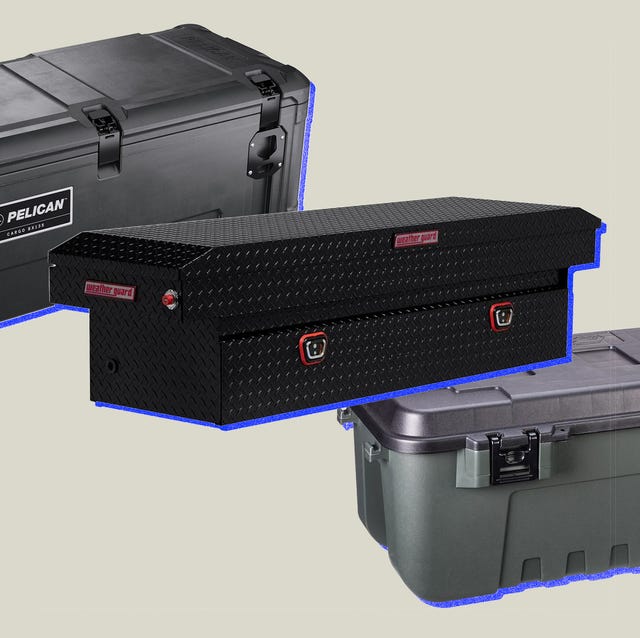 We love our truck beds. Whether you are car camping, hauling furniture or getting your tools to the job site, the truck bed gives the ultimate freedom to be prepared. However you utilize the space, having some organization and protection for your gear is ideal. It is probably safe to say that all truck owners have had that questionable feeling of leaving their rig in a parking lot, hoping their stuff doesn't get ripped off. And we all know it's like nails on a chalkboard when you can hear your equipment sliding around in the back while taking a sharp turn. A truck bed toolbox can solve all of those problems.
What to Look For in a Truck Bed Toolbox
While most of the truck-owning population doesn't need a full-on utility bed, having a secure spot to stash equipment is sought after. It is a necessity in many lines of work as well as more leisurely pursuits.
What Specs to Look For
Material: Plastic, aluminum and steel are the primary materials used for truck bed toolboxes. Each has its pros and cons, but for the most part, these materials have been manufactured to handle plenty of use and various weather conditions. Plastic used to get a bad rap, but chemical engineering has done us a favor with impressive durability these days. You will also find the plastics options easy to remove from your bed. Aluminum will cost more than steel, but by nature, it is lightweight and won't rust. Steel is the heaviest option but also the toughest with high weight capacities.
Size: Many brands will have you select your specific vehicle to ensure a correct fit. For more generic boxes, you better get the measuring tape out for an accurate fit. The volume is often listed, typically measured in cubic feet or liters. Still, it is not terribly useful as we often measure our tools in linear units.
Organization
The configurations for these boxes are endless. Different compartments, drawers and dividers will make you think more specifically about what you are storing and the kind of space you need for each item. Some toolboxes tend to be a bit more modular, as you can add and remove dividers and trays as required. This is the best way to go if you don't want to commit to the setup long-term.
Mounting Options
There are a few questions you should ask yourself when looking into how a box is mounted. Are you ok with drilling holes in your truck? Do you have a drop-in bed liner? Do you use a tonneau cover? These will all affect what toolbox will fit your rig best.
A drawer system will be a more permanent solution for someone needing regular storage. To fully utilize your bed with this option, getting a truck cap, soft topper or even a tall bed rack could be conducive to maximizing the protected space on top of the drawers.
Cross-bed boxes, also known as saddle boxes, are probably the most popular truck bed toolbox as they are easily mounted below the back window. They do not typically cause any damage to your truck if installed correctly, especially with the well-engineered installation methods developed to attach them to your bed rails. They are easily accessible from the side of the truck as they sit higher than the walls of the truck bed. The drawback is that if you plan on having a tonneau cover, it won't fit over the top of the toolbox.
A wheel well box is a great low-profile option accessible from the tailgate. It hides well and efficiently uses the space between the tire and the tailgate. Remember that if a single box doesn't give you all the space you need, you can always add a second on the other side of the truck.

Security
Half the battle with securing your gear is getting it out of sight. If thieves don't know what is there, they are much less likely to pursue it. A truck toolbox keeps that mystery alive, and different lock options are another line of protection against a small tool heist. When considering locks, remember that some brands use universal keys, meaning anyone with the same toolbox as you could easily get to your stuff. Some have padlock latches that allow you to use your own lock.