Every product is carefully selected by our editors. If you buy from a link, we may earn a commission.
The 14 Best Running Shorts for Every Type of Runner
Whether you're looking for split shorts, 5″ or longer than 7″, we have you covered.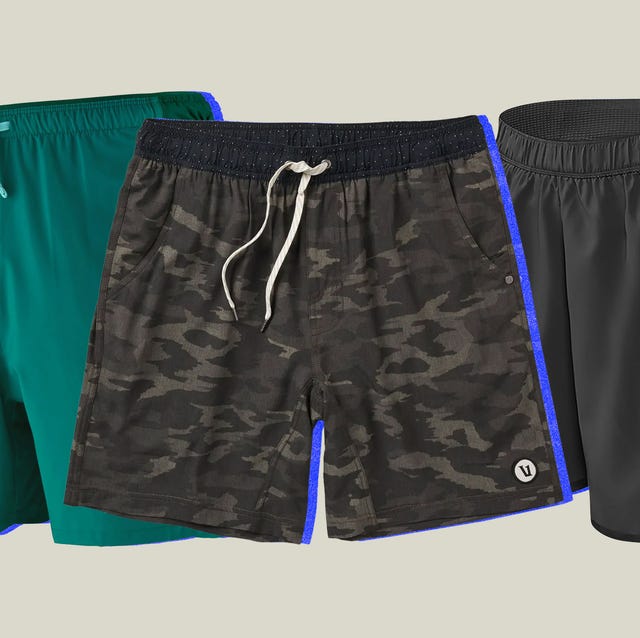 Let's role play for a second here. You're reclining on a tufted leather couch, a real mid-century type with nicely aged leather, in my office. There's a small library on the wall opposite the couch and a few framed photos of me giving a post-race thumbs up, an Ironman finisher medal hanging from a nail, next to my degree in cognitive psychology from some fancy university.
Now take me back to a time when you went out for a long trail run. Picture that creamy blue sky, the color of a robin's egg; the trees are beginning to turn, setting the landscape on fire. You felt fantastic leaving the trailhead, hit your stride around mile five, only to start chafing terribly halfway through the run at mile seven. The fire has moved from the trees to between your legs. You walked the last five miles home bow-legged and with a new appreciation for the depth of experience you can have when a wayward seam rubs against your sensitive inner thigh. Feel that burn for a second. Crawl inside it. Good.
Now let's talk about how to avoid it: with a great pair of running shorts. From split shorts made for laying down a PR on the track to 7 inchers (and longer) that put comfort first, here are the 14 best running shorts you can buy now.
Going Long on Shorts
How We Tested
Like running shoes or a pair of jeans, fit is absolutely personal when it comes to running shorts. As Mike Burnstein, co-founder of Janji, explains, "shorts are one of the most challenging pieces for our team to design because a) they have the biggest impact on your run out of any piece, b) they are on a part of the body that has such variation across different bodies and c) there is such vastly different personal preference for how short people want to go."That said, there are qualities of running shorts that can be objectively considered: Do they look good? How does the material perform in different conditions? Are the features, like pockets, useful or does everything jiggle around? And so on. We assessed these on the roads and trails in and around Fort Collins, Colorado, from the technical trails of Reservoir Ridge Natural Area, to the smooth singletrack in Lory State Park, to some hiking trails just over the Wyoming border in Medicine Bow-Routt National Forest.
Terms to Know
Inseam: On the inside of the leg, the measurement from the crotch to the hem.
Outseam: On the outside of the leg, the measurement from the top of the waistband to the hem.
Bluesign: A Swiss organization that provides a system and a certification program for the sustainable and clean manufacturing of textiles.
Nylon: A synthetic thermoplastic linear polyamide known for being strong, durable, elastic, easy to clean and water-resistant.
Spandex: A fiber made of a long-chain of synthetic polymer comprised of at least 85% of a segmented polyurethane. It's stretchy while retaining its length and shape. It's durable, smooth, comfortable and resistant to abrasion. Also known as Lycra and elastane.
Polyester: A category of polymers used commonly in clothing and home furnishings. They can be naturally-occurring or synthetic. Generally speaking, polyester is stain-resistant, strong and resistant to water and wind.
Merino: Wool from the merino sheep.
DWR: Stands for "durable water repellent," a coating added to fabrics to make them water-resistant.
Polygiene: An antimicrobial silver chloride treatment applied at the finishing stages of textile production to control odor in a garment.
What to Look for in Shorts
Let's just make it simple and call it the F-words, shall we? Fit, function, features, fabrics and fashion. These may not be the official industry terms, but they cover everything you need to think about when buying a pair of shorts. In terms of fit and function, the soul of running shorts is split shorts, the shortest shorts out there, the uniform de rigeur of cross country runners, with a split up the outer thigh for mobility. These typically have a 2" or 3" inseam. They're lightweight, barely there, give no fucks shorts.
At 5" inch inseam, there are now lots of great options that feel nearly as performance-oriented as split shorts thanks to really thoughtful design and great materials, without showing quite as much of the upper thigh — instead of a split up the thigh they usually have a v-shaped notch. Whereas split shorts will fly up like a skirt on a windy day or, say, the rowing machine at the gym, some 5" shorts have enough structure that they'll stay in place. "Our most popular is our Middle Short, which is 4.5″ inseam and kind of the sweet spot for our core customer who wants something light and fast, but something you won't be embarrassed to walk into a coffee shop with," Janji's Burnstein says.
Once you get up to shorts with a 7" inseam and longer, they are typically either unlined (meaning: you need briefs) or have built-in undershorts or compression shorts, which means you're dealing with a good amount of fabric and will trade performance for a combination of modesty, luxury and comfort. There are exceptions, of course, like Iffley Road's Brighton Shorts, which at 8" still feel pretty light, fast and mobile.
Features are important, because whether you can carry a phone or a handful of snacks informs where and how far you'll run. "Since our core consumer goes on long trail runs, we have built a pocketing system with enough capacity to hold adequate amounts of Gu, water, snacks, emergency pieces and gear," says Eric Andrews, The North Face Product Manager for Run + Train. "We took extra care to make it stealth enough to not distract or bounce during their run." A rear center zip pocket is the most common form of storage — the bare minimum. Some brands get creative, like Tracksmith's three interior pockets hidden in the liner of their teensy Twilight shorts, or Patagonia's barely-noticeable four mesh pockets on the waist of the Strider Pro shorts.
Finally, there are the fabrics (there's fashion, but you can look at the pictures). As you can see with each product, most are made of some combination of nylon, polyester, and spandex (also known as elastane or Lycra). This doesn't tell you very much, though, since depending on how the materials are woven, treated and blended — which is often proprietary and gets its own branding, like Olivers' All Over Stretch Weave or Lululemon's Out of Mind liner construction — the end product needs to be touched and worn to be understood. (Gone are the days when we just ran around in Umbros and that was that.)
As a general rule, however, shorts are getting lighter and faster while still offering great quality and functionality. The point is: You don't have to settle for ordinary running shorts, because there are truly delightful garments out there.
This content is created and maintained by a third party, and imported onto this page to help users provide their email addresses. You may be able to find more information about this and similar content at piano.io