Every product is carefully selected by our editors. If you buy from a link, we may earn a commission.
The Best Gym Shorts for Every Kind of Workout
All of the best training and recreation options. None of the jorts.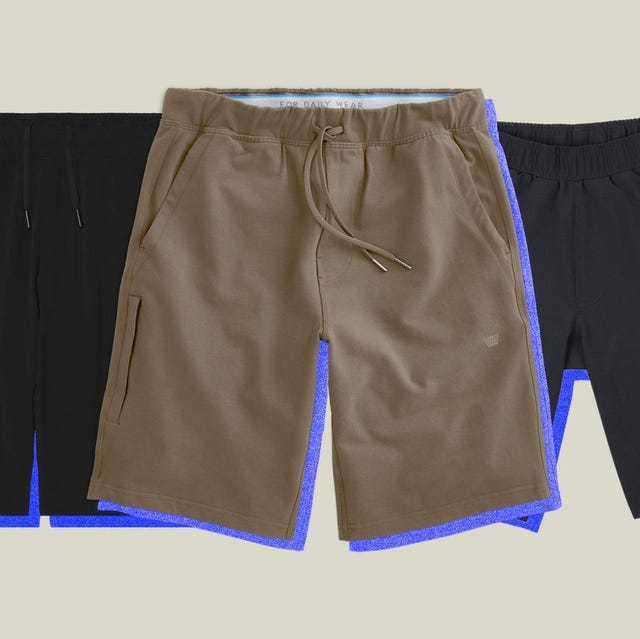 The right pair of workout shorts can inspire you to train longer, harder and more often. On the flip side, the wrong pair — too baggy, too tight, too falling apart — can leave you feeling uninspired, lethargic and possibly wanting to stay home and eat ice cream rather than get to work.
In other words, your workout shorts can have a big impact on how you train, and how you ultimately look and feel. So it's important to — as that old guy said in Indiana Jones and the Last Crusade — choose wisely.
Gym Shorts Terms to Know
Before you find the right pair for your next sweat session, it helps to understand some of the common terminologies. Here are some definitions to terms you'll see in our list of the best gym shorts.
DWR: Stands for "durable water repellent," a coating added to fabrics to make them water-resistant.
Inseam: The measurement taken on the inside of the leg, from the crotch to the hem.
Nylon: A synthetic thermoplastic linear polyamide known for being strong, durable, elastic, easy to clean and water-resistant.
Outseam: The measurement taken on the outside of the leg, from the top of the waistband to the hem.
Polyester: A category of polymers commonly used in clothing and home furnishings. They can be naturally occurring or synthetic. Generally speaking, polyester is a strong material that's stain-resistant, water-resistant and wind-resistant.
Polygiene: An antimicrobial silver chloride treatment applied at the finishing stages of textile production to control odor in a garment.
Spandex: A fiber made of a long chain of a synthetic polymer composed of at least 85 percent of a segmented polyurethane. It's stretchy while retaining its length and shape. It's durable, smooth, comfortable and resistant to abrasion. Also known as Lycra and Elastane.
How to Pick the Best Gym Shorts for You
There are many styles of gym short — from the light-as-air to the more robust. Depending on what fitness activity you favor, you'll want to choose a short that matches your needs. First up, we'll cover the inseam. The standard inseam lengths for almost any style of gym shorts are 5 inches, 7 inches and 9 inches. A 5-inch inseam short will land somewhere in the region of your mid-thigh, while 7 inches is the typical short length. For those looking for more coverage or protection, the 9-inch inseam is a little more appealing.
Next, let's chat fabric. Polyester is the go-to fabric for most workout clothing — essentially plastic woven into fiber and then made into cloth, it's durable, resists wrinkles, is lightweight and wicks moisture. Lately, many brands are moving to partially or completely recycled polyester, or innovative materials like plant-based yarns and fabrics, in an effort to combat the polluting effects of fashion. If you want to experiment with a non-polyester fabric, just know that innovation typically comes with a higher price tag — if you can afford it, go for it, but if not, polyester is still a solid option.
Lastly, let's briefly cover fit. Runners, the best gym shorts for you are styles that are minimal, lightweight and shorter (5 inches or less) for easy movement. Weight trainers, you should opt for a longer style (think 9-inch inseam) that offers more coverage and protection. For the multi-discipline fitness enthusiasts, go for personal comfort over being tied to one style.
With all that in mind, here's a boatload of shorts that will set you up for success no matter how you take your endorphin rush. From running to CrossFit to hoops to biking, they'll support and elevate your training, driving you forward to achieve your best. Bonus: you'll likely look a bit more stylish too.
This content is created and maintained by a third party, and imported onto this page to help users provide their email addresses. You may be able to find more information about this and similar content at piano.io